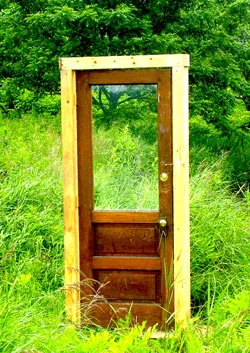 Marc Awodey
"Door to Knowwhere" by Eben Chaney
Rain or shine, Stowe becomes a sculpture park in late summer thanks to the Helen Day Art Center's annual "Exposed!" exhibition. The 2009 installment differs from the previous 17 in that a larger portion of the show than usual is indoors. It's not because of Vermont's ongoing monsoon this summer, but owing to construction on the HDAC building and grounds. Fourteen regional artists are showing work in the gallery, while 20 others have installed theirs outdoors.
The indoor show is stronger than the portion en plein air. That's an interesting development for the traditionally outdoor exhibition. Perhaps one reason is that things are laid out so well in the gallery.
Mireille Clapp's 7-foot-tall sculpture entitled "New Year's Eve," made of copper, steel and judiciously used paint, could certainly have survived the great outdoors, but in the gallery it takes on the solemnity of a 21st-century totem. With plenty of uncluttered white space around it, the vertical monolith commands attention, and deserves it.
Eric Brown's untitled neon piece in the corner of a darkened room is framed by a dramatic triangular shadow, making it appear to sculpt a transparent niche for itself. Even Tom Douglas' steel realist work "One Boot" has a stately presence under gallery lighting.
More figurative, crowd-pleasing pieces are sited in Stowe village. Piper Strong's 44-inch-tall steel-and-brass "Crab" scuttles outside Banknorth on Main Street. Richard J. Foster's kitschy steel storks loom nearby, beside the Civil War cannons in front of the Akeley Memorial Building. Although they're pretty tall, Foster's storks aren't an artistic high point of the show. "Remember, Don't Play Him For Money" is a stork holding a golf club. Cute.
More than half of the outdoor sculptures can be found along Stowe's recreation path, and there, again, something seems amiss this year. The problem may be one of scale: None of the works is so monumental that it has to be outside. Still, many of them succeed on their own terms when appreciated as parts of a whole. For instance, in "Cages" by Haley Bernier, nearly 40 small wire structures dangle from a copse of pines like contemplative Christmas decorations. Each piece is 3 to 8 inches long; most resemble bird cages, while others are less literal representations.
Jack Reed's "Mixed Bark" is more painterly than sculptural. Strips of bark have been polychromed with bright enamel and reattached in small chunks over the piece. Exhibition Curator Meg McDevitt's "Heartbeat" is even more painterly — to the point of being two-dimensional. Using yellow pavement-marking tape, she laid out a 40-foot-long sequence of "beats," like those in an EKG, along the recreation path.
One of Tyler Vendituoli's pink "Rabbit Heads" sits along the path as well. Only about a foot high, it's a bulbous, anime-influenced form of two globular ears on a featureless head. A viewer might dismiss it as just another postmodern cliché. But farther along the path, an identical rabbit head appears. Then a third, and a fourth. Vendituoli isn't just cracking a joke; he's making a serious statement about multiplicity and its effect on perception. One such head is stupid. Several in unexpected locations seem purposeful.
Eben Chaney's "Door to Knowwhere" — a stand-alone closed door with a window in it — also seems like a one-trick pony at first. But by placing it in a meadow, Chaney undermines notions of inner and outer. It's a rather poetic, surreal image fashioned with awkward carpentry.
Perhaps the whole 2009 "Exposed!" exhibition reverses our sense of inner and outer in a similar way: The small stuff is outside and the majestic pieces inside. It's an intriguing show, even if no big ideas are in sight.