Woodchip piles outside McNeil
Middlebury College built a $12 million biomass plant on its leafy campus in 2009, enabling the school to burn woodchips to heat buildings, generate electricity and declare itself "carbon neutral."
Five years later, the City of Montpelier and the State of Vermont spent $20 million to replace the oil-fired burners in its heating plant with wood boilers, expanding the system to provide steam and hot water to 37 government and private buildings downtown.
Enthusiasm for the renewable energy had cooled, however, by the time Dartmouth College rolled out plans for its own $200 million biomass project earlier this year.
Climate change has become a climate emergency. Predictions of cataclysmic impacts to the world's wildlife, weather patterns, sea levels and societies are fast becoming frightening realities. And the idea of sharply reducing global carbon emissions has gone from a laudable goal to an existential imperative.
So the elite college's plan to embrace a technology that would increase carbon emissions ran into criticism. Dartmouth alumni who were prominent climate scientists joined the chorus of hippies and tree huggers opposing the project.
In a July 5 letter, three climate researchers applauded the school for trying to reduce the use of fossil fuels but argued that biomass was a dangerous substitute. They warned that the project would increase emissions at precisely the wrong time for the planet, deplete the region's forests of carbon and harm air quality.
"We urge you to avoid making a heavy investment in a mistaken assumption that a wood-fired heating plant will be of benefit to the College or the world," they wrote.
The fierce opposition caught the college off guard. In late September, officials announced they would move forward with efficient upgrades but reassess the switch to biomass.
The pause underscores the rethinking of biomass energy in light of new predictions about the urgency of reducing heat-trapping emissions. Last year, the United Nations' Intergovernmental Panel on Climate Change said nations would need to cut global carbon emissions 45 percent by 2030 and reach zero net emissions by 2050 to stave off the worst effects of climate change. Vermont's emissions are on the rise again, after a decade of decline, threatening the state's goal of cutting them to half of 1990 levels by 2028.
Biomass often generates more emissions than fossil fuels, and it does so at the expense of the most effective tool to remove carbon from the atmosphere: trees.
"The nature of the discussion about biomass energy has become a lot more cautious," said Bill Keeton, a University of Vermont professor of forest ecology and forestry and director of its Carbon Dynamics Lab. "There was a rush to develop the biomass energy sector maybe five or 10 years ago, but now there is a slowing down and pulling back as people have understood some of the pros and cons."
Good Wood?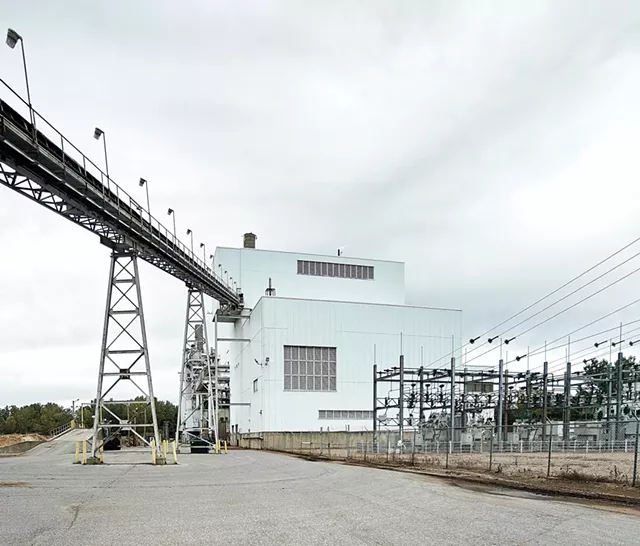 Bear Cieri
The McNeil Generating Station
Biomass is organic material used to create energy. In the Northeast that means one thing: wood.
That includes the cord wood that Vermonters have traditionally cut, seasoned and burned in woodstoves to heat their homes. It also encompasses wood pellets burned in efficient modern pellet stoves and boilers, both of which the state promotes with generous financial incentives.
Then there are the industrial-scale energy facilities such as the Joseph C. McNeil Generating Station in Burlington, the largest producer of electricity in the state, and the Ryegate Power Station in Caledonia County. Both plants burn woodchips by the ton to generate electricity for the grid.
Proponents say biomass technology is crucial to helping Vermont reach its renewable energy goals. The state has committed to getting 90 percent of its energy from renewable sources by 2050. Its energy plan calls for doubling the use of wood for heat by 2025.
Now those goals are bumping up against a growing body of scientific evidence that suggests planting new forests, better managing existing ones and designating more lands off-limits to logging can play major roles in moderating climate change.
"What we are talking about at the Northeast Wilderness Trust is allowing the forests that are already there to just grow older and more complex," said Jon Leibowitz, the Montpelier-based group's executive director. "In doing so, they become incredibly effective at storing carbon."
Some argue that expansion of biomass energy in heavily wooded Vermont won't threaten its dense hardwood forests — and keeping them profitable is the best form of preservation.
"We get a lot from forests, and we're going to save forests, and all the amazing things they do for us, by cutting trees," said Mike Snyder, Vermont's commissioner of Forests, Parks and Recreation.
In a wood-rich state, the quandary raises some confounding questions.
If burning trees for power is so bad for the climate, should the Burlington Electric Department, which operates McNeil, trumpet that its energy is all from renewable sources? Should ratepayers continue subsidizing power generated at Ryegate by up to $5 million per year?
And are all those Vermonters stacking cords of wood in their yards or pallets of pellets in their garages actually contributing to climate pollution?
Snyder is trying to absorb the new thinking.
The former county forester has broad authority over the management of public and private forests in Vermont, which cover 75 percent of the state.
He extolls the virtues of old forests and believes strongly that the best way to preserve forests is through thoughtful, active management.
How those forests are managed directly impacts industries vital to the state's rural communities, employing an estimated 6,000 people who make products as diverse as hardwood flooring, paper pulp, furniture and maple syrup — a sector of the Vermont economy valued at $1.5 billion per year.
"We know how to grow it. We know how to tend it. We know how to harvest it. We know how to 'value-add,'" Snyder said. "And we know how to burn it really cleanly and efficiently in ways that benefits us locally."
Logging state forests is "bedrock" Vermont culture, and Snyder doesn't see any reason to scale that back, just to do it better.
"We're not saying this is perfect. Perfect would be, the trees get to do their own thing, because they're really good at it," Snyder said. "But we need them, and we're trying to find a way, frankly, to have it both ways."
Feeding the Beast
Photos: Kevin Mccallum
Woodchip piles outside McNeil
At full capacity, the towering furnace at the heart of the McNeil station devours 76 tons of woodchips every hour.
Opened in 1984, the plant relies on a steady supply of trees that are cut down, dragged from forests, chipped up, and hauled by truck and train to its huge open-air storage yard.
Massive piles of yard debris, shipping pallets and discarded Christmas trees supplement the chip supply, as do stacks of low-grade tree trunks held in reserve should the well-oiled supply chain be disrupted.
Workers driving heavy machinery keep the ever-moving mountain of wood scraps cascading onto an elaborate network of conveyor belts that carry the chips nine stories high and drop them into the chamber to meet a fiery end.
They are transformed into a plume of 950-degree steam that drives a massive turbine. The giant rotor can generate 50 megawatts of electricity — enough to power the entire city.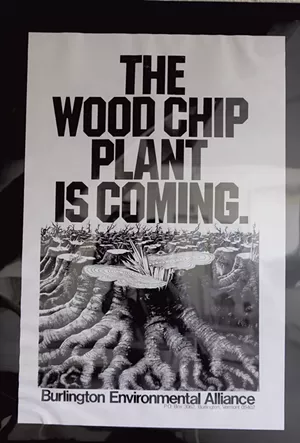 Burlington residents overwhelmingly approved the construction of McNeil in 1978 in response to the oil crisis. But the project was not without controversy. Environmental groups raised a host of objections. Not far from the control room where operators monitor the pyrotechnic process, a historic poster bears a dystopian image of environmental devastation: black tree stumps stretching to the horizon under block letters that read, "The Wood Chip Plant Is Coming."
Produced by an environmental group that sought to block the plant's construction, the image reflects a shared pride among the electric department employees that the doomsday prediction of deforestation never came to pass.
In fact, the forests of the state are healthier today than they were when the plant was built, said Betsy Lesnikoski, chief forester for the Burlington Electric Department.
To make her case, Lesnikoski led Seven Days on a tour of a recent logging job in Underhill, near the western flanks of Mount Mansfield. The dense, privately owned forest had recently been logged for two kinds of trees.
The high-grade oak, maple, beech and other hardwood trees had already been trucked off to sawmills. The lower-grade wood was piled up, ready to be fed into an industrial-size chipper and hauled off to McNeil. The plant paid about $10.2 million for 375,000 tons of woodchips last year, all of which came from forests within a 60-mile radius that extends into New York State.
The biomass burned by the plant is roughly equivalent to 9 percent of annual new tree growth in Vermont, Lesnikoski said.
Despite the stumps, downed limbs and skid tracks left by loggers, the thinned forest remained thickly wooded. Addison Kasmarek, a forester hired by the Underhill landowner to manage the harvest of the 120-acre property, pointed out numerous beech trees she instructed the sawyers not to fell. The trees are popular with beechnut-seeking bears, as evidenced by claw marks running up their trunks.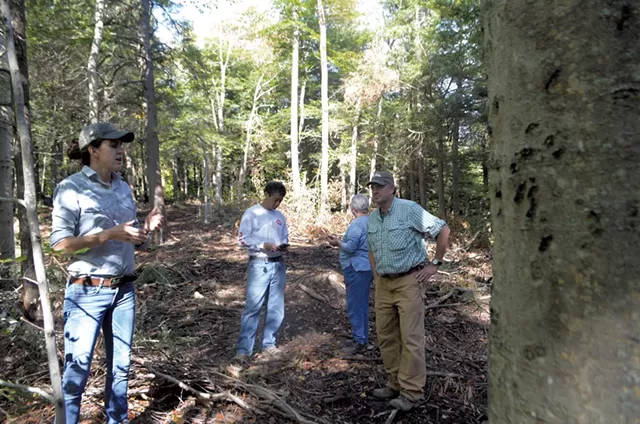 Kevin Mccallum
Addison Kasmarek (left) near a beech tree scored by bear claws
While some jobs involve clear-cutting, most are selective culling operations, overseen by foresters who help landowners keep their forests healthy and productive even as they remove valuable timber, Kasmarek said.
"When you're doing everything you can as a forester to manage for diversity and resiliency, you're moving carbon. You're growing new trees," she said.
Removing some "junk" trees bound for places like McNeil, including diseased trees and ones too gnarled for lumber, amounts to a small percentage of the harvest's value, Kasmarek said.
But the extra income, combined with state tax breaks for actively managed forestland, helps to keep large tracts of land from being developed.
When larger tracts are divided up and sold to people looking for a little 10-acre slice of rural Vermont, they stop being working forests. In Underhill, "You're not going to get the Dollar Store," Lesnikoski said, "but you're going to get the McMansion."
Growing Controversy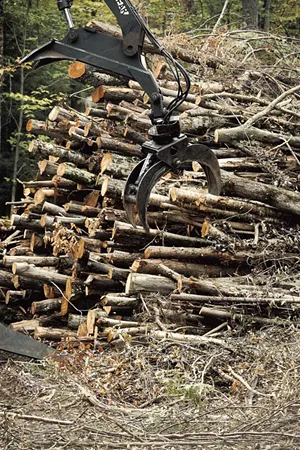 Bear Cieri
A claw loader feeding a chipper in Underhill
Biomass is considered to be renewable energy because forests regrow over time. As they do, trees absorb carbon dioxide during photosynthesis and store carbon in their leaves and wood and in the soil — a process known as "sequestration." When wood is burned, that carbon returns to the atmosphere.
Some label biomass as carbon neutral, based on the theory that the carbon given off by burning wood was originally pulled from the atmosphere as part of the "carbon cycle." By contrast, fossil-fuel-derived carbon, or "anthropogenic carbon," is trapped deep in the earth before people extract, refine and burn it.
The notion that burning trees constitutes green energy — because new ones will grow up to eventually remove an amount of carbon equal to what was emitted — is now being actively challenged.
Vermont author and environmental activist Bill McKibben penned a piece in the New Yorker in August titled, "Don't Burn Trees to Fight Climate Change — Let Them Grow."
In it, he outlined how plantation forests in the southeastern U.S. are being felled, turned into wood pellets, shipped to Europe and burned in power plants as an alternative to coal.
McKibben was one of the first environmentalists to sound the climate alarm. In 2008, he founded the nonprofit 350.org, which in name and deed calls attention to a safe level of carbon dioxide in the atmosphere. McKibben said pumping more carbon into the atmosphere while reducing the planet's capacity to reabsorb it amounts to a double whammy.
"Emitting a big pulse of carbon right now, even if it eventually gets soaked up by a regrowing forest, will help break the back of the climate system at the critical moment," McKibben told Seven Days.
The practice is particularly problematic because it effectively extends the life of inefficient electric power plants in Europe "that should be moth-balled" in favor of genuinely renewable forms of energy, said Adam Sherman, manager of Biomass Energy Resource Center, a program of the Burlington-based sustainable energy consulting firm Vermont Energy Investment Corporation.
"There is no question that it is a stupid policy," Sherman said.
But critics say that essentially the same thing happens in Vermont, on a smaller scale.
"They claim to be these green angels in Burlington," said Chris Matera, the founder of Massachusetts Forest Watch, which opposes biomass projects in the Northeast. "It's off-the-charts hypocrisy!"
Just as West Virginia exploits its coal, Vermont does its wood, he said.
"Well, go ahead, but don't pretend like you're helping the climate. You're making it worse," Matera said.
At a time when states like Massachusetts are considering logging bans on public lands, Vermont is doubling down on harvesting trees, Matera said. The state plans to triple the amount of logging in Camel's Hump State Park over the next 15 years, to 3,764 acres. The Green Mountain National Forest is going to see more cutting, too. Between 800 to 1,000 acres per year are now being felled in the 400,000-acre forest, double the 2014 rate.
The Northeast Wilderness Trust has joined a growing chorus of environmental groups, including the Sierra Club, calling for a significant increase in conserved forestland.
Mark Anderson, the director of conservation science for the Eastern region at the Nature Conservancy, argues in a report for the trust titled Wild Carbon that new science shows unmanaged forests continue to sequester carbon at significant rates even as they age.
"In many instances, the carbon storage potential of old and wild forests far exceeds that of managed forests," he said.
That thinking runs counter to conventional wisdom and the forest-products industry narrative which holds that since older trees grow more slowly, they should be harvested and put to good use before they fall over and rot on the forest floor.
If older trees, because of their size, continue to sequester more carbon than young, faster-growing but smaller trees, then the implications for forest conservation as a tool to fight climate change are significant, Leibowitz said.
Only about 3 percent of the land in the Northeast is permanently protected from logging. The Northeast Wilderness Trust would like to double that figure to ensure forests have a chance to grow old, conferring all the benefits of carbon sequestration, water quality and wildlife habitat, Leibowitz said.
He said a good first step would be to limit logging on public-land in Vermont. Another would be to amend the state's current-use program to allow landowners to get the same tax credits for preserved forests as for so-called "working lands." About 2.4 million acres in the state, or a third of its total land area, is enrolled in the program. It applies to properties of at least 25 acres that are being actively managed for "long-term production of forest products."
The provision effectively incentivizes people to log their land. Adding conservation as an approved "use," Leibowitz noted, would encourage owners to leave their forests alone.
Letting the Chips Fall
Bear Cieri
Chips inside the McNeil Generating Station
Phasing out biomass electricity production in the state may not be as radical as it sounds, and market forces may already be hastening its demise.
In 2014, the Vermont Public Utility Commission rejected a new biomass electricity project in North Springfield, finding that it was not in the public interest, in part due to low efficiency and environmental impacts.
Ryegate's days might be numbered, too. Its 10-year contract, which requires state utilities to buy power from the 20-megawatt plant at above-market rates, expires in 2022, and a robust public debate over its future is likely.
"I think it'll be very similar to what happened in New Hampshire," predicted Andrew Perchlik, a state senator and director of Vermont's Clean Energy Development Fund, which promotes renewable energy.
Earlier this year, several biomass electric plants in the Granite State closed in the midst of legal and legislative squabbling over ratepayer subsidies.
In Burlington, McNeil is operating at only 60 percent of its capacity, down 30 percent from 2016. That's partly because other power sources, such as wind, hydro and solar, are often cheaper, explained Darren Springer, BED's general manager.
But McNeil remains crucial to the utility and the regional grid generally because, unlike some renewable sources, the plant can run constantly as long as fuel is available. The plant operates at about 23 percent efficiency, a key measure of the energy output compared to the energy input. That's significantly lower than coal and gas plants.
Despite upgrades to reduce some emissions, carbon dioxide output remains comparatively high. Over the last decade, the plant has spewed between 385,000 and 543,000 tons of CO2 into the sky. The higher figure is the equivalent of the emissions produced by 118,000 cars in a year.
Shutting down the plant defies logic because its output would have to be replaced by another source with its own environmental impacts, Springer said.
It makes far more sense to focus on increasing the plant's efficiency by capturing the vast amount of waste heat that goes up the stack — one of the key reasons the plant is so inefficient. From the moment the McNeil plant opened, the intention was to put its excess energy to good use: heating water that would travel through 3.6 miles of pipe up the hill to the city's businesses.
Thirty-five years later, the idea remains on the drawing board.
Springer said, "If you want to look at the single biggest step we could take to reduce emissions in Burlington, it's 'district heat,'" as the energy delivery system is called.
One estimate showed that by pumping hot water to the UVM Medical Center, as well as a handful of other major buildings on the UVM campus and downtown, the city could reduce fossil-fuel emissions by up to 15 percent.
Cost and lack of participation remain obstacles. Organizations such as UVM would have to sign on for district energy, BED spokesperson Mike Kanarick said. And the shared investment, of up to $50 million, would effectively tie the city and its biggest power consumers to a wood-fired energy source for decades to come.
Sequestration Frustration
Kevin Mccallum
Mike Snyder
Commissioner Snyder loves forests and doesn't disagree with those who would argue for conserving more of them. The innumerable benefits of older forests extend well beyond forest products to include wildlife habitat, flood resiliency and recreation, he said.
During a visit last month to a patch of Groton State Forest that was heavily logged five years ago, he swept his hand through a dense thicket of yellow birch saplings and marveled at the land's speedy recovery.
"This is phenomenal," Snyder said with boyish enthusiasm. "The goal of this has been regeneration, and it's been a raging success by all accounts."
Snyder then made a surprising claim. Gesturing to an area heavily logged in 2014, he declared that the young saplings growing there today were absorbing carbon at a faster rate than the untouched stand of 80-year-old hardwood beside it.
"Any scientist will tell you that this is sequestering carbon at a much greater rate than it was six years ago," he said. "No one would tell you that it's not."
Actually, Anthony D'Amato would. The UVM professor of silviculture and forestry coauthored a study this year called Forest Carbon. The report shows that sequestration rates drop sharply immediately after disturbances like logging, and they remain lower for about 20 years.
That's because while saplings grow comparatively quickly, they're still much smaller than maturing trees, so they're not sequestering nearly as much total carbon. It's only after those trees have pushed their way up through the forest and developed large canopies that the sequestration rate really takes off — at around 20 years old. It stays high for decades, dropping off slowly but still sequestering significant amounts of carbon as trees age, D'Amato said.
UVM's Keeton said confusion about the release and eventual reabsorption of carbon from forests is commonplace. The science is complex and evolving, and advocates on all sides of the climate-change issue tend to pick studies that support their positions instead of looking at the issue holistically, he said.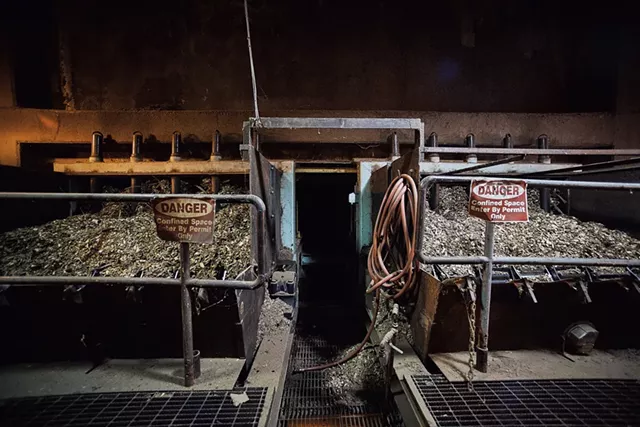 Bear Cieri
Chips inside the McNeil Generating Station
Forest owners and others sometimes cite the high rate of carbon sequestration in younger forests to justify logging as a net gain for carbon levels in the forest.
"Some people look at that and say 'Aha! These forests are sucking carbon out of the atmosphere like a vacuum cleaner!'" he said.
That ignores, however, the release of carbon as a result of the original logging, he said. While some carbon gets stored in wood products like lumber, wood flooring and cabinets, much is emitted through waste, burning and short-lived products such as paper towels, he said. One of his studies showed that after 60 years, 90 percent of carbon from logging in the state goes right back to the atmosphere, Keeton said.
Recent research also suggests that the growing biomass market is creating incentives for Northeast landowners to log their properties more intensely, which is a cause for concern, Keeton said.
Increasing the length of time between harvests might be one way to both store more carbon in forests while preserving them through active management, he said.
Snyder later conceded that after heavy logging, the affected forest sequesters little carbon for many years before hitting its peak growth and carbon sequestration rate.
"At time zero after the cut, it is not sequestering — it's a net emitter," Snyder said.
A healthy mix of forest types, including new growth, nevertheless helps ensure diversity and resiliency in the face of diseases, pests, invasive species and severe weather — real threats exacerbated by global warming, he said.
Focusing narrowly on carbon emissions from biomass or the efficiency rates of a plant like McNeil is an easy way to stoke the public perception that something is amiss, he said.
"What right-thinking Vermonter would cut four trees down and throw three of them away? No. You're never going to get me to say that," Snyder said.
While biomass may not be carbon neutral, it is "carbon better," he said, considering innumerable benefits of keeping forests as forests and the alternative of "pulling dead dinosaurs" out of the ground from halfway around the world.
"There is climate benefit in having forests, and the vast majority of those forests being managed, in a very close, Vermont, ecologically based way," Snyder said. "And we are getting better at it every day."
When new ideas emerge for how to improve forest health, the state takes a hard look at them. It's doing so right now with a Snyder-chaired working group that is looking at whether landowners willing to manage forests for higher carbon storage could benefit from the emerging carbon credit markets.
Meanwhile, he said, if focusing solely on carbon makes forests harder to manage in the state, Vermont risks becoming "a smaller, backwoods, colder, buggier version of Connecticut."
'Who Do We Listen To?'
Against this backdrop, members of the Unitarian Church of Montpelier are trying to figure out how to keep their house of worship warm in winter without burning fossil fuels.
The congregation declared its aspiration in 2016 to be "recognized in Central Vermont as a source of moral and ethical guidance in light of the climate crisis" and set about studying how to be more environmentally sustainable. Their 1886 church, with its clean lines and soaring steeple just a few blocks from the Statehouse, has long been heated with fuel oil, but committee members hoped to find a greener source.
"Most of us are not experts in this stuff," Rev. Joan Javier-Duval said. "We're really just concerned citizens of the world who want to live sustainably and do what we can to be as carbon neutral as possible."
They explored hooking up to the Montpelier district-heating system, but the up-front costs were prohibitive, Javier-Duval said. Instead they zeroed in on installing an efficient, stable, renewable local fuel source — an efficient wood pellet boiler — at a lower cost.
It seemed like a reasonable course of action, and many members were eager to move the project forward.
"Folks who care about this definitely feel a sense of urgency about it," Javier-Duval said. "The feeling is, not only it should be done now, but it should have been done 10 or 20 years ago."
But should it be biomass?
"Using our forests to produce wood pellets, how is that helping or hurting the larger cause of trying to address the climate crisis?" Javier-Duval said. "There are just some questions that people have about that."
As at Dartmouth, the church project has stalled as its members consider the best path forward.
"There's sort of a 'Gosh, who do we even listen to?'" Javier-Duval said. "Because even experts are divided."
Corrections, October 11, 2019: The City of Montpelier and the State of Vermont spent $20 million to replace the oil-fired burners in the city's heating plant with wood boilers. Also, Jon Leibowitz said that limiting logging on state lands would be a good first step. A previous version of this story contained errors.