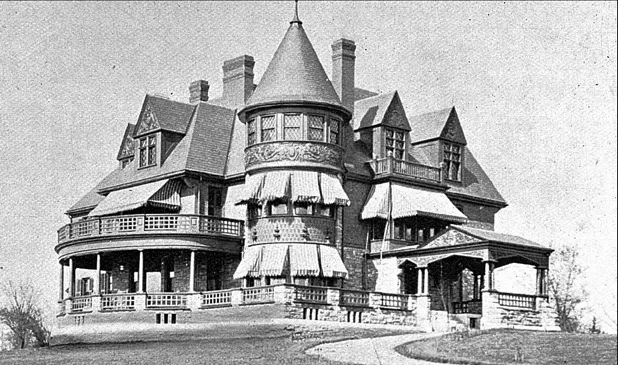 If you hike up Burlington's Maple Street past Champlain College, a beautiful sight comes into view on your left: the rosy hues and blocky masses of the Edward Wells house. The castle-like home was built in 1892 in the then-latest style, Queen Anne — a name that had less to do with the British monarch than with projecting a sense of majesty. Hence the elegant, covered coach-door entrance (called a porte cochere), elliptical porches on two levels and a three-story cylindrical tower topped by a conical roof. For many, a glimpse inside the building will be the highlight of Preservation Burlington's Annual Homes Tour this Saturday.
If Vermont has ever produced majesty, Wells was it. The Waterbury native and brother of Civil War general William Wells (whose statue stands in Battery Park) owned Wells Richardson, a patent medicine and dye manufacturing and distribution company. According to the 1979 National Register of Historic Places, one of the company's most successful products was Paine's Celery Compound, a "medicine" containing 22 percent alcohol and extract of coca — which is to say, a hint of cocaine. At the time he built the house for $100,000, using exquisite materials and superior local craftsmen, Wells was grossing $3 million a year.
This early pharmaceutical giant's former home at 61 Summit Street is currently being restored to serve as the University of Vermont Alumni House. The $13.5-million renovations won't be complete until October 2015, according to UVM executive director of member services Ruth MacCormack. But phase one — the exterior — nearly is, and tour-goers will also have a chance to view the first floor's astonishingly beautiful interior woodwork.
"Every room is done in a different wood," says MacCormack. On a pre-tour visit, she points to the entry in white oak, the mahogany-lined main dining room and the all-sycamore music room. MacCormack, who is also executive director of the Alumni House Campaign, says all funding for the renovations will come from private donors — a first for a UVM building.
Alums are apparently stepping up to the plate, and no wonder. Like MacCormack (class of '90), many of them once knew the building as the home of Delta Psi. The fraternity owned it from 1924 through 2007, when the university bought it.
"We all knew it was a special place when we were undergrads," MacCormack says, and adds that, as a Pi Beta Phi sister at the house a couple of blocks away, she "spent a lot of time here." Despite Delta Psi's famed annual 100-keg Oktoberfest parties and 83 years of frat life, the craftmanship remains remarkably intact.
While the house was vacant, between 2007 and 2011 (when renovations began), vagrants staying in the upstairs ballroom and other rooms "spray-painted the mirrors but didn't touch the woodwork," MacCormack notes. Pulling closed the music room's vast pocket door, she reveals a 6-and-a-half-foot-wide, solid-wood panel in near-perfect condition.
When completed, the building will be a place where alumni, faculty and students can stage meetings, concerts, weddings and more (though not stay over, despite the foundation's fundraising motto, "Come home to Alumni House"). Meanwhile, the restoration workers have become the building's most ardent fans.
"The craftsmanship in it just makes me cry. It's almost a spiritual experience, it's so well done," rhapsodizes Dave Robbins, the site supervisor of Millbrook Building & Remodeling in Colchester. The general contractor's team rebuilt the porches and reinforced their wood columns with internal steel supports, among other contributions.
Robbins cites as particularly notable the distinctive bas-relief wood carvings that fill the triangular peaks of the dormer windows and the entry and exit pediments of the porte cochere. The last two depict a smiling god's face to greet visitors and a scowling one bidding them good-bye. Their creator was Albert H. Whittekind, a master woodcarver who set up shop in Winooski in 1892 after executing carvings at the New York Public Library and other landmarks.
"Those carvings are 120 years old, in original old-growth pine, and they're still in good shape," Robbins marvels. "That's 120 Vermont winters."
Ron Wanamaker of Wanamaker Restoration in Burlington, who is currently restoring the tower's curved bands of carved wooden panels in his workshop, discovered that they had been held together all this time merely with fingerjoints. "Fitting it all back together is like puzzle pieces," he says.
Robbins ticks off more elements that seem to have defied time. The stained-glass windows, with their fleur-de-lis and onion motifs, he says, look like new after restoration by Lawrence Ribbecke Studios in Burlington. And the slate roof was rebuilt by Williston's A.C. Hathorne using the original slate. "It looks like it was put on yesterday," he enthuses.
"It's one of the most beautiful buildings in the state," agrees Paul List of Liszt Historical Restoration, the Essex Junction outfit in charge of restoring the masonry. The company has restored some beautiful Vermont landmarks, including the Mary Fletcher building at Fletcher Allen Health Care and the state agriculture building in Montpelier.
List's team repointed the second-story brick and the locally quarried, purple-and-tan dolomite stones used on the first floor, large sections of which they numbered, dismantled and rebuilt using fresh mortar. For the latter job, they had to fashion a unique joining tool. "The mortar has a half-circle profile that sticks out," List explains. "You can't buy tools like that anymore. [With] a lot of this stuff, you have to reinvent the old techniques."
Liszt Restoration will replace the house's five restored chimneys by crane — though probably not by tour time — and Heritage Environmental Projects of Burlington is still working on painting the woodwork a dusky rose, a color discovered after scraping down to the original coat. But the house is in good enough shape to give tour-goers a pleasure that nowadays comes tinged with guilt: a glimpse into the life of one of the early 1 percenters.
Preservation Burlington 2012 Annual Homes Tour, Saturday, June 9, noon to 4 p.m. $20. Tickets must be purchased in advance and will not be available at the homes. flynntix.com, preservationburlington.org