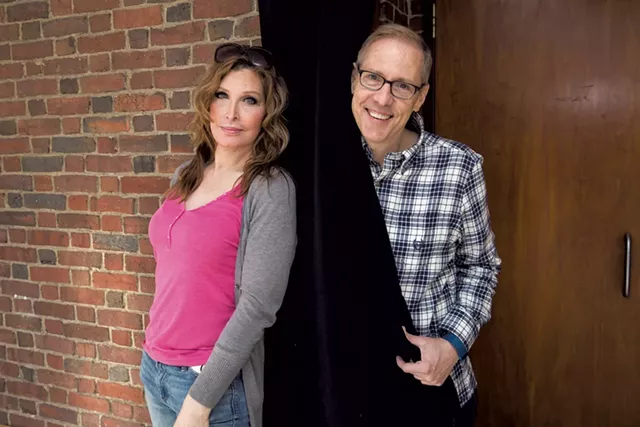 Courtesy Of Jon Chase/harvard
Original cast member Bianca Leigh (left) and playwright Paul Lucas
This Saturday, Vermont Pride Theater will perform a staged reading of a play that took more than four years to create and went on to tour internationally. The groundbreaking work that debuted at the Edinburgh Festival Fringe in Scotland and landed at Harvard's American Repertory Theater at now makes its way to Chandler Center for the Arts in Randolph.
Trans Scripts, Part I: The Women, written by New York-based playwright Paul Lucas, showcases verbatim conversations with transgender women (transitioned from male to female) from around the world.
The board of VPT first got wind of the play prior to its 2015 debut in Scotland. Board member Cher Laston, who was serendipitously planning to attend the Edinburgh festival, scoped out Trans Scripts for the Vermont company. After Laston's strong recommendation, and a second viewing of the show at ART, VPT reached out to the playwright about producing it in Randolph.
Lucas collected and curated the stories of more than 75 trans women, conducting interviews across the U.S. and in Australia, England, India, Cuba and Germany. In an interview, he described the mammoth task as "overwhelming." But the playwright was determined to present the voices of these women. "The show was designed so that people can hear first-hand experiences of a trans person out loud," he said.
Lucas told Seven Days his primary objective was to leave the content of the interviews untouched. The only editing he did was to select which interviews to include and arrange the stories to establish a narrative flow.
The playwright said he found that translating the transgender experience across cultures was like "comparing apples to kumquats." For that reason, he decided to limit Trans Scripts to stories from English-speaking, western or westernized cultures.
"Transgender identity is in many ways a response to the western notion of gender binary," Lucas asserted, noting that certain other cultures may acknowledge five or six genders. "For me," he continued, "including those stories would ignore the intricacies of that culture and filter it through a western experience."
He did not limit himself to white people's voices, however: The play's characters include a black woman, a mixed-race woman, and a Latinx woman (a gender-neutral term for a person of Latin American descent).
The original Edinburgh cast featured four trans actors and two women who were not trans. New York-based actor Bianca Leigh has appeared in every full production of Trans Scripts and will perform her character in Vermont. She believes the value of the play comes from the diversity of viewpoints represented.
"We present women of different ages, ethnicities, countries [and] people who have transitioned in different eras," Leigh said. "It's very different to transition when you're a teenager versus when you're 60."
The process of casting the show to reflect this diversity has been near to Lucas' heart. "The characters in the show, they are real women to whom I have a deep allegiance," he said. "I would try my best to hire trans women to play the parts. It's not always necessary, and it doesn't always work, but it does add a verisimilitude to what the audience is seeing."
Given a play whose content is inextricably tied to the characters' physical identity, how did VPT handle casting characters of color? Laston acknowledged that was a concern.
While the company's audition notice made clear that it would give priority to trans actors, it didn't have much luck in achieving racial diversity in a predominantly white state. "Our main purpose in producing this show was to start an educational conversation about the trans experience," Laston said. "We had permission from the playwright to produce the play, even if we could not cast any actors of color."
VPT did make an effort. "We put ads in newspapers around Vermont; we posted the auditions to interest groups on social media; we reached out to friends who do casting in Boston and New York," said Laston. "We offered to meet actors where they were, or to give phone or video auditions."
In the end, 12 actors auditioned, hailing from across New England. A few had been in VPT productions before; three are performing with the company for the first time.
Laston said she invites local actors of color to reach out if they are interested in future VPT productions. "Of course intersectionality is important to us," she said. "It's one of our goals to represent that better."
Theatergoers who see Trans Scripts Part I: The Women will have to wait a while for Part II. Lucas is just beginning the process of creating a similar show about trans men and is considering a third installment about nonbinary people. He'll be in Randolph this Saturday to watch the show and participate in a discussion afterward with the audience.