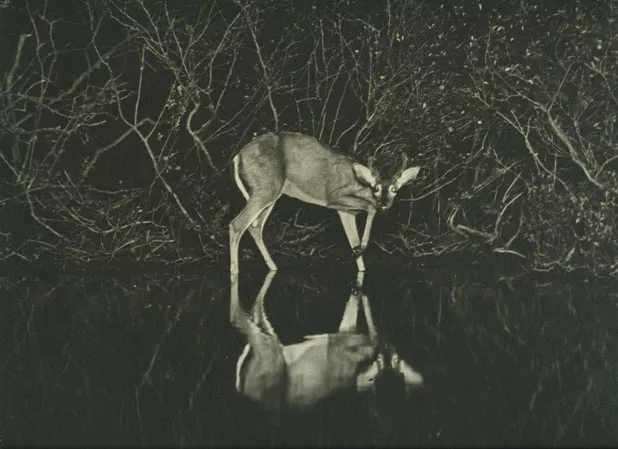 Early camera flash technology was complicated and messy. By the end of the 19th century, photographers were igniting magnesium powder in a flat pan to illuminate shots. But noise and choking smoke made the method unsuitable in many situations, and not easily portable.
Utica native Hobart Vosburg Roberts (1874-1959) turned the disruptive nature of magnesium flash into an advantage. He used the rowdy powder's shock and awe to capture stunning images of animals after dark. "Night Vision: The Wildlife Photography of Hobart Vosburg Roberts" is a special exhibit, on display this summer and next at the Adirondack Museum, that chronicles his remarkable life and work.
Roberts spent summers at his family camp on South Lake in the western Adirondacks. Even during the nascent days of conservation consciousness, hunting continued virtually unchecked. Roberts noted a then-common practice called jack-lighting: putting a lamp in the bow of a boat to blind deer momentarily, making it easier to shoot. "The thought came to me — why not use camera and flash powder instead of a gun and perpetuate on plate or film scenes such as it had been my good fortune to behold under the jack light rays?" he wrote.
Hunting with a camera rather than a gun yielded starkly beautiful results.
The exhibition features three dozen photographs, primarily silver gelatin prints, most of them undated. Unobtrusive mounting — simple silver wood frames, ivory mats, no glass — allows the internal luminescence of the black-and-white images to shine.
Roberts snagged pioneering paparazzo shots of the region's most camera-shy creatures: deer, loons, bear cubs. "In the Stillness of the Night" (1907) shows a deer standing in a few inches of water and staring straight into the lens. In "A Leap in the Dark," a young buck bounds away, his reflection mirror-clear in the shallow pond.
So how did Roberts get critters to pose for stills and action shots? "We build a platform on the front part of our duck boat so as to hold two cameras — one for a still picture and the other for action," he explained to American Forests magazine in 1935. "Our powder is fused in sealed paraffin pill boxes, holding three-quarters of an ounce each … battery wire and push buttons set off the fuse and ignite the powder."
The initial flash stunned the animal for an instant so the first camera could get a still shot. As the creature ran for cover from the noise and smoke, the second camera grabbed an image of it in motion.
Roberts also honed brilliant bait techniques for getting animals to take self-portraits. A terrific series of four shots illustrates critters as shutterbugs. In "Raccoon — Taking his own Picture — 1st Flash," Roberts' plump prey triggers a trip wire by munching on peanut-butter bait strategically placed at the base of a tree. (Roberts took lots of raccoon pics in the backyard of the family camp.) A skunk and porcupine, which he labels a "hedgehog," fall for similar schemes.
Getting a bashful bird to snap his own shot required more elaborate prep and fancier foodstuffs. "Great Blue Heron — Taking his own Picture" appeared in the June 1938 issue of National Geographic. The mag's caption describes the hoodwinked heron's reaction. "The live fish looked like a made-to-order meal — but there was a string attached! Result: one astonished heron, and a perfect self-portrait of that spindle-legged fisherman." The bird's tiny eye widens with a "WTF?" expression as its beak tugs on the wired-up fish.
Artifacts on display complement the photos. Roberts' cameras, made of wood and leather, look like works of art themselves. But they were cumbersome and finicky machines even under climate-controlled conditions. (The exhibit notes that fellow outdoor photog William Nesbitt discovered, to his chagrin, that porcupines found camera wood and leather quite tasty.) Also on display is a custom aluminum housing fashioned to protect the gear from the elements.
The museum's chief curator, Laura Rice, wants to make sure visitors get a sense of the physical obstacles Roberts juggled to create his work. "I can't imagine getting in and out of the Adirondacks in those days with glass and chemicals and everything else you needed to make an image," she says.
Rice embraced the opportunity to put together the exhibit when Roberts' granddaughter, Ann Penberthy Allen, approached the museum. "Hobart Roberts made quite an impact in his time, and I think he's been somewhat forgotten in the intervening years," Rice states. "He deserves to be better recognized."
Although the Adirondack Museum has more than 100,000 photos in its archives, it owns just a dozen by Roberts. Allen, on the other hand, "has been gathering and caring for her grandfather's work for years," Rice notes. "Ann was extremely generous in giving us access to everything."
The curator made multiple trips to Utica to sort through hundreds of Roberts' original images. "These were prints he had enlarged and mounted," Rice explains. "He would take them across the country and even into England to exhibit at camera shows and exhibitions."
Stalking wildlife with a lens was Roberts' summertime passion. But assistant curator Angela Snye notes that Roberts also enjoyed using candid-camera tactics to take family photos. The exhibit includes a priceless image of granddaughter Ann as a toddler, ca. 1935, getting ready to take a bath. Nekkid baby bath pix: Now, that is a gutsy granddaughter committed to sharing family history.