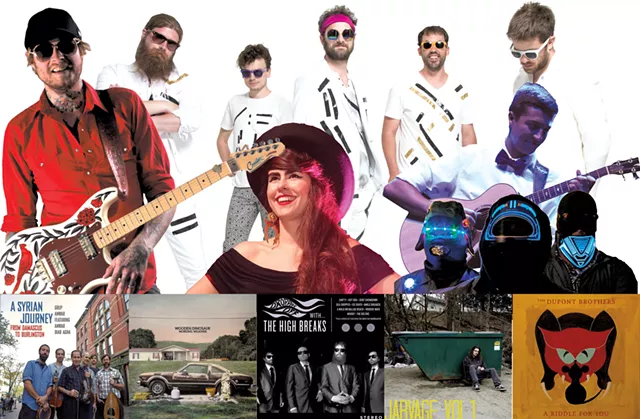 Here's a dirty little secret: There is no such thing as pure objectivity in arts criticism. Oh, sure, that's the ideal, and something every decent critic, regardless of field, strives to attain. But we're all ultimately products of our own tastes, biases and perspectives, no matter how much we try to suppress them in the service of neutrality. Nowhere is this more evident than in the year-end best-of list.
Tradition dictates that I choose the 10 "best" Vermont recordings of 2016. But here's the problem: That's an impossible task — especially given the brilliant variety and sheer volume of excellent music made in the Green Mountain State over the past 12 months. You could make many lists of 10 great albums and present a compelling case for each.
But choose I must. So, here are 10 albums that spoke to me for any number of reasons and stood out as representing the best Vermont had to offer in 2016. But, as you are about to read, they are not the only deserving candidates.
As always, the local rock scene served as a barometer for the health of the music community at large. And a number of newer acts made their mark, suggesting that the immediate future is in good hands.
Among these, Little Slugger longed for perfect days with nostalgic pop bliss. With two EPs, 1881 teased forthcoming action — and Brit pop. The provocative, proggy Sad Turtle were real and spectacular. J Bengoy fanned old flames with indie jangle. Iron Eyes Cody cast a steely gaze on saints and sinners. Luminous Crush were both luminous and crush-worthy. Orange Julians became an object of our affection. REDadmiral were, in fact, admirable and quirky. Rumblecat riled up the neighbors.
Not that our older friends were resting on their laurels. Funk-rockers Gang of Thieves loudly claimed their birthright. Indie vets Anachronist discovered their soul in the lost and found. The New Siberians returned, after an extended hiatus, as colorful as ever. Ditto Villanelles, whose indie-rock hearts are still blue. Violet Ultraviolet built this city on pop. Binger quieted skeptics with smart jams. Squimley and the Woolens made us hungry for pork chops. Waylon Speed side-project Luther went self-reflective on an eponymous debut. Henry Jamison braved the elements. Banana Schlitz did a body good with a sporty jaunt. Seth Yacovone dug deep. COPOUTS got drunk, as Irish punks do. In the Upper Valley, Carton luxuriated in modern comforts and distortion. And Derek and the Demons grew up, at least a little.
The closing of 242 Main dealt the heavy-music scene a blow. But you'd never know it by the amount of great punk, metal and hardcore records that assaulted our ears. Metal heroes Barishi roared. Hardcore phenoms CBRASNKE caught up. Sink or Swim found sincerity. Screaming Skull howled on cross-country collaboration. Doom Service delivered a goofy prophecy. Savage Hen savaged local lore. Vultures of Cult went long. Better Things got worse, in a good way. And Tyler Daniel Bean soothed our darkest days.
Heavy music was revitalized across the lake, too, thanks largely to new punk label Rat Pâté Records. The Plattsburgh, N.Y., imprint gave us snarling, lo-fi offerings from Marco Polio, Comrade Nixon and Bren, and more are on the way. Unaffiliated with that label but also from the Lake City, Critical Pricks turned out to be nice guys with really loud guitars.
For local hip-hop, 2016 was both fascinating and tragic. The untimely passing of rapper and DJ Ryan Morin, aka BP, devastated the community. Released days after he left the building, BP's final album with UnKommon revealed a profound wealth of burgeoning artistic talent and promise. In a similar way, a tribute compilation to the late, great DJ A-Dog offered both comfort and incredible music.
Longtime scene heavyweights Lynguistic Civilians proved grateful for their existence, even amid doubt over how much longer they'll exist. Fortunately, a righteous solo effort from LC cofounder Mister Burns suggests that the LC's parts are nearly the sum of their whole. Another scene vet, S.I.N.siZZle, made a moving statement on his solo debut.
Newcomers were plentiful in the 802 this year. LoKi dreamed big. Tatlock went astral. Jinx Inc. cut deep. Bar None the Best defined the Green Mountain sound. Producer Es-K teamed up with heavy hitters from afar. Another producer, SnakeFoot, sought the American dream — and gave us an EP with soul siren Steph Heaghney.
It was a comparatively quiet year from the Americana fold. But the quality of local twang more than made up for lean quantity. Eastern Mountain Time brought it all home. David Rosane & the Zookeepers put a bit of the city in the country. Old Sky got blue. Cricket Blue got mythological. Dan Johnson was magic. Sarah Munro & Mark LeGrand tamed demons and tigers. Bow Thayer stripped down. And Banjo Dan kept pickin' and grinnin'.
In jazz, soul and blues, Tyler Mast & Paradise Divide introduced us to "art-groove." Soule Monde smashed the world with their own arty grooves. Experimental ensemble the le duo boogied down. Chanteuse Tiffany Pfeiffer felt the classic-jazz love. And Dave Keller came back better than ever with a soulful, and soul-affirming, gem.
Old friends in new places remind us that you can always come home again. Fabled songwriter Sam Moss proved as mystical as ever. Percussionist Jane Boxall took notes from the field. Blahvocado got hurt and said goodbye. Alpenglow continue to shine brightly. Tommy Alexander gave us good news. And And the Kids demonstrated that sharing truly is caring.
The Top 10 Vermont Recordings of 2016