Hannah Palmer Egan
Fire cider
Fire cider: Even the name suggests potent liquors that burn from tongue to tail, with or without setting one's breath aflame à la medieval dragons. Actually, that description is not too far off. The immune-boosting cider-vinegar tonic packs heat from raw alliums, ginger, horseradish and chile peppers, and is sweetened with a touch of honey. Herbalists, naturopaths and, often, Mom or Grandma prescribe the drink to calm inflammation and aid in overall digestive, respiratory and cardiovascular function.
In the late 1970s, East Barre herbalist and Sage Mountain Herbal Retreat Center & Native Plant Preserve founder Rosemary Gladstar developed today's best-known kitchen recipe while working with a group of students at the California School of Herbal Studies. They based their concoction on a contemporary tonic called Cyclone Cider, but the beverage has ancient roots.
In Brattleboro, Sweet Flag Medicinals Herbal Clinic & Apothecary herbalist Justin Garner traces early honey-vinegar medicines to oxymel — an ancient Greek medicine. "[Fire cider] is a newer iteration of a very old medicine," he says, noting that even before Gladstar moved here 30 years ago, Vermonters were taken with the drink.
In 1958, local doctor D.C. Jarvis authored Folk Medicine: A Vermont Doctor's Guide to Good Health, in which he prescribed honeyed vinegar for everything from pulmonary issues to rheumatoid arthritis. Since the 1980s, Gladstar and dozens of other practitioners nationwide have popularized the beverage as a common DIY folk remedy.
"The great thing about this formula," Gladstar says, "is that it kind of crossed that food and medicine barrier. It was a great medicine, but you could also put it on your salads or with brown rice and on all these foods."
Some devotees shoot fire cider daily to keep cold, flu and other bugs at bay. Others sip it when they're feeling run-down or weak. In his herbal practice, Garner says he was amazed by the results when he administered the tonic to a client who'd been diagnosed with chronic obstructive pulmonary disease (COPD). "She immediately started getting up this brown stuff from her lungs that had been stuck there," he recalls.
Since fire cider is just a mix of common foods and herbs that most people eat anyway, "You don't have to worry much about interactions or dosing or [giving it to] kids," Garner says. "You can pretty much take as much as you want."
Gladstar agrees, noting that, while it's strong and "not a remedy for everybody," fire cider is gentle medicine. "[Each component] works by nurturing and supporting [your system]. They're not going to be like a concentrated drug or herb that's single-minded."
For example, ginger works as an anti-inflammatory and aids in digestion. Horseradish — a friend to one's colon — also offers a boost to one's immune system, as do garlic, onion and turmeric. "All of these things have broad-spectrum antibiotic qualities," Gladstar says, explaining that each acts as an internal warmer while stimulating circulation (of blood and other fluids) throughout one's vital organs and systems. "It's great, especially for people who have congestion — slow digestion or lower bowel issues," she says, "where you just want to move things through your body."
While many people accept the drink as a common kitchen remedy, use of the name "Fire Cider" is under litigation. In 2012, a Massachusetts company named Shire City Herbals trademarked the name and, in 2014, began putting herbalists (many of whom had been making and selling it for years) on notice that they would have to remove all references to "fire cider" in their labeling, marketing and branding materials.
For many herbalists, changing the name of a product isn't a big deal — but the trademark issue threatens the open-source way in which many plant-based practitioners do business. "It's caused concern, because there are a lot of common remedies and recipes that have been shared freely among people," Gladstar says. "This was the first time that a very popular herbal formula has been usurped by a company that decided to own it."
At Taking Root Herbal Teas & Apothecary in Middletown Springs, herbalist Leilani McNeill says the tonic is easily her "best-selling stand-alone product." Looking to grow her company amid surging demand for fire cider, she chose to rebrand her formulation as "Fighter Cider" to preempt any trouble.
McNeill's customers range from everyday consumers, who use it as a home health aid, to chefs, who buy it in bulk and use it in recipes, ascribing to resurgent ideas about "food as medicine."
McNeill says it can be aggravating when customers at markets and trade shows tell her they "are friends with the people who invented" fire cider, or that they've "already tried it." But she uses such conversations as a bridge to teach people about the drink's history and variations. "I just say, 'Well, it's kind of like chocolate chip cookies — they're all different,'" McNeill says.
Making Fire Cider is Easy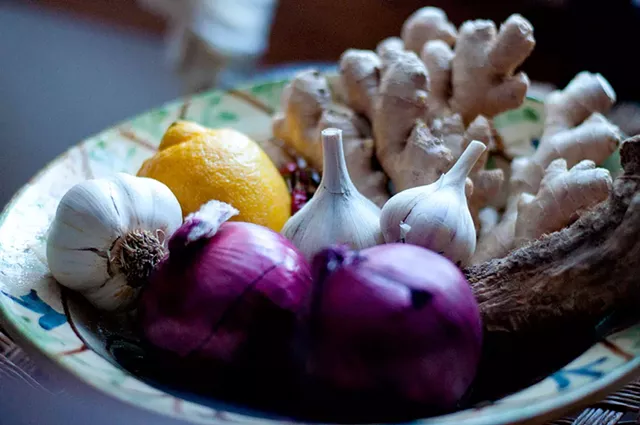 Use unpasteurized, raw cider vinegar if you can. Justin Garner gets his from Dwight Miller Orchards in East Dummerston, but many local orchards and cideries sell it. Look for it at your local market or co-op.
Says Rosemary Gladstar, "Think about the flavors. It's going to be hot in a different way if you use a lot of horseradish than if you add a lot of garlic. And it's easy to get out of hand with the cayenne. Sometimes I add whole peppers because it looks so pretty when it's brewing."
Ingredients (all approximate measures)
1 head garlic, peeled
1 large onion
1 piece fresh horseradish, 5 or so inches long
1 piece fresh ginger, 2-3 inches long
1 piece fresh turmeric, 1-2 inches long
Chile peppers to taste
1-2 quarts apple cider vinegar
Raw honey to taste
Preparation
Chop all the roots and chile peppers into small pieces and place in a half-gallon glass jar. Cover with cider vinegar and seal. If the jar has a metal lid, you may want to place waxed or parchment paper over the top of the jar before screwing on the lid — vinegar is corrosive! Shake often, preferably daily.
After a month or six weeks (Gladstar often lets hers macerate up to three months), strain the liquid through cheesecloth. Discard the roots and sweeten to taste with raw honey. The honey makes it more soothing for the throat and softens the flavor.
Bonus: Fire Cider Chutney
Additional suggestion from Rosemary Gladstar
Normally, when I make fire cider, I wait eight to 12 weeks, and, by that point, the herbs are mushy and soft. But I once strained it after four to six weeks, and the herbs were still really nice — too nice to compost. So I put them in the [food processor] and blended them into a chutney. It was totally awesome. Think of those nice ingredients in there — they've sat in the vinegar for a little while, and they're still crispy. I added nuts and raisins to another batch. So, fire cider chutney! It was so good.