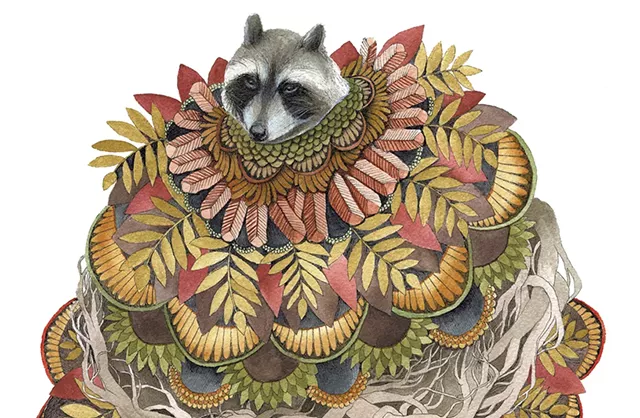 Illustration By Jess Polanshek
Illustration from Jess Polanshek 's book Polanshek of the Hills
Like most artists, Jess Polanshek has been drawing since early in her life — "since I could pick up a crayon," she says. But not all child artists develop an intense devotion to a particular subject and stick with it into adulthood. Now the 28-year-old, who lives in Fairfax, is making a living from it.
"It" is illustrations "inspired by the forest and all of its inhabitants," the artist writes in her new book, Polanshek of the Hills, which contains ink-and-watercolor illustrations from three thematic collections. She is "obsessed" in particular, she says in a phone conversation, with wild animals of the northern forests. Think bats, bears, birds, raccoons, foxes and other critters.
Though Polanshek loves dogs and has three of them at home, you won't find household pets in her drawings. And she definitely does not do pet portraits. The only marginally domesticated animals in her book are a chicken and a goat.
Over the past several years, Polanshek has built up a business selling cards and prints — she recently expanded into stickers, enamel pins and magnets — as well as some original paintings. She doesn't take commissions, though — she's too busy. Polanshek has maintained a local presence in shops such as Burlington's Thirty-odd and Birdfolk Collective in Winooski. She has a current show at Frog Hollow Vermont Craft Gallery and is a regular exhibitor at the South End Art Hop.
Polanshek maintains some 100 wholesale accounts in the U.S., plus one in Australia. She is adamantly DIY; even her book — supported with crowdfunding — is not listed on Amazon.
Polanshek of the Hills is like an artist's notebook, but on glossy pages and hard bound. You have to flip to the back pages to find the artist's comments in this otherwise text-free volume. Polanshek's works are labeled with section heads: "Collector," "Home" and "The Quilted Forest." The remainder of the book is filled solely with her richly expressive illustrations of the natural world.
"To put all these collections together was very satisfying to me," she says.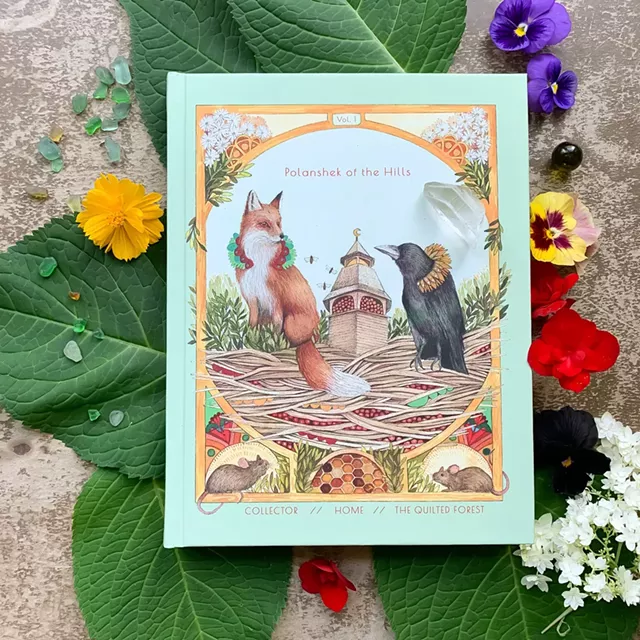 Courtesy Of Jess Polanshek
Polanshek of the Hills, self-published, 170 pages. $35
Her drawings are realistic but stylized, and it's the latter element that sets her work apart from that of a zillion other nature artists. Polanshek frequently adorns her creatures with elaborate decorative collars. Sometimes these extend into full-body "gowns"; a bear, a bird or a bunny might appear completely swaddled in row after row of patterns.
These "Quilted Forest" pieces, she says, are based on literal quilts. "My Nana was a quilter," Polanshek explains. "My heritage is the former Yugoslavia and Russia."
Indeed, a vaguely Eastern European sensibility seeps into her work, which many viewers have compared to illustrations for folk tales. "A lot of people say it reminds them of their childhood," Polanshek says. "It's homey, nostalgic."
Speaking of home, the section of the book that bears that name features animals that literally carry representations of home: a fox with a medieval-looking tower on its head, a ladybug with a cupola on its back. Polanshek says she was obsessed with the concept of home when she was herself looking for a house. "I tend to put whatever I'm thinking about into my work," she says.
The artist does not aim to put particular thoughts into her viewers' minds, though. Asked why she thinks her work appeals to so many people, Polanshek surmises, "I think a lot of it has to do with animals and nature. Everyone has a connection, or wants to. The artwork brings them to it."