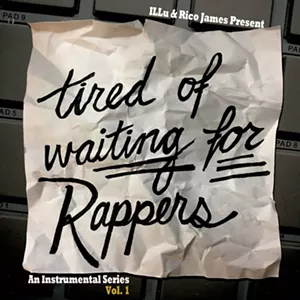 ILLu & Rico James, Tired of Waiting for Rappers: An Instrumental Series Vol. 1
(Equal Eyes Records, digital download)
Tired of Waiting for Rappers: An Instrumental Series Vol. 1 is the first in a run of collaborations from local producers ILLu and Rico James. It also marks the first release on Equal Eyes Records, a new local hip-hop imprint the duo has founded. The Queen City rap scene has grown quickly, both in terms of quality and depth, and this is the next step: creating platforms, crews and, ultimately, businesses.
ILLu is a Burlington-area native who came to hip-hop through none other than acclaimed Burlington saxophonist Dave Grippo, his high school music teacher. Circa 2000, Grippo would perform at school assemblies, as ILLu recalls, "with a DJ and a rapper." These were the late turntablist Andy "A_Dog" Williams and, presumably, rapper Konflik. Both men regularly gigged with Grippo at the time. Regardless of who was on the mic, inspiration struck and a young producer was born on the spot.
James took a longer route to BTV hip-hop. His path has included an art degree in Plattsburgh, N.Y., and years on the West Coast, but he's had a real impact on the scene since he arrived. A prolific producer and talented photographer, James was also a founding member of hip-hop group Self Portrait, who released the urgent Primal Union LP last year. Alongside rapper Trono and the gifted hands of DJ Kanga, the trio put on a fierce live show.
ILLu and James have much more in common than rapper-related project delays. They're both sonic explorers more interested in stretching out than perfecting a personal sound. James has stayed busy doing side work for the likes of Bless the Child rapper Humble and the crew at the Milkhaus, in addition to a string of instrumental EPs.
ILLu seems to reinvent himself with every project. One of the most interesting was Fresh Patterns, his collaboration with Mister Burns on lyrics and Marek Lorenc on clarinet. Sounds dubious, I know, but it slays live. The point is, ILLu and James are artists first, keenly interested in the music side of the music business. And it shows.
As an instrumental set, Waiting for Rappers passes the single most important test: It's an interesting listen. The two producers are experienced enough to layer movement, motion and dozens of drops on every cut.
The standards for instrumental hip-hop are flexible. For instance, purists such as DJ Food or the Avalanches can spend years honing hundreds of samples into a single song. Then you've got producers such as Madlib or Daringer, who are happy to let the perfect loop play out for 32 bars at a stretch.
Throughout Waiting for Rappers, the duo strikes a balance between those two extremes, and the result is a very accessible project. Listeners who are turned off by the mention of "beat tapes" should be pleasantly surprised by the offerings.
Expect to see more local hip-hop record labels cropping up in 2018. The scene is too diverse to fit under any one brand name. But it will be interesting to see what ILLu James build from here. They are young, talented and driven. Great careers have been built on less.
Tired of Waiting for Rappers: An Instrumental Series Vol. 1 is available March 23 on digital platforms, including iTunes, Bandcamp, Spotify and Amazon.