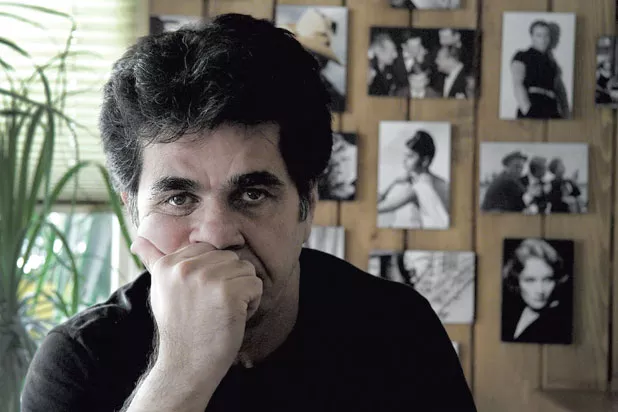 The brief closing credits of Jafar Panahi and Mojtaba Mirtahmasb's 2011 semi-documentary This Is Not a Film may well be the key to understanding this cryptic, fascinating work. Those credits inform viewers that they've just watched not a film but an "effort," and the names of all but the directors are redacted. This Is Not a Film, in other words, makes every effort to live up to its title.
But if it's not a film, and a phantom cast and crew made it, then what is it? Local viewers will have the opportunity to peel back the many layers of this one-of-a-kind work when it screens at Middlebury College's Hirschfield International Film Series on Saturday, January 18.
Panahi, one of the leading lights of the Iranian New Wave film movement, was sentenced in December 2010 by his country's Islamic Revolutionary Court to six years in prison and a 20-year ban on filmmaking. The official charge was that Panahi had worked on an "anti-regime" film.
Though the director had already been hassled and arrested by the Iranian government numerous times, the 2010 sentence was unusual in its strictness. It stipulates that Panahi is "banned from making films, writing any kind of scripts, traveling abroad and talking to local and foreign media for 20 years."
At present, Panahi is not incarcerated, though he lives under the threat of that eventuality. He resides in Tehran, can move about the country and has even attended Iranian film festivals. Yet the ban on Panahi's filmmaking remains in place, and the director is not allowed to leave the country.
After Panahi was sentenced, leading figures in world cinema raised their voices in protest. Abbas Kiarostami, Iran's most acclaimed director and Panahi's mentor, penned an open letter calling for his release; in the West, scores of filmmakers, critics and film-festival organizations condemned Panahi's punishment and drew public attention to his situation. At the 2010 Cannes Film Festival, a chair was left symbolically empty on the jury panel on which Panahi had been slated to serve.
It was at the subsequent Cannes Film Festival that This Is Not a Film, saved on a USB drive and smuggled into France inside a cake, made its début. Its unusual distribution method complements its unusual production: Panahi was careful to obey the restrictions placed on him, thereby highlighting their absurdity. The essay was shot partly on video and partly on an iPhone (and is thus not a film per se). It shows Panahi reading from a script he was to have filmed and describing how he intended his shots to be framed.
For reasons both political and cinematic, This Is Not a Film fits in well with the mission of the Hirschfield series, says Jason Mittell, Middlebury professor of film and media culture and American studies. The series is committed to showing international films that have received limited (or no) release in Vermont, and often screens films of a political nature, the better to jibe with the college's longtime academic strength in international politics.
This Is Not a Film, for all its ambiguity, is an impassioned statement on Panahi's political-artistic conundrum. Still, despite the seriousness of his situation, the project (which A.O. Scott, writing in the New York Times, dubs a "video essay") is surprisingly playful and witty. Its titular nod to René Magritte's painting "The Treachery of Images" is the first indication that Panahi's approach is not entirely one of despondence.
Christian Keathley, associate professor of film and media culture at Middlebury, notes that Panahi's work often evinces a political conscience that exceeds that of his mentor. "Panahi has always been much more directly politically antagonistic than Kiarostami ever is," he says.
Panahi continues to use his art to test the limits of Iran's laws — a potentially dangerous project, given that This Is Not a Film's codirector, Mojtaba Mirtahmasb, was himself imprisoned for several months in 2011. Panahi's most recent film, Closed Curtain, was made surreptitiously in private homes in Iran; it played internationally in 2013, winning the Best Script prize at the Berlin International Film Festival. Though the Iranian government is aware that Panahi has continued to make films, so far he has not received any stricter punishment, for reasons unclear.
"This Is Not a Film" screens on Saturday, January 18, at 3 and 8 p.m. in Dana Auditorium, Middlebury College. Free. go.middlebury.edu/hirschfield