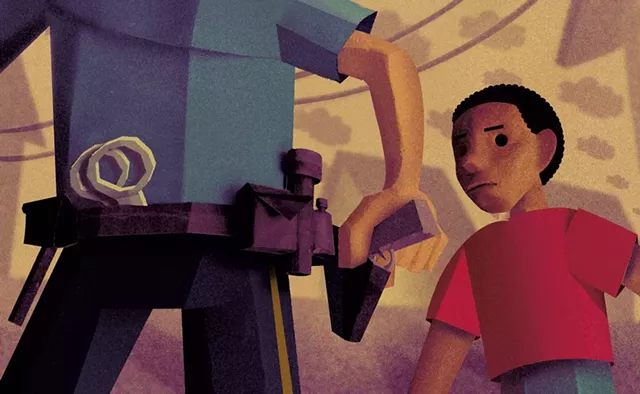 On the afternoon of June 13, 2018, a New North End resident dialed 911 to report that a 5- or 6-year-old girl with a knife was wandering through his yard. The caller told the dispatcher he knew the child; she was a neighbor who had developmental issues. He mentioned that she was accompanied by her social worker.
When Cpl. Matthew White arrived, he came upon the child in a driveway; the social worker stood near her, a few yards away. White approached the girl and called out, "Hey, sweetheart. Drop the knife. I'm the police department, OK? I don't want you to get hurt ... I'm here to help you."
Police bodycam footage shows that she walked toward him slowly, then made a slashing motion with the knife. "Don't," said White, his tone somewhere between stern and annoyed. He radioed for backup and moved away.
The child stood still on the sidewalk, as if unsure where to go. She jogged toward the social worker, brandishing the knife, but quickly seemed to lose interest in the chase.
"How old is she?" White asked the social worker.
"She's 6," he responded. "She has severe trauma in her background."
The girl wandered off; a pursuit ensued. At one point, White, whispering behind an acrylic shield, asked his commanding officer on the scene, Sgt. Justin Couture, "I mean, we can tase a kid this young, right? If it comes to it?"
A few minutes later, White and another officer encountered the child in an alley by a neighbor's house, striking the knife against some walkway stones. She ignored requests to drop it.
"Spray her! Spray her!" White hissed through his walkie-talkie.
Couture signaled approval.
The other officer stepped forward and aimed a canister of pepper spray. The wind carried the mist, and the child dropped the knife with a shriek.
Across the state, police are serving as de facto first responders to youth mental health crises. But the standard training curriculum for Vermont's officers contains little information focused on children and adolescents, leaving officers to improvise with tactics and equipment better suited for adults. That blind spot can have traumatic, lasting consequences for Vermont's most vulnerable children and families.
Vermont's 45 beds for youth in mental health crisis are often full, leaving children who need intensive treatment to shuffle from one stopgap measure to another. When they spiral out of control at home, families sometimes have no choice but to call 911, the only guaranteed crisis intervention hotline.
Even Burlington, with its relatively high concentration of social services and mental health organizations, struggles to staff programs intended to prevent children and adults in crisis from coming into contact with law enforcement in the first place. Street Outreach, the Howard Center's mobile intervention team, has been scaled back in recent years from six social workers to four, who mostly attend to incidents around the Church Street Marketplace. Community Outreach, a similar program that covers South Burlington, Williston, Colchester, Essex, Winooski, Shelburne and Richmond, has five full-time positions — two of which are currently vacant — to service all seven towns.
As a result, police end up responding to calls that should have been addressed by mental health professionals — and when the person in crisis, child or adult, poses a danger to themselves or others, the protocol is to get police on the scene, said Catherine Simonson, clinical director of the Howard Center.
That practice also holds true for First Call for Chittenden County, Howard Center's 24-7 hotline. In theory, First Call's social workers can be dispatched to the scene of a crisis when there's no imminent safety risk, but Cindy Tabor, executive director of the Vermont Federation of Families for Children's Mental Health, said she often hears that the system doesn't work.
"Over and over, parents tell me that it's not helpful, that it's a waste of time," Tabor said. "A lot of people say that they've never had a mobile response because of staffing availability. And if the kid is suicidal or homicidal, First Call will say, 'Meet us in the ER.'" When those parents can't wrangle their highly agitated child into a car, they're told to call police.
Simonson acknowledged that the demand for First Call's services may exceed its capacity to intervene. Due to staffing limitations, "we don't always hit the benchmark," she said. Even when First Call workers can provide in-person support, families sometimes have to wait so long for the clinician to arrive that they call the police in the interim, just to have an immediate response.
Theresia Graham, whose adolescent daughter has struggled with severe emotional and mental health issues since she was a toddler, knows the drill. Over the past few years, she and her wife, Maggie, estimate that their daughter has had at least 10 encounters with police in Burlington, Colchester and Williston.
"It's the ultimate last resort," said Graham. "But when she got big enough to physically overtake us and hurt her siblings, we needed that level of response, especially when First Call workers sometimes take 90 minutes to show up."
When the police arrive, said Graham, they can elevate the tension in an already fraught situation. On July 4, 2017, the Grahams dialed 911 after their daughter, overstimulated by the fireworks and commotion, became aggressive.
"She was biting both of us," recalled Graham. "She was punching and kicking; her eyes were dilated. When she's in that state, she's basically a wild animal in a cage, fighting for her life."
When police arrived, Graham, afraid of how their daughter would react to the sight of a gun, asked them if they could leave their weapons in their vehicles.
"They got very defensive and asked us if we had weapons," she said. "And then they asked if we'd been drinking all day and if we had heard of the Howard Center, and we were like, 'Yeah, we have a whole crisis plan ... Now we're at the last step.' Basically, their response was, 'What do you want from us?' We were afraid and exhausted, and all we wanted was for an authority figure to talk to our daughter calmly. And instead, they made us feel like bad parents."
Nationally, most police academies offer minimal training in mental health crisis de-escalation techniques specific to children and adolescents. In 40 states, including Vermont, the curriculum focuses mainly on juvenile codes and dealing with child victims. Basic officer training includes limited practical guidance on how to communicate with youth in acute mental and emotional distress.
Vermont's compulsory eight-hour mental health training for police, known as Act 80, offers only a basic overview of childhood mental illness. "We talk about how symptoms of mental illness might look different in a young person, but there's definitely room for a lot more," said Cindy Taylor-Patch, the director of training for the Vermont Police Academy. "It's not achieving what we want to achieve."
When it comes to use-of-force training, the academy teaches officers "to use reasonable force in any situation," said instructor Drew Bloom. "There's no hard-and-fast rule for responding to people of a certain age."
Taylor-Patch, who previously worked as a mental health crisis clinician, said more scenario-based training could help: "I definitely think there's a growing demand on police to respond to mental health issues," she said. Reading children and figuring out how to react can be "incredibly difficult," she added. Simonson at the Howard Center noted that the severity of children's mental health crises has increased dramatically over the past few years, underscoring the need for a higher level of intervention.
But not everyone thinks police need to develop such specialized skills. Burlington Police Chief Brandon del Pozo spoke to Seven Days about the pepper-spray incident in early July, before he took family medical leave.
"The person who was with her is a licensed mental health clinician for children," he said. "I want to know what my cops should have done above and beyond what someone with a master's in counseling, specializing in trauma-informed treatment for children, should have done." Northeast Family Institute, the social worker's employer, did not respond to calls for comment.
The state does offer police an optional eight-hour, scenario-based training, called Team Two. Of three scenarios, one typically involves an adolescent, said Kristin Chandler, who coordinates the program. Since Team Two's inception in 2013, the Burlington Police Department has enrolled 19 officers. Chandler indicated that Burlington's participation rate is low compared to other departments: The Montpelier Police Department, for instance, has trained each of its 17 officers, and several have attended more than one session.
According to del Pozo, about 20 percent of Burlington's 105 officers have had hostage negotiation training, which he believes goes further than the crisis training model widely recognized as the gold standard in de-escalation for law enforcement.
What does hostage negotiation have to do with a 6-year-old girl with a knife?
"If we're turning our attention to someone in a mental health crisis because they're a danger to themselves or others, then that falls under the umbrella of hostage negotiation," del Pozo said. "The goal is communication with people to get them to voluntarily comply with what you need to do to get them to safety."
In del Pozo's view, a child with a knife doesn't necessarily require a dramatically different response than an adult with a knife: "I think a knife is a knife. All the officers who responded were candid in saying that a child is much less of a threat, but the thought is nonetheless that you want to keep a safe distance and weigh the danger the child may pose to herself or others."
In fact, del Pozo believes that no amount of training could have prepared his officers for that day.
"We've dealt with children having outbursts at home or at school, but a child with a knife running around in the street, waving it around and breaking property — this is it," said del Pozo. Even in that unprecedented scenario, he said, officers still acted sensibly.
The department has no immediate plans to implement youth crisis training. But in the wake of that incident, every patrol officer has watched the bodycam footage as a training exercise.
What gets recast as a learning opportunity for a cop can be an irreparably traumatic experience for a young child. The parents of the 6-year-old declined an interview for this story, partly because they felt media attention would force her to relive an incredibly painful moment. For children who suffer from mental illness or have a history of trauma, a confrontation with police can have catastrophic consequences, according to Courtney Fleisher, a pediatric psychologist at the University of Vermont Medical Center.
"The child could be made to feel that they're back in another experience that was traumatizing for them, which might make them respond as if the situation is more dangerous than it needs to be," Fleisher said. "Long-term, that can have an impact on their interactions with people who should be seen as safe and trustworthy."
That's proven true for Anne Boissy's severely autistic 13-year-old son. Boissy, who lives in Essex, has had to call the police on him at least half a dozen times over the past six years. More often than not, she said, she can't get a First Call worker on the phone, or they can't respond right away.
In July 2018, shortly after Boissy's son had been released from the Brattleboro Retreat, he had a meltdown, said Boissy: "He gets overwhelmed and can't calm himself down."
He threw rocks at Boissy, then fled their home. She called 911. When Officer Michael Roberto arrived, Boissy explained that she wanted her son evaluated in the emergency room.
According to the police report, Roberto found the boy at an intersection about a third of a mile from their house. He was more subdued, and Roberto was able to talk to him. But the boy became aggressive again, cursing and slamming his forehead into a stop sign.
Roberto managed to get him into his cruiser, but the boy kicked and flailed. Finally, Roberto handcuffed him until EMTs came to transport him to the hospital. When Boissy reunited with her son in the emergency room, she said, she noticed red welts on his wrists from struggling against the handcuffs. She started crying.
The Vermont Department of Mental Health's restraint policy stipulates that officials must use soft nylon restraints on children in a mental health crisis, but police officers aren't always equipped with them.
"My son can't handle being restrained," said Boissy. "It makes him even more combative. I always beg them not to use handcuffs, not to be too rough on him. But you never know when an officer shows up whether they're going to be gentle."