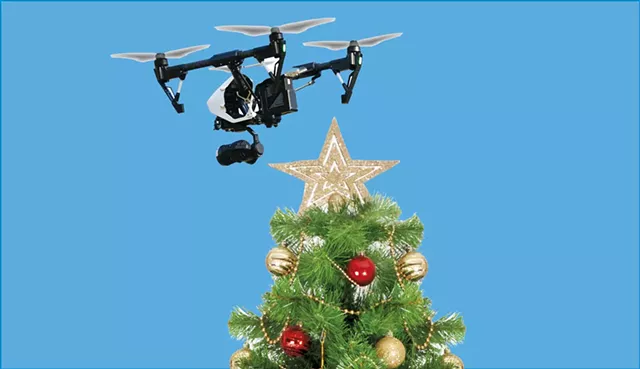 Photo Illustration: John James
On a blustery evening last Friday, Scott Hattin and his family joined the bundled masses at the top of Burlington's Church Street Marketplace to witness the annual tree-lighting ceremony. Standing with his son, his son's fiancée and his two granddaughters, Hattin was reveling in the splendor of the 50-foot spruce tree, which had suddenly lit up with thousands of tiny red, blue, yellow and green bulbs.
He didn't notice that high above him, a dark object with a glowing green light was circling the tree. Moments later, there were cries from the crowd as the four-legged thing careened into a building and plummeted from the sky.
"All of sudden, something whammed me at the top of my neck," Hattin said. "I was looking around thinking, Wow, what the heck hit me?"
Rudolph the Red-Nosed Reindeer, it was not.
"I was assaulted by a drone," the 57-year-old Burlingtonian later explained to a reporter, chuckling at the absurdity of it. But it was no joke — "It felt like someone had dropped a potted plant," Hattin said.
Luckily, he had donned a thick down jacket with a hood, which cushioned the blow. "It could have been a lot worse," he noted.
The indignant grandfather called over a Burlington cop, handed her the drone and lodged a formal complaint. A little later, the officer returned with the pilot, who delivered what Hattin considered a "half-hearted" apology, explaining that he had lost control of the drone while shooting footage for the Church Street Marketplace.
Marketplace executive director Ron Redmond did not return requests for comment, nor did Burlington Police Chief Brandon del Pozo.
"If I had been hurt more, I would definitely be suing him, because, in my opinion, it was really irresponsible," said Hattin, who noted that on Monday his neck still felt tender.
He wants to know whether the drone operator had a license, required by the Federal Aviation Administration for commercial drone pilots. Even if he did, the pilot violated two other rules on the FAA's website —flying in the dark and over people are both prohibited.
Gotta love Christmas in the digital age.