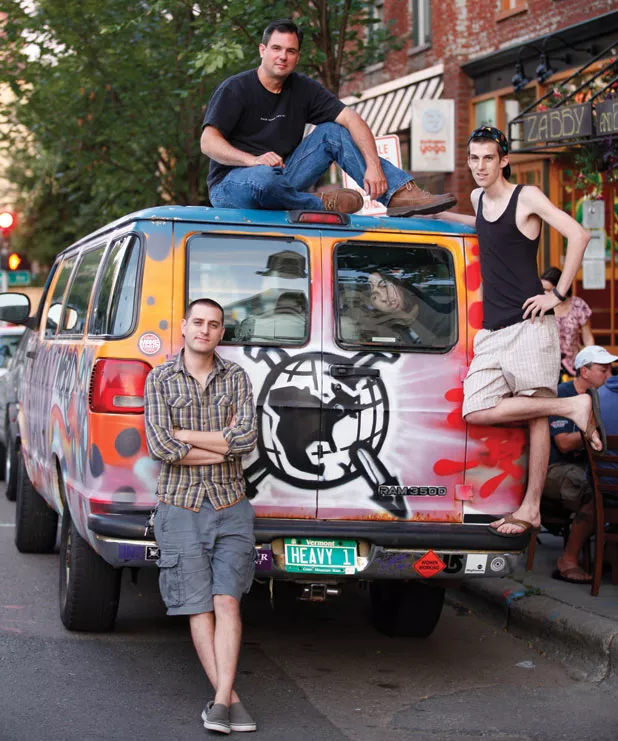 Jim Lockridge (top) with the Big Heavy World crew and Heavy 1
For most local bands, touring is a bitch. Logistical hassles present steep challenges, from booking and routing to drawing crowds in strange cities and finding a place to crash for the night. Add to that harsh financial realities, including low-paying gigs and gas prices creeping toward $4 a gallon. And then there's figuring out just how to get yourself and your raggedy-ass bandmates safely there and back in your rusted 1994 Volvo with no muffler, one headlight and an expired inspection sticker. You know, just for example.
But Burlington's humble champions of Vermont music, Big Heavy World, have made it easier for local bands to take their act on the road by eliminating one variable in the rock-and-roll touring equation: transportation. The volunteer-run nonprofit owns and operates two 2000 Dodge Ram 3500 15-passenger vans, dubbed Heavy 1 and Heavy 2, which it loans to Vermont bands. Since Heavy 1 was christened in October 2010, the vans have logged tens of thousands of miles, ferrying local acts from coast to coast and countless destinations in between.
"The bands that borrow the vans couldn't tour without them," says BHW founder and executive director Jim Lockridge.
Burlington-based hip-hop outfit Lynguistic Civilians have logged an estimated 3500 miles in the BHW vans. The group, which includes five MCs and a DJ, echoes Lockridge's statement.
"If it wasn't for Big Heavy World letting us use their van, we wouldn't be able to do half the out-of-town shows that we do," says LC's Scott Lavalla. "For us to be able to all ride together with all the equipment makes all the difference in the world."
Ryan Krushenick, of late local hardcore band Unrestrained, agrees.
"A van is a cost most bands can't afford," he says. Unrestrained used the van for a cross-country tour with two European hardcore bands. That's 15 musicians, plus gear. "Our tour would have been impossible without Big Heavy World," he adds.
Lockridge says the vans fit into BHW's larger mission, which is to support and promote Vermont music and musicians, and to provide resources that help bands succeed. Other projects associated with BHW include the archival Vermont Music Library and a low-power FM radio station, the Radiator. Tour vans had been on the wish list for years but only became a reality when Good News Garage donated both vans to BHW.
Typically, 15-passenger vans are in short supply for GNG, a nonprofit that provides vehicles to low-income families, and they're too costly for most needy recipients to operate, Lockridge notes. But in October 2010, a minor miracle occurred and a roadworthy van finally came in to the aptly named organization.
"We found one of those paddleball things with Jesus on it in the glove compartment," Lockridge recalls. "That's how we figured out it was an old church van."
Heavy 1 isn't churchy anymore. Local tattoo artist Jason "Tooth" Toothaker painted the van, graffiti-style, last year at Heavyfest, a BHW benefit show hosted by the Magic Hat Brewing Company in South Burlington. Heavy 2, the newer and nicer of the two vans — Lockridge calls it "the jet" — is scheduled to be painted at next year's Heavyfest.
"We take a lot of random pictures with crazy people in awe of the van's paint job," says Lavalla of Heavy 1.
Many of those pictures can be found online. Part of the loan agreement that bands sign before they borrow the vans stipulates that they document their travels and post pictures and essays on the BHW blog. Other requirements include keeping the vans clean and returning them on time and with as much gas in the tank as they left with. Bands also agree to host or appear at a future BHW fundraising show, which helps offset the operational costs of the vans.
Local metal band Vaporizer, who recently borrowed Heavy 2 for a northeast tour, will host one such show this Thursday, August 23, at Winooski's Monkey House. Lynguistic Civilians will host another on Friday, August 24, at Manhattan Pizza in Burlington.
"For us, having these vans exist is a great opportunity to build the community," says Lockridge. "But it's not like a charity. Everybody pitches in to keep these things on the road."
Lockridge says the expenses add up to a few thousand dollars per year.
"There's operating them," he says. "And then there's operating them with style."
BHW carries minimal liability insurance, a policy to which every driver is added, at a total price tag of about $1500 annually for both vans combined. Regular maintenance and upkeep — oil changes, tune-ups and the like — add to the cost, as do more significant repairs. Heavy 1 is currently offline, in need of a new transmission and new tires. But Lockridge says those costs are not only expected, they're welcome.
"We get all proud of ourselves for wearing the vans out," says Lockridge. "We've gotta replace the brakes? Awesome!"
Lockridge says demand is high, and increasing, for the vans — especially with one of them grounded. They're usually booked weeks, if not months, in advance, particularly for weekends. Scheduling is sometimes a challenge, such as when two bands need a vehicle on the same day.
"You'll have one band that needs the van at two o'clock, but the band with the van is on their way back from New York City and you don't know if they'll get home on time," Lockridge says. "But you learn as you go along. We learned it's important to have a buffer between bands."
While Heavy 1 and Heavy 2 provide an invaluable and unique resource to local bands, Lockridge views them simply as another piece of the Big Heavy World puzzle.
"The vans fit into the list of things we figured we could use around here," he says. "Some things on that list are fantasy. But the vans are real. And who knows? Maybe there will be a jet someday."
Turbid North, Vaporizer, Boil the Whore and S'iva play a Big Heavy World fundraiser at the Monkey House in Winooski on Thursday, August 23, 8 p.m. $5. 18+.
Lynguistic Civilians play a Big Heavy World fundraiser at Manhattan Pizza in Burlington on Friday, August 24, 10 p.m. Donations. bigheavyworld.com.