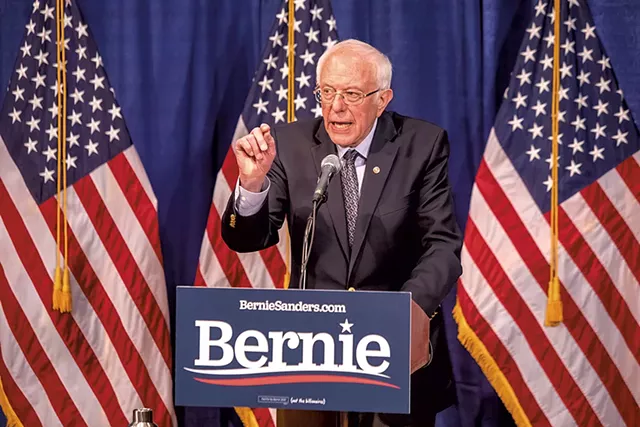 File: Luke Awtry
Sen. Bernie Sanders
In the weeks since Politico reported U.S. Sen. Bernie Sanders' (I-Vt.) interest in serving in president-elect Joe Biden's administration, Montpelier has been consumed by the question of who would replace him in the Senate.
"It would be the big moment in Vermont politics," said Alex MacLean, a lobbyist and political operative.
Sanders has only added to the speculation in recent days as he's publicly campaigned for the job of labor secretary. "If I had a portfolio that allowed me to stand up and fight for working families, would I do it?" he said last week to CNN's Wolf Blitzer. "Yes, I would."
According to one senior Sanders adviser, the 79-year-old senator won't seek the presidency again, and it's "questionable" whether he will run for reelection. "He wants a purpose, to be honest with you," the adviser, who declined to be named, said of his boss' cabinet ambitions. "I think he wants to be leading."
To be sure, Sanders' chance of securing the position and giving up his seat seems slim. Labor leaders appear far more interested in Boston Mayor Marty Walsh and U.S. Rep. Andy Levin (D-Mich.). Sanders would likely face a tough confirmation fight in the Senate, regardless of which party controls it. And, perhaps most importantly, the Biden administration would be loath to risk a safe Democratic seat — particularly if the party secures a narrow Senate majority by winning two special elections in January in Georgia.
"I don't want to piss on Bernie's parade, because I think he deserves it," said former governor Howard Dean, a Democrat. "I just think it's very unlikely."
Dean's Republican successor, Jim Douglas, sounded equally skeptical. "Do you think Bernie would be good at following someone else's orders and policies?" the former governor asked. "It's interesting speculation. I don't know that it's realistic or not."
That hasn't prevented politicos from wondering who might come next.
Scott's Choice
When a vacancy occurs in Vermont's congressional delegation, state law requires that the governor call a special election — first a primary, and then a general — within six months. The winner would complete the former occupant's term, which, in Sanders' case, expires in January 2025. The governor is also empowered to appoint an interim senator to serve until the special election.
Asked by reporters how he would handle an interim appointment, Republican Gov. Phil Scott has outlined a rather specific set of characteristics.
"I want this to be fair," he said last month, noting that he has always respected Vermont's tradition of replacing an outgoing legislator with a member of the same party. For that reason, Scott said, he would replace Sanders with "a more left-leaning type of independent that would obviously caucus with the Democrats."
The governor has also said he would not appoint anyone interested in running in the special election, arguing that doing so would give that person an unfair "leg up."
Scott's spokesperson, Rebecca Kelley, offered a few more clues in an interview with Seven Days. She said the governor would not appoint himself, nor run in a special election. He does not have anyone in particular in mind, Kelley added.
"He's really looking for somebody who's in it for the moment of public service — who can hit the ground running as much as possible, because there is, of course, going to be a lot of important work that needs to get done," she said. "So someone with government experience."
Though Kelley said Scott hasn't heard from Sanders in months, the senator appears thankful that the governor hasn't torpedoed his job search by threatening to name a Republican to the job.
"I was very appreciative that he did say that he would appoint somebody who would caucus with the Democrats," Sanders told WCAX-TV this week. "And that's very important."
Short-Timers
Scott's idiosyncratic criteria for an interim appointee would seem to eliminate the vast majority of those who might be interested in the gig.
If he's serious about appointing an independent, the only plausible current officeholder would seem to be Rep. Laura Sibilia (I-Dover). A close ally of Scott's, the southern Vermont economic development official would bring gender and regional diversity to the congressional delegation — though it might be a stretch to call her "left-leaning."
Like nearly every potential candidate contacted for this story, Sibilia responded with a careful mix of appreciation and skepticism. "You know, I have not really thought about that in depth," she said. "I am thinking about the upcoming [legislative] session."
Scott could also look to former independent state reps, such as Oliver Olsen of Londonderry or Adam Greshin of Warren, who now serves as the governor's commissioner of finance. Other Scott administration officials who have not run for public office and therefore not had to pick a party could also fit the bill. They include Secretary of Administration Susanne Young and former secretary of human services Al Gobeille, now an executive vice president at the University of Vermont Health Network.
And if the governor defined "independent" loosely, state Treasurer Beth Pearce could be in the mix. Though she has run as a Democrat, she's widely seen as a professional, not a partisan — and picking her would be a twofer for Scott because he could then appoint a new treasurer.
"To be honest, I really haven't thought about this," Pearce said.
Nationally, vacant seats often go to outgoing senators' family members or staffers. And, according to Kelley, an appointee's ability "to work with Sen. Sanders' staff" is important to Scott. Sanders' spouse, Jane O'Meara Sanders, has been involved in politics and higher education for decades; her daughter, Carina Driscoll, served in the Vermont House and the Burlington City Council as a Progressive but ran for mayor in 2018 as an independent.
Sanders' current and former state directors — Kathryn Becker Van Haste, David Weinstein and Phil Fiermonte — would be well prepared for the role, though Fiermonte said he wouldn't do it, noting that he recently moved to Montréal. He suggested Peter Clavelle, who worked for Sanders in Burlington City Hall and succeeded him as mayor, though Clavelle has also run at times as a Progressive and a Democrat.
"Left-leaning" could be in the eye of the beholder. Scott could certainly make a more centrist pick, such as David Coates, an elder statesperson and retired managing partner of KPMG's Vermont office, or Liz Gamache, the former mayor of St. Albans. Vermont Community Foundation president Dan Smith, who ran for mayor of Burlington as an independent, would be a somewhat ironic choice, given that Sanders won his seat in the U.S. House by defeating his father, Peter Smith, in 1990. And then there's Vermont Gas president and CEO Neale Lunderville, a former executive director of the Vermont Republican Party who has spent years burnishing his nonpartisan bona fides, perhaps with an eye on public office.
"It's certainly nice to be thought of," Lunderville said before listing a thousand reasons it would be unlikely to happen.
Mary Powell, the former president and CEO of Green Mountain Power, could be a candidate for the temporary position or in a special election. "If the opportunity arose where I felt like I could be of use and service to Vermont in a way that was unique to my capabilities, I would absolutely consider it," said Powell, who characterized herself as an independent-minded Democrat.
And then there's always the chance that Scott could choose someone from out of left field, such as the writer and climate activist Bill McKibben. Though the Ripton resident said he's never been interested in public office, he added that he's "a reliable enough Vermonter that I'd answer most any call, I guess" — particularly if the job didn't last too long.
"I gotta say, though, it's a shame Fred Tuttle passed," McKibben said, referring to the Tunbridge dairy farmer who waged a semi-satirical Senate campaign in 1998, "because that would have been truly the best outcome here."
A Very Special Election
In a condensed campaign period, name recognition, fundraising capacity and political chops matter more than ever, so those who have won Vermont's highest offices would seem to be heavy favorites in a special election. But several of those who would meet that threshold — Scott foremost among them — appear uninterested.
"No, no, no," said Douglas, the former Republican governor. "I ran statewide 15 times. I think that's enough."
"You don't really think I'm going to bite on this one?" asked Dean, the former Democratic governor. "I haven't thought about it for one second."
That would leave U.S. Rep. Peter Welch (D-Vt.) as the sole potential candidate who could potentially clear the field. He's certainly known to voters, having won statewide office in the last eight elections, and he has more than $2 million in his federal campaign account.
Asked about the prospect last week on Vermont Public Radio's "Vermont Edition," Welch said, "It's honestly not anything I'm thinking about at all," adding that he already has a full-time job. "We'll just see what happens."
The best arguments against Welch running are his age and gender. At 73 years old, he would be unlikely to serve long enough in the Senate to accrue seniority, and he would not break Vermont's streak as the last state in the union to have never sent a woman to Congress. (The third member of the delegation is 80-year-old Democratic Sen. Patrick Leahy.)
Nobody Seven Days reached would voice those concerns on the record, but one said Welch's elevation would be a "double-negative" for Vermont, because the state would simultaneously lose Sanders' seniority in the Senate and Welch's in the House.
The Rest of the Field
If Welch ran and won, Scott would have to call yet another special election to fill his House seat. If Welch took a pass, the Senate race would be wide open.
Either scenario would open the floodgates to plenty of pent-up political ambition.
"This will be a generational change in leadership," said veteran Democratic strategist Carolyn Dwyer, who manages Leahy's reelection campaigns but spoke in her personal capacity. "I think Vermonters will look to a new generation to fill those seats when they come open."
They might also look for gender diversity, according to MacLean, the lobbyist and operative. "It could be an exciting moment for Vermont's women and girls," she said.
The timing of a special election could, however, be awkward for several women who are rising through the political ranks but who either just won or are currently seeking new jobs that would tie them down at the Statehouse. Among them are Molly Gray, who was elected lieutenant governor earlier this month; Sen. Becca Balint (D-Windham), who is likely to become the state Senate's next president pro tempore; and Reps. Jill Krowinski (D-Burlington) and Sarah Copeland Hanzas (D-Bradford), who are running for speaker of the Vermont House.
"My focus right now is definitely on the task at hand," Gray said, adding that there were "a lot of hypotheticals."
The timing would also be tough for those who just lost statewide races, such as outgoing Lt. Gov. David Zuckerman, a Progressive/Democrat; former education secretary and Democratic gubernatorial candidate Rebecca Holcombe; outgoing Senate President Pro Tempore Tim Ashe; and Republican lieutenant gubernatorial candidate Scott Milne.
Holcombe said she would not run, while Milne said he was "not currently entertaining" the idea. Zuckerman, who lost to Scott in this month's gubernatorial election, said, "At this point, I am assessing many options for my future, and I am not ruling anything out." As for Ashe, when he was asked about the prospect after a press conference last week, he laughed and walked away.
Among Vermont's current statewide officeholders, Democratic Attorney General T.J. Donovan is widely seen as the most ambitious. He's also smart enough to read the room.
"If Sen. Sanders were to be appointed to work with the Biden administration, I think it's important that Vermont send a woman to Washington," he said. "We have a great congressman in Peter Welch, who's certainly qualified for [the Senate] position. But you never say never in this business. But you never get ahead of yourself."
Though the prospect of Sanders' seat slipping out of Democratic hands could ultimately doom his cabinet candidacy, it's almost impossible to imagine a Republican winning a special election. In the past decade, Scott has been the only member of the GOP to win statewide office in Vermont. Milne, who was seen as a potential prospect, has now lost three races in a row.
And while Vermonters are prone to elevating moderate Republicans to the governorship, they haven't sent a member of the party to Congress since 2000. Even then, that Republican, the late Jim Jeffords, soon fled the party and caucused with Democrats.
"I think people look at candidates for federal office and governor differently, so I think it would be more difficult," said Douglas, who has a bit of firsthand knowledge, having lost a Senate race to Leahy in 1992. "We obviously don't have a strong bench."
Disclosures: Paul Heintz worked as Peter Welch's communications director from November 2008 to March 2011. Tim Ashe is the domestic partner of Seven Days publisher and coeditor Paula Routly. Find our conflict-of-interest policy at sevendaysvt.com/disclosure.