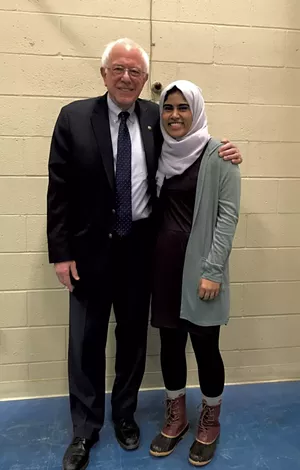 courtesy of firdaus muhammad
Sen. Bernie Sanders and Firdaus Muhammad
In February, Sen. Bernie Sanders (I-Vt.) announced the winner of his ninth annual State of the Union Essay Contest, which asks Vermont high schoolers which issues they would prioritize if they were president. Firdaus Muhammad, a freshman at Essex High School, placed first with an essay about Islamophobia. She is the first freshman to win the contest, which drew 590 entries from 50 Vermont schools. Muhammad wrote about her decision to wear a hijab — a traditional Muslim head covering — in third grade, and how racism against Muslims has gotten worse since then. "How can we live in 'The Land of the Free' when Muslims are afraid of being targeted based solely on their religion?" Muhammad wrote. "I am lucky to live in Vermont where most people are respectful and accepting of each other. But I also know that there are other Muslims who are not so lucky. Those Muslims who feel isolated in their offices, schools and other public places."
Muhammad — who runs track, plays viola, and has a passion for math and science — got the chance to attend a roundtable discussion with Sanders and the 19 other finalists on February 16. "I was exposed to a lot of new ideas and opinions," she said of the event. Her essay, along with those of the second and third place winners — seniors Jackson Maiocco of Bellows Falls Union High School and Joseph Brody of St. Johnsbury Academy — will be entered into the Congressional Record, the official archive of the U.S. Senate and House of Representatives.
Find essays by Firdaus Muhammad and other finalists in the State of the Union Essay Contest at sanders.senate.gov/newsroom/press-releases.