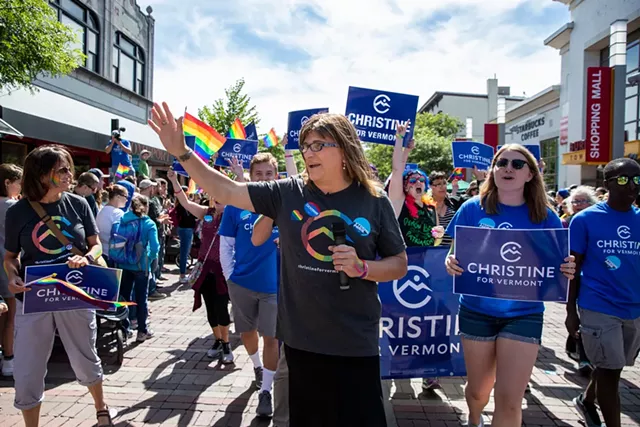 James Buck
Christine Hallquist at the Pride Parade in Burlington Saturday
Politicians at parades are like ants at a picnic: inevitably drawn to the goodies on offer and grudgingly tolerated by the participants. But at Saturday's Pride Parade in Burlington, Christine Hallquist was more like the guest of honor. The Democratic candidate for governor marched up Church Street to continual cheers and hoots. People thanked her for the mere fact of her candidacy. She often stepped into the crowd to shake hands and pose for pictures.
Once the parade reached Battery Park, Hallquist took a position near the Vermont Democratic Party's information booth. People lined up to greet her. Hugs and tears were abundant. One woman jumped for joy after getting a selfie with the candidate.
Not exactly shocking that the first openly transgender major-party candidate for governor would get such a reaction, but still, it was a sight to behold. And an affecting experience for the candidate herself. "It was three years ago when I announced I was transitioning here at this event," she said in a post-parade interview. "I had no idea it would be like this today. So of course I feel joy. I was doing a lot of crying during the parade."
If Saturday had been Election Day and Battery Park the only polling place in Vermont, Hallquist would be Vermont's next governor. It wasn't, of course, and Hallquist remains an underdog in her challenge to Republican incumbent Phil Scott, who drove his motorcycle in the parade and then peeled off before the rally.
But Pride was a concentrated expression of the newfound burst of energy, publicity and support Hallquist has enjoyed since her victory in the August 14 Democratic primary. And her campaign has been capitalizing on her sudden fame. Take the new T-shirt being offered to donors — and worn by the candidate herself on Saturday. It features the campaign's logo in rainbow colors, not the customary white on a blue background.
There was also the August 29 endorsement of Hallquist by the Human Rights Campaign, the nation's largest LGBTQ rights organization. It was far from the first national nod she'd received. But this time, instead of issuing a press release, Human Rights Campaign president Chad Griffin appeared in person at a high-profile event on the steps of Burlington City Hall. At the announcement, there were new campaign signs saying, "Make History, Vote Hallquist," a callout to her first-ever status.
It's quite a shift from the primary campaign, when Hallquist tried to keep the focus on her ideas and experience. At her campaign kickoff in April, she emphasized "my résumé, my leadership and my agenda," adding, "I don't want people to support me because I'm transgender, and I don't want them to write me off because I'm transgender, either."
Then came her primary win, which triggered a burst of national and global media attention and a substantial uptick in fundraising. That momentum shows no sign of slowing — so why not capitalize on it? Seems to be smart politics, at least in the short run.
But the historic nature of her campaign could overshadow the issues and ideas that brought her into the race. The more publicity about the First in History, the more rainbow T-shirts and the more LGBTQ endorsements, the less room there is for position papers and Hallquist's track record as a utility administrator.
Criticism of the identity emphasis has already begun to appear. On August 20, the Addison County Independent published an editorial chiding Hallquist for playing the trans card. "We hope she now pivots away from some of the gender issues she emphasized in the primary campaign," wrote publisher and editor Angelo Lynn, "and focuses on how her leadership style, background and experience could help boost the state's economy..."
In truth, Hallquist didn't make a big deal of gender issues in the primary campaign. But Lynn's critique shows how those issues can become dominant in people's minds.
For her part, Hallquist denies any change in emphasis — sort of. "I'll just keep repeating: Vermonters are going to vote for me because of what I'm going to do for them, right?" she said in an interview at Pride. "But I also think Vermonters are proud of the fact that we've been a leader in civil rights."
So, yes and no?
Hallquist doesn't see a contradiction. "A man can talk about his background, and it's called retail politics," she said. "Someone else talks about their background, it's identity politics. So I've become emboldened to the point where I say, 'I'm a transgender woman. Deal with it.'"
Fair enough. And riding the postprimary wave may be her best bet. Scott holds a huge advantage in name recognition. Relatively few Vermonters are paying attention to the gubernatorial race. Less than two months remain until Election Day. For a little-known candidate taking on a popular incumbent, this is a time for risk-taking.
As that renowned political operative Oscar Wilde put it, "There is only one thing in life worse than being talked about, and that is not being talked about."
Hot House
The Vermont House Democratic caucus is aiming to win enough seats in November to be able to override gubernatorial vetoes, which were frequent in the first two years of the Scott administration. The Dems' goal is a net gain of 10 seats, which would give them and Progressives a combined 100. That's just enough to override vetoes without the help of independent lawmakers. Republicans, meanwhile, are hoping not to lose very much.
If that sounds harsh, just listen to Republicans trying to sound optimistic.
"We're looking to keep the seats we have and possibly pick up a few," said Rep. Rob LaClair (R-Barre Town), who's serving as a liaison between his caucus and the party. "It's not good for any party to have a supermajority."
"I'm feeling more confident in our ability to hold 51," said Vermont Republican Party executive director Jack Moulton, setting the bar about as low as he can.
House Democrats, meanwhile, are talking of voter enthusiasm and hardworking candidates. How many seats could the Dems pick up? "Depends on who you ask," said Rep. Jill Krowinski (D-Burlington), House majority leader and head of the caucus' election efforts. "Some say, 'Let's go for 10 or 20.'"
Twenty, or anything close to it, would completely change the political dynamic of the next two years — even if Scott wins reelection. And there are a lot of seats in play, especially if the blue wave reaches tsunami proportions. Between now and Election Day, I'll be profiling some of the key House races across the state. Starting with...
No District for Old Men
When Rep. Bernie Juskiewicz (R-Cambridge) opted not to seek reelection after three terms in the legislature, his decision touched off a frantic phone call to Cambridge native Zac Mayo, who was — I kid you not — hiking the Appalachian Trail.
"A friend of mine reached out and said, 'There's an opportunity here if you want to run for office,'" Mayo recalled. "It was about two weeks before the filing deadline, so I had to scramble." And scramble he did.
That friend was Gregory Tatro, son of Jeffersonville contractor and frequent GOP donor Greg Tatro. The elder Tatro gave Mayo a job at his company and a $1,000 campaign donation. The 29-year-old Republican will face 23-year-old Democrat Lucy Rogers of Waterville in a rare contest between two candidates under 30. (Juskiewicz turned 75 this year.)
Democrats and Republicans see this race as a bellwether. "Lamoille-3 is definitely one to watch," Krowinski said of the district that includes Cambridge, Jeffersonville and Waterville.
"Zac's a great candidate," Moulton said. "I think he'll win. But if it's bad, it's bad. If Zac loses, it's a bad night for us."
Both candidates were born and raised in the district, went away for a time and returned to their respective hometowns. They are young, energetic and dislike partisanship. "We emailed each other" early in the race, said Mayo, "and agreed we're going to keep it positive."
Rogers is a child of rural Vermont who milked the family cow every morning before school, gaining a passion for agriculture that hasn't diminished. Between high school and college, she worked on farm-related projects in other states. After earning a biology degree from the University of Vermont, she moved back to Waterville.
"There's a lot that small towns can't offer," she said. "But what they can offer in terms of community and personal relationships is so much more important than what I could have in a bigger town or a city." When she's not going door-to-door, she works at a local restaurant and on a nearby farm.
Rogers' agenda emphasizes the needs of rural Vermont: infrastructure, internet access, job opportunities and community-scale education. "I believe in local control," she said. "I went to a school with 11 kids in each grade. There's been a lot of talk about how small schools don't prepare kids for college, and I absolutely did not have that experience."
She considers her youth an asset as she seeks a seat in a legislature dominated by the AARP-eligible. "I feel the struggle of being a young person in Vermont and want to make sure that their voices are at the table," she said.
Rogers originally thought of running as an independent before choosing the Democratic label. "Local issues are not partisan issues," she said. "You should elect me because I'm the best voice to represent this area, not because I'm running as a Democrat."
As for Mayo, he tried college for a year and realized it wasn't for him. He worked at Copley Hospital until he was 21 and then signed up for a six-year term in the Navy. He trained as a nuclear technician and served for four years on the USS Olympia, a nuclear-powered submarine.
When his six years were up, he spent some time on the road, "trying to see where I could see myself." He took two cross-country trips, went to Iceland and hiked most of the Appalachian Trail.
Mayo became focused on politics after the 2016 election. Although he had conservative beliefs, he didn't like President Donald Trump. "I found President Trump to be very divisive, with an incredible amount of ego," Mayo said. "It's hard to watch from the sidelines how quickly we use absolute terms in politics. If we're yelling at each other all the time, where are we going? What are we doing?"
He wants civility, but he is a staunch Republican. "I believe in liberty and personal responsibility," he said. He'd like to see reform of the Act 250 permitting process to make it more efficient, as well as stronger efforts in job training and workforce development.
And if he doesn't win, he'll have time to finish his interrupted hike. "I've got about 300 miles to go [on the Appalachian Trail], and absolutely someday I will."