These sun catchers made from ice are a fun way to add bursts of color to the white wonderland in your backyard this winter. This simple craft project is easy enough for all ages, and the best part is that it won't cost you a dime!
Materials
Plastic bowls or containers in any shape or size
Leaves, berries, twigs, fruits, nuts or other natural things
Ribbon or twine
Water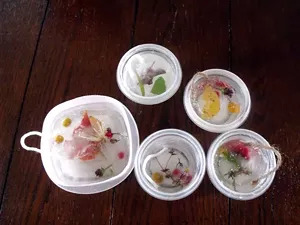 instructions
Once you've gathered your materials, fill the containers with water. Your sun catcher will be about as thick as the depth of the water poured into the container. Try using containers of different shapes and sizes and filling them with varying amounts of water to create an interesting assortment.
Place your leaves, twigs and other natural items into the water, arranging them any way you'd like.
Cut a piece of ribbon or twine, fold it into a loop and submerge both ends in the water, leaving the loop dangling out. It may help to tape the loop to the outside of the container so it doesn't fall into the water.
If it's cold enough outside, you can leave the containers out to freeze. Otherwise, store them in the freezer until fully frozen.
Pop your sun catchers out of their containers and hang them on your favorite tree!