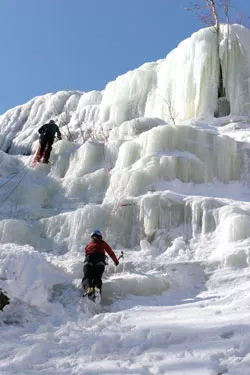 In winter, the stretch of Route 108 between Stowe and Jeffersonville may be closed to drivers, but it's open to just about everyone else, including cross-country skiers, snowshoers, and alpine skiers and snowboarders who pop out of the woods at Smugglers' Notch Resort. The frozen waterfalls that line the road are no secret, either. As ice-climbing guide Bert Severin says, "Every single drip you see up there has been climbed."
Ice climbers have enjoyed the Notch for years, but only recently has it made its name as one of the top places in New England, if not the country, for arctic ascents. Two guiding companies now regularly ferry clients up the frigid walls, and hundreds of college students, local climbers with crampon-clad feet and curious skiers have begun to swing ice tools here each winter. Alpinist, a quarterly glossy once based in Jackson, Wyo., has made its home just down the road from Smugglers' Notch in Jeffersonville. And at the fourth annual Smuggs Ice Bash, from January 29 to 31, dozens of ice-climbing pilgrims camped out in subzero temperatures just so they could clamber up even colder cliffs.
What's the attraction? "Smugglers' Notch offers an alpine experience on a smaller, more accessible scale than other places," says Katie Ives, senior editor of Alpinist. "It's great training for larger peaks, but it's challenging and beautiful in its own right."
Unlike some ice-climbing areas that can be accessed only by hours-long hikes through the snow, Smuggs offers its goods just off the roadway, and it has enough variety — and extreme situations — to entice even the most seasoned climbers. "The Notch provides a wide diversity of easily accessible ice climbs ideal for the beginner to the expert," offers Nick Yardley, head guide for Burlington's Petra Cliffs. "Harsh weather and avalanches spice up the experience for some climbers every season."
Ives points out the area's rich sense of history as another draw. Legendary mountaineers Laura and Guy Waterman wrote about the Notch's role in the development of ice-climbing techniques in the authoritative Yankee Rock & Ice, and renowned climbers John Bouchard, Rick Wilcox and Dale Bard have notched first ascents at Smuggs. "Climbing up there," says Ives, "you feel a sense of so many past adventures all around you."
These rock-solid credentials helped lure Alpinist to Vermont a year ago, after its Jackson-based owners shuttered the magazine. Jeffersonville's Height of Land Publications (headed by Jon and Adam Howard) bought the title and moved it here. Now, instead of opening the fridge for a lunch break, the magazine's staff can always head into the freezer of Smugglers' Notch and find some good company. "People are really friendly here, approachable, modest," says Ives. "At the same time, there's a lot of serious talent."
Among the local talent is writer, photographer and climber Alden Pellett, who has free soloed some of the country's hardest ice climbs, not to mention the Canadian Rockies and French Alps. Still, he says, Smuggs has a definite allure.
"Once you get off the roadway, the Notch provides a big mountain feel, often with challenging snow, ice and weather conditions," Pellett says. "Smuggs has a wide variety of climbs that range in difficulty from very easy to some of the harder routes in the Northeast, often with a remote feel to them."
Guide Severin guesses the Notch offers at least 50 to 60 ice climbs, some plummeting 400 to 500 feet. Claw your way to the top of one of those, he says, and you're overlooking the whole valley: "There's a lot of air beneath you."
A longtime guide with Green Mountain Guides, Severin set up shop as Sunrise Adventure Sports in Jeffersonville in 2005 after his return from military service in Iraq. (He still works for the U.S. Army when not climbing, skiing or adventure racing.) The appeal of Smuggs, he says, is that it's one of the first places in the Northeast where ice forms each fall, so the ice-climbing season can begin as early as Halloween. "Other places just don't have the elevation or the bad weather that Smuggs does," Severin says.
Bad weather is exactly what greeted participants in January's Smuggs Ice Bash. The event, which Sunrise now organizes, has grown from chicken soup and tents in its first year to a full-fledged celebration of frozen fun, with demos and clinics on the ice and parties and a slideshow at The Brewski. This year, the mercury dropped to minus 9 on the festival's peak day of Saturday. On Friday, when I joined Severin and a few other climbers for a morning session on the "Mystery Wall," it wasn't much warmer —minus 2.
"Good luck, guys," said a group of hikers as they continued up Route 108 past our little base camp at the foot of the waterfall. "You got a lot of courage."
Not as much courage, I would find out later, as some other participants. Severin occasionally partners with the Wounded Warrior Project, a program that involves severely injured service members in such sports as skiing, cycling and lacrosse. During the Ice Bash, Severin guided a Fallujah veteran on break from the Walter Reed hospital who has a prosthetic foot and forearm and an artificial eye. Because of the extreme cold and the climber's inability to blink, Severin worried about frozen tears. And he has seen the damage Vermont weather can do, having once rescued a hypothermic climber who lost his fingertips to frostbite after falling 100 feet.
I feared frostbite myself a few years ago while ice climbing on the Stowe side of the Notch with Petra Cliffs on a minus-10-degree day. This year, eager to try the Mystery Wall on the Jeffersonville side, I wore layer on layer of high-tech clothing to stave off the cold. Severin helped secure my crampons, reminded me of the technique for swinging my ice tool in securely, and suggested I envision my body as a triangle with my two feet as the bottom corners.
I actually was envisioning my body more like a Popsicle, as my fingers and toes were already numb. But with Severin on belay, I somehow inched my way up the waterfall, feeling the satisfying crunch of the tools and crampons in the ice. Only the cold lured me down, when I could no longer grip the tool.
I was frigid, but hooked. And I understood Ives' belief that ice climbing is one of the most beautiful and intense ways to encounter winter. "Swinging ice axes and kicking crampons up frozen water is absurd, and that's what makes it poetic," suggests the graduate of the Iowa Writers' Workshop, who's herself prone to wax poetic on the miniature landscapes of sparkling frost, the ice formations called "mushrooms" and "chandeliers," and the way light seems to glow from within frozen waterfalls.
"You feel the snow falling around you, the shadows of the quiet forest in the background, the air growing under your feet as you get higher," Ives says. "There's nothing like it."