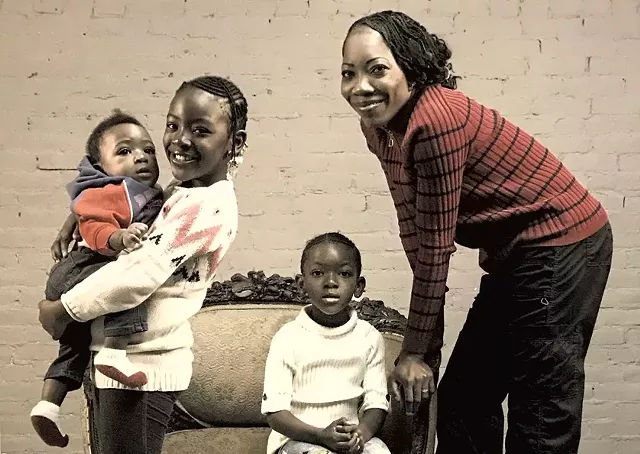 Last week, visitors to North End Studios in Burlington found themselves gazing at an unusually engaging art exhibition. From Howard Center employees in a training session to people attending classes, concerts and meetings, everyone took a moment to examine the portraits of students from the Integrated Arts Academy at H.O. Wheeler with their families, said studio co-owner April Werner.
The IAA Family Portrait Project is a collaboration of IAA, Burlington City Arts and the school's parent-teacher association. It features 147 family photographs in color taken by BCA photographer Michelle Saffran, alongside stories written by IAA students about their families. Throughout the month of May, the portraits are on display at seven locations in the Old North End and downtown Burlington: Barrio Bakery, Burlington City Hall, the Chubby Muffin, Fletcher Free Library, IAA, North End Studios and Nunyuns Bakery & Café.
The idea of taking pictures of students and their families evolved from a similar project that the school and Saffran undertook four years ago. That initial project involved only the students, but, "The school has such a diverse group of families, and I thought, What a way to honor that diversity," said Judy Klima, the school's arts integration coach.
Klima estimated that close to 80 percent of the student population participated in the family portrait project. About 49 percent of that population is white, 23 percent is black or African American, 19 percent is Asian, 7 percent is bi- or multiracial, and 4 percent is Latino.
The timing of the project was serendipitous, said Klima. The call for students and their families to sign up to have their pictures taken went out in October. It was a time when students, particularly those of immigrant or refugee origin, were already feeling the effects of the xenophobic rhetoric surrounding the presidential election. The message of the project is clear: "All families matter and we are all welcome," said Klima.
But the project doesn't solely reflect IAA's rich ethnic diversity. It also celebrates the different types of families from which its students come: nuclear, single-parent, cross-generational, same-sex and blended. In one portrait, we see that Max and his two dads love to read. For another, Vartai's father wore the traditional Nepali dhaka topi, while her mother chose to wear patterned leggings.
photos: Courtesy of Michelle Saffran
The Maidali family
The pictures and stories provide a "window into what each child thinks about their family," noted Klima. Some stories are particularly poignant. A student named Mafali wrote: "Most of my family is from Africa. But I'm African American because of my mom. It's really sad to think about [it] because that means some of my ancestors were slaves."
"People aren't just looking at their [own] picture," said Nunyuns owner Kristine Harbour. "They're going around to read what the other kids wrote."
Saffron, a photo-collage artist, called the family portrait project a "big departure" from her usual work. "I use a lot of family imagery, but it's my own imagery," she said. "This time, I was working with people I didn't know, and it was groups of people, which is generally not how I work." She's not a portrait photographer, she pointed out, and typically uses natural lighting in her own work. The IAA sessions, held in a basement, necessitated studio lighting.
To minimize the inconvenience to families, the organizers scheduled those sessions around activities for which the subjects were already coming to school. Saffran gave the students and their families the responsibility of directing the shoot. "I didn't want to be the one influencing the process," she said. "I wanted to document them."
She had just one rule: Each family group had to be connected in some way to an antique wingback chair that she dubbed "the wishing chair." "They could be under it, lift it up, turn it around," Saffran explained. The chair encouraged "everything [to be] clustered," she said, "and so that helps with composition."
As she prepared to photograph her subjects, she told them to think of good things for their families, Saffran said, which "broke the ice and got [the process going] in a more playful direction, more relaxed and genuine." Some families, she noted, came dressed up, while others wore casual clothes. She and her assistant, Eli Thurston, took six months to photograph 147 families.
At the end of the project, Saffran had the difficult task of choosing 15 portraits to be displayed at Burlington City Hall. "They all mean the most to me," she said. First, she shortlisted portraits that looked the most artistic. From those, she chose the pieces that best represented the goal of the project. "I wanted to make sure I had a diverse representation of all different kinds of families," Saffran said.
When fourth grader Nico saw her family portrait at North End Studios, she felt embarrassed, she recalled. "When my mum saw it, she started taking pictures and sending it to everyone," she said. "It's also kind of cool." In the portrait, Nico has her arms around her father, who sits on the chair with her mother. Her younger brother sits across their laps.
The IAA project could inspire a new one: Saffran wants to team up with her friend, Shelburne-based writer David French, to produce a book about refugee families, she said. Klima said the pictures will go home with the families after the exhibition ends. Some of them may take a road trip first, though — the Vermont Arts Council in Montpelier has expressed interest in hanging selected portraits, Klima noted.