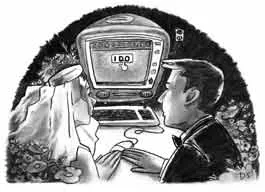 Illustration: Dan Salamida
Planning a wedding? Then make like a Boy Scout and be prepared: Few life events are more stressful. Even the simplest and most straightforward plans can spiral into a blur of competing emotions, family values, even menu choices. Maybe that explains the appeal of the nation's top movie for the last two weekends, The Wedding Planner.
Despite lukewarm reviews, the romantic comedy has raked in $28 million since its release. Sure, the physical charms and genial natures of Jennifer Lopez and Matthew McConaughey have a lot to do with it. But for anyone who's gone through a wedding or is contemplating it, watching someone else negotiate all the details and disasters has got to be worth the price of admission.
Given Vermont's status as a popular tourist destination, it's no surprise there are lots of Green Mountain wedding-related businesses, including planners. That makes for a daunting number of options in the phone book. Figuring out which of these businesses to work with can be more challenging than finding the right spouse. Not to worry: The Internet is here. A growing number of Web sites are specifically designed to provide brides- and grooms-to-be with Vermont wedding info, from the ring to the honeymoon.
The oldest of these resources is the Vermont Wedding & Event Connection, a consortium of wedding-related businesses that gathered together under one cyber-roof in 1994.
"About seven years ago, my husband and I did a wedding with two other companies," says co-founder Sandi St. Pierre of St. Pierre Catering Services. "We enjoyed the professionalism and their philosophy of work… We knew we would definitely refer them to other clients."
After exchanging business cards, St. Pierre and her husband Roy had a brainstorm: How about setting up a Web site to allow the businesses to advertise and work together? It was launched with five businesses and now features 14 wedding-related companies, including Top-Hat Entertainment, Ethan Allen Coachworks, Nan Patrick, Chappell's Florist and MS Toilet Services.
Each business creates its own section at www.vtevent.com, and some are more extensive than others. St. Pierre Catering Services and a few other businesses use the site to answer client questions; for others it is simply display advertising.
Wedding planner Claire Beecher of Shelburne has been advertising on the site for three years and is pleased with the results. "It has been so good for me," she says. "I am a small business, and you don't have a large advertising budget and you don't have office people to share ideas with. It's a think-tank for me." Beecher adds that her colleagues share information, such as where to advertise, as well as referrals.
Vermont's recently enacted civil-union law has created a new opportunity for wedding planners. "When my daughter got engaged," says Michele Goldman, "I was thinking about how to plan her wedding. With the new law passed up in Vermont, I thought it would be nice to make it easier for people out-of-state to get a civil union."
Goldman's site, at the still-evolving www.cuplanner.com, offers a brief history of the civil-union battle, information on the law itself, the necessary forms and permits, and suggests CU-friendly businesses and justices of the peace.
Goldman aims to help civil-union couples save time by screening out businesses that are uncomfortable with same-sex ceremonies. "I've contacted some people who haven't been receptive," she acknowledges, "and I can understand that. Everyone's entitled to their opinion… We know that time is of the essence, and we'd like to be a one-stop-shopping site for civil-union wedding resources."
Though she's still sorting out technical details, Goldman is planning to do a Webcast on her site with Burlington radio station 95-XXX, which will be broadcasting a civil-union ceremony live on Valentine's Day.
Other online Vermont wedding resources include:
• WeddingEvents.com (www.weddingevents.com) — The main competitor of vtevent.com, this site links to WeddingsVermont (www.weddingsvermont.com), which lists many wedding-related businesses and a limited number of reviews to help people make selections. The site also features miscellaneous information about getting hitched in Vermont, the weather and tourism options.
• Enchanted Weddings of Vermont (www.Enchanted-Wedding.com) — This is the site of a "full-service wedding-planning company." Visitors can learn about the services provided by the company, link to some local wedding professionals and related businesses, and read tips for planning a wedding.
• The Vermont Wedding Resource Guide (www.theweddingbook.com) — This is an advertising site for a 320-page book aimed at helping couples plan their Vermont wedding. The book is also available by mail order or on Amazon.com.
Planning a successful wedding, like any other complex and emotionally charged event, is a lot of work. Don't wait until a garbage bin is rumbling down the street towards you — no Matthew McConaugheys may be around to knock you out of the way. It's a lot easier, and safer, to go online and find the local professionals who can really make your wedding click.