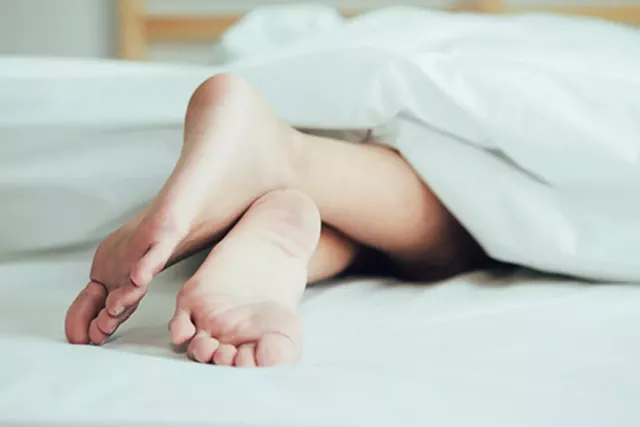 Dear Scarlett,
I have a foot fetish, but I'm only 15. Is there a way I could somehow experience this fetish at my age?
Signed,
Best Foot Forward
(Male, 15)
Dear Best Foot,
Yes. No one knows what causes a fetish. What is known, however, is that they can form at any age. Most fetishes develop during puberty, and some even before that. They're more prevalent among men. And foot-related fetishes are by far the most common.
Neuroscientists have tried to explain the connection between feet and erotic excitement by looking at maps of the brain. There may be a connection, they think, because the nerve endings of the feet are located right next to those of the genitals. Psychoanalysts have looked to childhood for answers, for events that shape a person's desires. Again, feet and shoes are the most frequently occurring, but people can fetishize anything: hair, gloves, even stuffed animals.
Just to make sure we're on the same page: If you simply like the look of a person's feet or are experimenting, that's not necessarily a foot fetish. It's a fetish when the sight or thought of feet or shoes, or whatever the object, arouses you in a sexual way.
Many people have erotic desires that fall outside of mainstream sexual norms. Or they focus — sometimes a lot — on certain body parts that turn them on. As long as your fetish brings you pleasure, and you do not force it on anyone else, there shouldn't be a problem. The key is not to let the fetish control your life — like, if it causes you to behave inappropriately at school or in public places. Or if you can't get excited without it.
Some people with fetishes cannot have a meaningful sex life with other people. Instead of sharing their fetish with a partner, they prefer to experience it on their own, in secret. Some might go to extraordinary, even damaging, lengths to feed it. They might steal from a store, or miss days at school or work, just to have it.
The rule of thumb is that a fetish is not really a disorder unless it involves distress. It's too early in your life to predict where this is going, or even if it will last. But if your fetish feels out of your control, talk to someone you trust — a counselor, or even your parents — to find your footing.
Love,
Scarlett