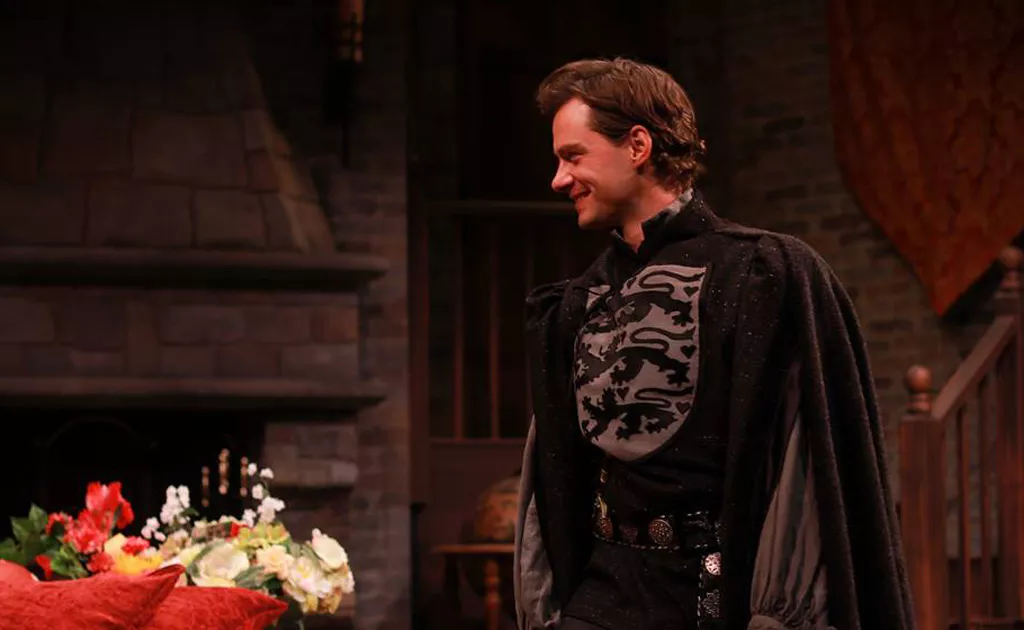 courtesy of Dorset Theatre Festival
J.D. Taylor as Andrew
Paul Rudnick's 1991 play I Hate Hamlet is built on a great premise and provides a pleasant diversion, but it doesn't quite reach the escape velocity of great comedy. The subject matter suggests that a clever statement about theater itself may emerge, but the play is made of superficial humor and simplistic characters — fun, but modest fun.
The production at the Dorset Theatre Festival is funny but would be even funnier if the actors formed a tighter ensemble and turned the comic repartee into exhilarating exchanges that built between the players. Still, the principal culprit is a script that doesn't supply the surprises and silly escalations of great comedy. Rudnick's characters are largely stuck restating an amusing central quandary without developing it.
Protagonist Andrew Rally, a well-known but lightweight TV actor, moves from Hollywood to New York City to play Hamlet onstage. He knows it's a stretch and is full of second thoughts — until the ghost of John Barrymore shows up in his 1922 Hamlet costume, full of sword-fighting tips. The deceased actor is full of himself, as well, and inclined to merge his acting advice with guidance on Andy's love life. Deirdre, Andy's girlfriend, is maintaining her chastity and limits their romantic interludes to enacting scenes from Romeo and Juliet.
Rudnick stirs in three more characters to fill out Andrew's world and complete the contrast between the histrionic, dissipated Barrymore and the craven-yet-adorable TV actor. Felicia, the real-estate agent who rents Andrew an apartment that was once Barrymore's, is a hard-driving New Yorker. Lillian, Andrew's aging agent, once had an affair with Barrymore. Gary, a television producer, dangles a dumb pilot to tempt Andrew away from his loony Shakespearean aspirations.
The jokes — clever cracks about the characters' abundant weaknesses — earned steady but not overwhelming laughs at Friday's opening night in Dorset. All the characters tend toward self-deprecating wit, and Rudnick never gives them a chance to discover anything they don't already know about their shortcomings. Gary basks in being a shallow Hollywood idiot; Barrymore acknowledges that he's a drunk who's lost count of his wives. Lillian and Felicia introduce themselves by considering which career is more loathsome, representing actors or real estate. And Andrew spends the entire play struggling to come up with new ways to notice that playing Shakespeare is out of his depth.
The actors in this production show fine flashes of style. As Andrew, J.D. Taylor has the trim build, winning smile and arched eyebrow of the TV star he plays. He's easy to root for as he lets Andrew's anxiety take the form of lithe springs from point to point, the prettiest form of running away. He has a dancer's poise and a comic's twinkling eye.
As Barrymore, David Lansbury is grandiose enough to demand attention and amiable enough to reward it with unself-conscious playfulness. He substitutes grandeur for Barrymore's essential narcissism, but that leaves him free to connect well with Taylor. Their exchanges have some nice push and pull that doesn't often arise among the cast as a whole.
Haley Bond, as Deirdre, is saddled with a character who has implausible attitudes toward sex and her boyfriend. She can't do much with that burden. But she seizes her chance to shine by showing us what a mediocre performance of Juliet looks like, all gauze and awkward artifice.
Sporting a bold tower of curly hair, Annie Meisels portrays Felicia with citified self-assurance that strives to mask an inner core of ditziness. With an accent that's close to parody, Meisels squawks as she struts, calculating just how star-struck she should be by Barrymore's old address and Andrew's new celebrity.
Carole Monferdini, as Lillian, is good at finding the rhythm for a comic take and does her best to fill out Rudnick's character sketch of an agent who's simultaneously inept and iron willed.
As Gary, Benjamin Pelteson gets the best one-liners and buzzes in and out of his short scenes floating on the cloud of the audience's laughter. Doubling down on the script's exaggeration, Pelteson takes his selfish Hollywood producer to a bit of an extreme. Failing to connect with Andrew, he acts less like a business partner who needs Andrew for a deal than an acerbic commentator.
All of these actors are skilled, but on opening night they hadn't gelled as an ensemble. Each struck neat sparks, but these failed to burst into the kind of roaring blaze that leads to nonstop laughter.
Director Carl Andress has chosen flat-out speed to try to set the comic tone when a more varied pace might better suit. Gary, for example, clearly never takes the time to think of the remark he's about to make — he simply spews each gag without summoning the wit or registering its effect. Andress tries to supply energy by having characters lunge about and jump on the furniture, but this steady stream of outsize movement calls attention to the paucity of calamities in Rudnick's script.
Kevin Judge's set design is a stupendous re-creation of a great Gothic architectural indulgence. It uses the full height of the stage to position a staircase beside an impressive stone fireplace and tops everything off with wooden ceiling beams finished in finials. Judge makes some clever changes between Acts 1 and 2 to demonstrate the passage of time — arguably accomplishing this more richly than the text does.
The grand set is exquisitely lit by Michael Giannitti, who supplies everything from flickering candlelight to the cold light of day that Andrew finally faces. The lighting is responsible for giving Barrymore's presence a sense of magic. Without Giannitti's big moments of mood and mystery, the show's playful conceit would fall flat.
Gregory Gale's costumes are generally excellent. Lillian's sharp stripes and prints, Felicia's strong colors and Gary's cool suits, emphatically dressed down with a Dodgers ball cap, all describe the characters with the same economy the script employs. Unfortunately, Barrymore's Hamlet costume includes a cape that the actor can't resist flapping, movement that undercuts Barrymore's suave style. But Andrew gets a gorgeously tailored doublet, with a high collar and ruff, slit sleeves, and gauzy shirt, plus the tights that form a good running joke.
The play is a diversion of lighter weight than average — more string cheese than aged cheddar. I Hate Hamlet offers clever quips, and the Dorset acting company presents it with a cheerful alacrity. The humor is a cool breeze that flows by nicely on a summer night.