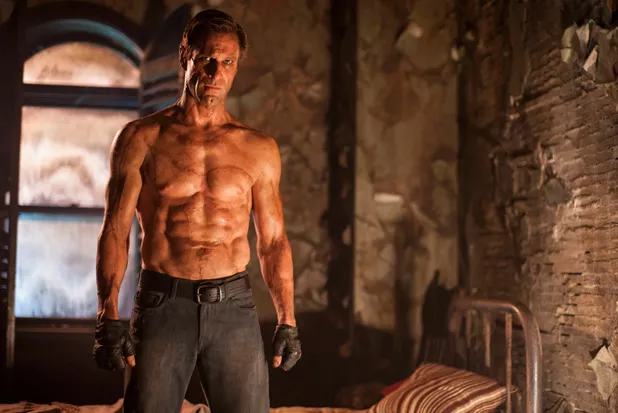 FROM R.I.P. TO RIPPED Eckhart plays the monster, not Frankenstein, which doesn't matter given that he's basically Hugh Jackman's Wolverine without the claws.
How I wish I could say that I, Frankenstein is a work of unsung genius and not exactly what you think it is. Namely, a film in which once-respected actor Aaron Eckhart takes off his shirt, grimaces to convey his inner torment and makes bad CGI explode into more bad CGI.
From the storyteller who gave us the Pirates of the Caribbean and G.I. Joe film franchises (cowriter-director Stuart Beattie) and the one who gifted us with the Underworld films (cowriter Kevin Grevioux) comes this standard exercise in urban-fantasy collage.
The movie opens with a helpful recap of Mary Shelley's classic, here used as an origin story from which Victor Frankenstein's monstrous concoction of stitched corpses (Eckhart) emerges as a Byronic superhero. It's not a bad idea, given the intelligence, sensitivity and lofty Miltonic rhetoric with which Shelley endowed the creature. Put him in a grimy urban setting to fret about his lack of a soul, and he basically is a modern comic-book antihero.
Beattie and Grevioux spare their protagonist such internal conflict, however, by immediately throwing a host of flying demons at him. Next come the gargoyles. The monster dispatches the former in a flurry of mangy digital fireballs, after which the latter transform themselves into a buff, leather-clad, multiethnic human crew and drag him to their leader (Miranda Otto). Madame Gargoyle dubs the monster "Adam" (as he himself did in Shelley's version) and unfurls a lengthy backstory. The gargoyles are actually angelic beings locked in an eternal Manichean battle with the hosts of hell, whose leader, Naberius (Bill Nighy), wants to get his hands on Frankenstein's creation and unlock the secrets of creating life.
Achieving this goal takes a couple of centuries, during which resurrection science remains at Enlightenment levels. When Naberius finally gets Adam into his 21st-century lab, which is run by a comely blonde described as "the world's most respected electrophysiologist" (Yvonne Strahovski), we discover that her technique consists of jolting corpses with electricity, just like in the 1931 Frankenstein. "I am a partisan of progress," Nighy exults with rolled Rs and curled lip, but he doesn't seem to have progressed far.
In occasional moments like that one, I, Frankenstein hints at the midnight masterpiece it might have been. Visually, Eckhart is an inspired choice for the role; it's hard to tell where his Dudley Do-Right facial contours end and the makeup begins. Wearing a hoodie and laddered with fake scars, he gamely wraps his mouth around lines such as "We have to get to Leonore, the Gargoyle Queen."
Strahovski, Nighy and Otto all contribute the appropriate degrees of ridiculousness, the steampunk production design evokes all the usual (better) inspirations and Beattie puts his camera at jarring angles to enhance the comic-book feel. But none of it can overcome a script that rotates obsessively around video-game slice-and-kick battles fought on murky animated backgrounds. If you've seen an Underworld flick, you've seen most of this one.
Among aficionados of so-bad-they're-good movies, there's some argument about whether such films should present their conceits with straight-faced solemnity and heavenly choirs on the soundtrack, as I, Frankenstein does, or with huge winks at the audience. But the point is moot when a movie is bad in such a boring way. No creator's spark of inspired lunacy arrives to bring this dead hunk of commercial clichés alive.