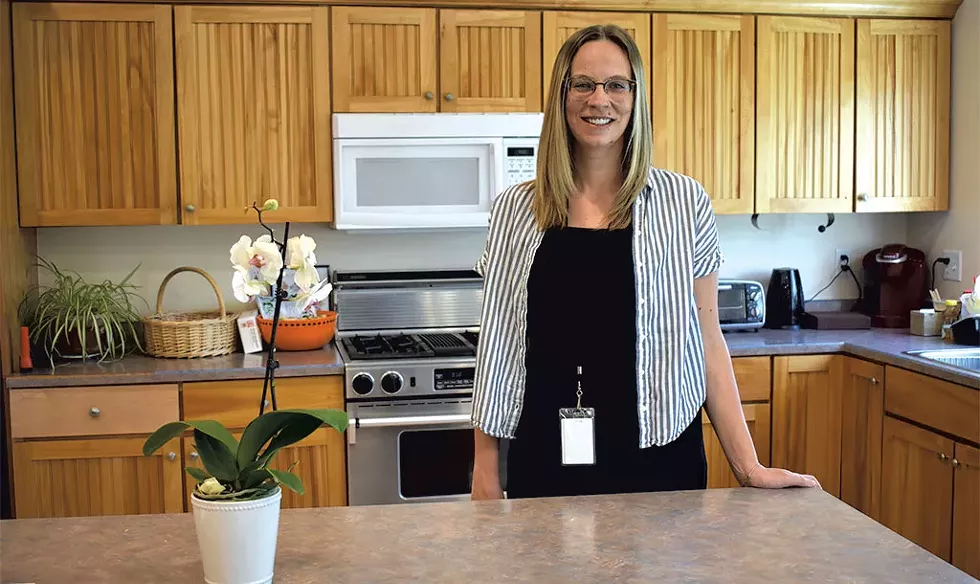 Katie Hodges ©️ Seven Days
Nicole Kubon, executive director of the Chittenden County-based nonprofit Steps to End Domestic Violence
Domestic violence can happen to anyone. If you've never experienced it yourself, chances are you know someone who has.
"The statistics around domestic violence definitely suggest that everyone knows people who have experienced it or knows someone who is perpetrating violence," said Nicole Kubon, executive director of the Chittenden County-based nonprofit Steps to End Domestic Violence.
Founded in 1974 as a women's shelter and originally known as Women Helping Battered Women, Steps supports survivors of domestic violence; it now works with survivors of any gender, most of them in the Chittenden County area.
Last year was a big one for the organization — it moved into a new building able to house its administrative offices and its shelter. Steps is now able to house more survivors in private quarters and provide programming on site. It also recently received a grant to fund domestic violence education and prevention efforts in schools.
The expansion helped Steps meet an increasing need. Kubon notes that, during 2021, Steps received 4,328 calls, emails and web chats through its 24-hour hotline — a 10 percent increase over 2020. It averaged 71 new callers every month. Steps also extended emergency shelter to 196 adults and 101 children.
Many of the survivors who seek its services are parents. In 2021, Steps' children and youth services program supplied advocacy, parenting support and resources to 131 adults and 380 children. Even more families benefited from Steps' legal advocacy programs, rental assistance and emergency short-term financial assistance. This support is life-changing for survivors who often have nowhere else to turn.
"The help Steps provided me has saved my life," one survivor said recently. "The hotline was a lifeline. The first time I called, it was hard to reach out; however, soon it became very comforting. You can't just share what you are going through with just anyone. I wasn't comfortable sharing things with my closest friends. I felt safe talking to the people on the other end."
A New Home
Katie Hodges ©️ Seven Days
Childrens' playroom at Chittenden County-based nonprofit Steps to End Domestic Violence
Steps worked with the Champlain Housing Trust to find and finance its new space. The organizations had been in discussions for a couple of years, and the pandemic intensified their efforts. Last June, CHT helped Steps secure funding.
Said CEO Michael Monte: "The Champlain Housing Trust was pleased to be able to step in and support Steps in creating this critical community resource."
Renovations posed another challenge. To adhere to funding requirements, the work had to be finished and the building operational by the end of the calendar year. Steps' donors, volunteers and dedicated staff made it happen: Staff and residents moved in by Christmas Day.
The new building has 21 individual suites with their own kitchens and bathrooms. The previous location had just seven bedrooms, with shared bathrooms and one kitchen. This means that not only can Steps house more people but the new space feels more like an apartment building than a shelter.
It's more accessible, too: Previously residents needed to be dropped off a few blocks away. The current location is still discreet — and has staff on-site at all times — but residents can get dropped off and picked up, or do things like order pizza to the front door.
Providing a sense of privacy, security and normalcy is so important, Kubon noted. "We can all relate to how hard it is to have roommates at any point in life. Think about having roommates when you're in crisis," she said. "Now parents can bathe their children in their own bathtub while dinner is in the oven. They can be annoyed at their teenager for taking too long in the shower in private."
Steps' director of housing services, Ciara Kilburn, underscored that point. "Moving into our new space means hope that there is a better tomorrow," she said. "We had one resident say that they had been to multiple shelters that had shared living spaces and they always found themselves going back to their abuser. They said that by having their own bathroom, bedroom, kitchen and privacy, they know now that they will be able to start building their life free from abuse."
More than shelter
Courtesy
Rendering of new playground design
The building's living spaces aren't the only upgrade: Steps can now offer case management, advocacy, childcare and workshops just steps away from where residents live. The building also includes staff offices. These rooms have a friendly feel, with plants decorating the window sills. Encouraging posters on the wall share messages of hope, conveying both comfort and security for intimate conversations.
Steps' new site also features a warmly decorated children's playroom where groups can meet and families can relax. Oversize blocks, colorful floor mats and a play kitchen engage kids' imaginations. Beanbag chairs encourage little ones to crawl into their parents' laps and read together.
Steps is also planning to build a playground. Its goal is to create an interactive and enriching environment for kids of all ages to play, learn and feel safe. The group kicks off a fundraiser for it this week. If you'd like to sponsor or support the playground project with a donation, you can visit stepsvt.org/events/stepsplayground.
In addition to housing, Steps continues to enhance its education and prevention programming efforts, with help from a recently received three-year federal grant. Beginning in the Colchester School District, Steps will work with educators to create a comprehensive response to domestic violence and children who are affected by it. "This funding is an exciting chance to make sure that youth are in the driver's seat of creating communities that see them, celebrate them and keep them safe," said Amanda Rohdenburg, associate director at Outright Vermont, a partner on the project..
The goal is simple, said Kubon: "Educate everyone kids are coming in contact with." Steps' staff will train school administrators to do age-appropriate workshops for children and teenagers about healthy relationships, consent and teen dating violence.
This will ensure that every administrator, coach and teacher knows the warning signs of domestic violence and can teach prevention-based strategies and educate students about the free community resources available to them and their families.
Kubon has also implemented changes to ensure that Step staff prioritize self-care, because sustaining a career in anti-violence work can be challenging. "We're an organization that actually encourages staff to take care of themselves so that we can put an end to violence in our community," she said.
Want to Help?
Kubon suggests some steps you can take:
Volunteer or donate at stepsvt.org. Direct a contribution to help Steps build a playground at stepsvt.org/events/stepsplayground.
Attend events such as Steps for Social Change and community marches.
Become a Community Advocate — see training opportunities at stepsvt.org.
Speak up: If you see something that looks like abusive behavior, be open and honest with family and friends
If you have questions or are unsure how to respond in a sensitive situation, call Steps' hotline: 802-658-1996.
If you or someone you know is in an abusive relationship, there is help available. It's not your fault, and you're not alone. For immediate help, call the Steps to End Domestic Violence hotline at 802-658-1996, or call the Vermont Domestic Violence hotline at 1-800-228-7395. Both lines are answered 24 hours a day, seven days a week.
This article was commissioned and paid for by Pomerleau Real Estate.