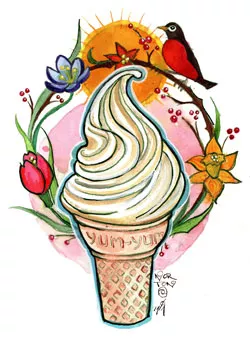 When I was a child growing up in Pittsburgh, one of my favorite summertime excursions was driving with my parents to get a Dairy Queen — meaning the airy yet silky ice cream pumped from a machine and swirled atop a cake cone. That we didn't have an actual Dairy Queen within a 20-mile radius of our home was no matter. It was our generic term for soft-serve ice cream.
I begged my parents to take me to the knockoff D.Q. stand so I could get a heap of vanilla and chocolate twisted into a spiral and topped with waxy sprinkles or dipped in equally waxy chocolate. But as I got older, I forgot about Dairy Queen. I became smitten with frozen yogurt (it was healthy!). Then I got hooked on pints of Ben & Jerry's (it was novel!).
Plus, I moved around and landed in places where soft-serve ice cream just wasn't a thing. In the years between high school and my mid-twenties, I don't recall ever making a special trip for it. But then I moved to Vermont, home of the creemee. Or the creamee. Or the kreemee, kreamie or creeme.
In Vermont, unless you're lactose intolerant, you love creemees. It's written in the state charter that you must. In fact, if you do not eat at least half a dozen creemees a year, you will be fined for your insubordination. All babies born in the state receive a gift certificate for their first creemee along with their birth certificate. And the state legislature requires all towns to support at least one creemee stand within their boundaries.
Perhaps not. But it can't be denied that people in this state are obsessed with soft-serve. So much so that if you dare to call the confection anything other than a creemee, you will be viewed with disdain as a flatlander. But why? What is it about the creemee that makes it sacrosanct? And how did it come to have its own special Vermont name?
Before we can tackle those pressing questions, we have to know a little something about the concoction itself. Not surprisingly, the origins of soft-serve are somewhat disputed, writes Jeri Quinzio, in her recent book Of Sugar and Snow: A History of Ice Cream Making.
In one of the accounts, the cofounders of Dairy Queen, J.F. McCullough and his son, Alex, wanted to find a way to make ice cream taste better. In 1938, reasoning that the low temperature of ice cream prevented consumers from fully tasting its flavors, they decided to raise the treat's temperature. Traditional ice cream is stored at 0 degrees Fahrenheit, while soft-serve mix is kept at about 24 degrees. Lo and behold, the McCulloughs' soft ice cream was a hit.
Around the same time, Tom Carvel, founder of Carvel Ice Cream, began peddling hard ice cream in a truck. When the truck broke down, Carvel left the vehicle where it was and sold his melting ice cream to vacationers driving by. The soft ice cream sold better than the hard, and a new product was born.
Regardless of who hit on the idea of soft-serve first, its popularity is indisputable. Both Dairy Queen and Carvel launched wildly successful franchise businesses that continue today — just not in Vermont. Both outfits once maintained Green Mountain franchises, but now their names are on none of the state's more than 400 creemee stands.
The technology of soft-serve has changed over the years. For a while, soft-serve shops continued to sell melting ice cream much as they had when the product was first developed, says Dan Scruton, dairy-section chief for the Vermont Department of Agriculture, Food and Markets. But, by the 1950s, dairy product companies such as Hood, based in Lynnfield, Mass., began developing their own soft-serve mixes. Some were powdered, but most, including Hood's, took a liquid form.
These mixes were typically lower in milk-fat content than was hard-packed ice cream. While traditional hard ice cream must be at least 10 percent milk fat, soft-serve ranges from 2 percent milk fat to 14 percent, says Sarah Barow, spokesperson for Hood. Most creemees sold in Vermont contain 5 percent milk fat.
There's no agreement on who sold the first creemee in Vermont or how creemees proliferated through the state. But there is evidence that soft-serve stands are longtime residents. Stands such as the Dairy Creme in Montpelier, formerly a Dairy Queen, date back to the middle of the last century.
This isn't true nationwide, says Peg Checchi, a chef / instructor at New England Culinary Institute. Soft-serve stands aren't nearly as numerous in other states, nor are they destinations in the summer. Checchi, who now lives in Chicago and serves as NECI's distance-education coordinator, grew up in Westford and remembers piling into her parents' truck with her siblings and driving to a creemee stand in Milton. Living in the Midwest, Checchi laments that not only does no one know about her beloved creemees, but she can't find anywhere to get one. People just don't go gaga for soft-serve out there like they do here, Checchi says.
Why don't non-Vermonters love creemees the way we do? Or rather, why do we love them so much? At first blush, it seems obvious: Ice cream is delicious. And, if it's Vermont ice cream, it's the best in the country, state dairy guru Scruton contends. "Our milk does taste better, and I'm not at all prejudiced," he says. Since half the milk produced in New England comes from Vermont, there's a good chance your creemee has local roots.
While ice cream is delicious, creemees, with their increased air content and melt-in-your-mouth texture, seem especially exciting. A creemee is unique, says Sue Bette, owner of Bluebird Tavern, whose Church Street coffee kiosk just began selling specialty soft-serve. "It's softer, it's refreshing, it's smooth on the palate," she explains.
Are we the only people who understand that? Clearly not, says Checchi. She hypothesizes that, for Vermonters, creemees symbolize the end of winter and represent the spring rebirth. Finally, we can leave our homes, be outside without 12 layers of clothing and see other people. The creemee stand is where that happens.
Tom Wallace, who has owned Village Creeme Stand in Bristol for 30 years, agrees with Checchi's assessment of the outdoor venue's appeal. "The earlier we can open, the better. It's sort of a sign of spring," he says. "People kind of attack the place in the spring." Around July 4, Wallace's business trails off slightly, perhaps because people are over the novelty of being outside and eating ice cream — the excitement of a new season has worn off.
Paul Kindstedt, a nutrition and food-science professor at the University of Vermont, speculates that one reason for the creemee's success in the state has to do with our rurality and the slow pace at which we have modernized.
"Since refrigerators with freezers were relatively slow in replacing the icebox in this rural state," he writes in an email, "the delightful experience of enjoying newly made soft ice cream straight from the hand-cranked ice-cream freezer persisted, and soft-serve was reminiscent of the handmade experience."
OK, but how about the name? And is a creemee really any different from a bog standard soft-serve cone?
The answer to the second question is no. Hood, the largest seller of creemee mix in the state, also purveys its soft-serve concoction throughout the Northeast. This year, Hood will produce approximately 4.85 million gallons of soft-serve mix. That's a whole lot of ice cream (New Englanders consume more ice cream than any other region in the country), and all of it is nearly identical. Any differences in flavor probably come from the mix's milk-fat percentage or the maintenance and calibration of the soft-serve machine, which has to be meticulously cleaned and cared for to maintain creemee consistency. All the creemee machines in Vermont are made by Taylor Freezer of New England, which determines the overrun, or amount of air in the product relative to the mix.
Wallace's Village Creeme Stand was once voted purveyor of the best creemees in the state, a designation that makes him chuckle. "People say, 'You have the best creemee we've had in the state,' and there's really no reason for it, because we all use a Hood product," he says. "Maybe it's just because we do an extremely high volume and are more consistent."
The origin of the "creemee" name is still confounding. Some suspect it's derived from the product's most prominent physical characteristic — it's creamy — an explanation that lacks imagination as well as sex appeal. Others speculate that the name is a bastardization of the Québécois term for ice cream — crême glacée — and that makes sense, given our proximity to the Francophone province, which has its own creemee stands. I'm no lexicographer, but the latter seems a more likely explanation. Otherwise, wouldn't all soft-serve products the country over be called creemees?
Wherever the name came from, the simple truth is this: We love our creemees. Whether they're chocolate, vanilla or, our state specialty, maple, we lust after them with a near-cultish passion.
The promise of a creemee is what keeps us going during our long winters. And the arrival of the first creemee in the spring is a signal that warmer weather and brighter days are ahead. A Dairy Queen it is not. And that's just fine by me.