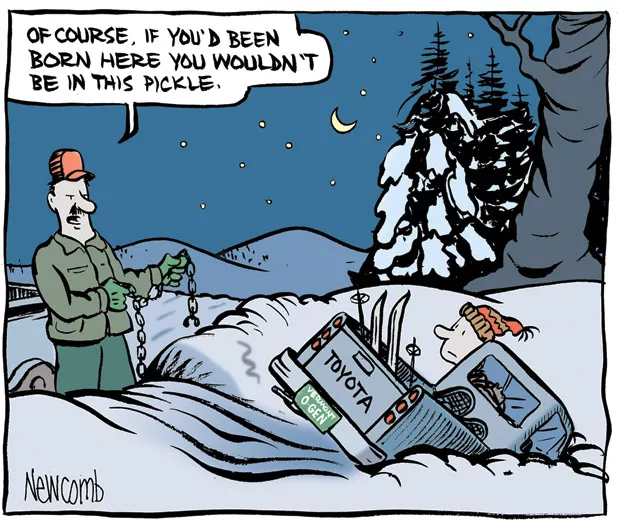 Not really. I just want eighth-generation Vermonters who read those words to know what it feels like to be eight generations behind in a race where it is impossible to make up ground.
I moved to Vermont a few years ago from St. Louis, a city of perpetual low self-esteem, where everyone is in a hurry to tell you they're really from somewhere else. In Vermont, I found the value system that I was used to turned on its head, and I internalized the local ethic, sometimes even apologizing for being "from away." But, as will happen when we conform to an unreasonable demand, I began to bristle. How, I asked myself, can I change unalterable historic fact? How can I overcome a weakness that I don't even recognize as a weakness?
My first impulse to resist this tyranny of nativity came while I was reading an obituary in a Vermont newspaper. The story was about the passing of a woman who had devoted her life to the state Red Cross. She was selfless, a jewel, a saint. But her obituary led with her irremediable flaw: "Though not a native Vermonter…" After that, I began to see that dread "though" everywhere. This one, from a local book review, is seared into my brain: "Though the author has lived in Vermont for only 12 years, she chose to set her novel in the Green Mountain State." The crusty native reads that and thinks, Twelve measly years! Fool! Upstart! Her book must be riddled with blunders! Now, where did I put my copy of Ethan Allen's memoirs?
A local man I know descends from so many generations of Vermonters that his surname is carved on institutions all over the state. But his parents strayed from the fold for a time, and the poor fellow had the misfortune to be born in Rhode Island. The family stole back to Vermont under cover of night with the swaddled infant, but as a grown man he is marked by his rural neighbors as one undeserving of the full privileges of Vermont nativity.
What virtue attaches to geographic inertia? In all other contexts, don't we celebrate the spirit of exploration? Am I supposed to be impressed with someone because he's never gone anywhere?
I know the answers to these questions, and they're more compelling than I wish they were. One answer has to do with something I'll call spirituality. I'm referring to the particular aura of a place once inhabited by a beloved forebear. I recognize the feeling because I've had it myself, not in Vermont but in a state that is hardly famous for the permanence of its population, California. After my father died but while my mother was still living, whenever I returned to the small Sierra town where I grew up and walked in the backyard, I felt that I was on hallowed ground. Here my father toiled on weekends over his plantings. Here he laid his uneven concrete patio. And when I took up one of his tools and worked in that yard, he was all around me. Sometimes my identity grew shaky, and I would become him for a moment. I acknowledge that if his father had worked that land, and his father's father, and so on into the past, with every mundane chore I performed it would feel as if I were part of a chain gang of ancestral ghosts.
The local virtue of staying put also has to do with the Vermont way of life. Continuity of generations creates continuity of values, both good and bad, and the good values of Vermont are substantial: community, generosity and humility. The motorist who stops and pulls you out of a snowbank and leaves before you can thank him is probably a native. And even if he's not, even if he's a transplant from Massachusetts, the fact that he has lived here means that he had no choice but to stop and help you, thanks to the cumulative pressure to do good exerted by neighboring families who haven't budged for centuries.
I recognize the virtue of this continuity, this tradition. But that doesn't automatically make any individual eighth-generation Vermonter virtuous, especially if he or she accords me less value because of my birth certificate.
Will I always be a flatlander? It seems unfair. I have raked the snow off my roof. I have fallen on ice — so hard that it felt as if someone had lassoed my feet and pulled them out from under me. I have slain thousands of cluster flies by squeezing them with toilet paper and flushing them down the toilet. I have snaked winter mouse nests from my car's vents, and I have even gone eyeball-to-eyeball with a mouse that popped into view from under my hood while I was driving and stared at me through the windshield. And, having slid backward into a snowbank while trying to ascend an icy slope, I have executed the "Vermont spin," forcefully backing the car into seemingly deeper trouble to bring its front around, facing downhill so that I could drive off happy as I please. Still, I will always be from away.
If you think about it, eighth-generation Vermonters are flatlanders themselves when compared to descendants of the earliest Abenaki, who began investing the land with spirituality 8000 years ago. And even if we restrict our scope to Europeans, an eighth-generation Vermonter is a relative newcomer compared to a theoretically possible 16th-generation Vermonter. How, you ask, do I arrive at this number? Let the year 1726 mark the starting point of our calculation. On that date, 284 years ago, the first known native-born Vermonter slid out of a warm womb, hit the frigid air and let loose a mighty wail. If that child had cranked out a baby at age 17, and if every subsequent firstborn resulting from that issue had made a point of cranking out a baby at age 17, walking the Earth today would be a 12-year-old who could claim, "I am a 16th-generation Vermonter."
So, you woodchucks, don't be so cocky. Maybe your obituary should begin, "Though only an eighth-generation Vermonter…"