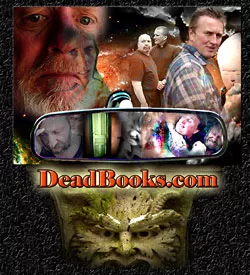 Most people are comfortable with the concept of a book on CD or MP3. But a book on DVD? One you hear, read and watch?
Right now that's the best way to describe Sandgate resident Hasso Wuerslin's The DeadBooks. It started its life as a self-published sci-fi/horror novel. But over the course of eight laborious years, it morphed into an experiment in combining text, images and music in cyberspace that drew the attention of media outlets from Vermont Public Radio to a Wired magazine blogger.
DeadBooks is a "hyperserialized" novel with 38 chapters. Click on a free sample on Wuerslin's site, and you'll enter the town of Landsgate, Vermont, where creepy stuff always seems to be happening. Wuerslin's voice reads patches of on-screen text, illustrated by a surreal collage of Flash-animated pics and scored with the (usually) sinister sounds of bands the author recruited from all over the world. Thirty nonprofessional actors speak the dialogue. Sometimes the viewer is instructed to read a longer passage silently.
The novel's plot makes "Twin Peaks" look straightforward: Expect ghosts, aliens, detectives and leaps in space and time. The images are very Stephen King meets heavy metal. But the overall experience is oddly hypnotic.
Everybody agrees that DeadBooks is ahead of its time — maybe even a glimpse at the future of a struggling print culture. The problem is, right now, no one's buying it.
Wuerslin, 48, is a native Vermonter who went to L.A. nearly two decades ago to try his luck in the movie biz. Three years later he returned, but he kept on acting (appearing in two films from David Giancola's Edgewood Studios in Rutland) and writing. When his agent couldn't sell his horror novel, he made a radical decision. As he told the blog Zombo's Closet of Horror last year, "I remember going to a self-publishing site and seeing the hundreds and hundreds of horror novels available for sale. Impossible to breathe. So I decided to kill something — my books. And that led to a rebirth."
Wuerslin "became a vicious editor" of his prose. He pared each page down and turned it into a digital "canvas." He taught himself web design, gathered a soundtrack of 150 songs and turned his friends and neighbors into actors. In August 2008, he stuck his finished "hyperbook" on the web and offered it for download — at a price. He hired a publicist and got some press.
But, though Wuerslin "thinks maybe 3000 people have seen" his site, the customers failed to materialize. He says he soon realized that the readers most likely to download a book — teens and young adults — were also the ones least likely to pay for it. So he repackaged DeadBooks as a 10-hour DVD and put it on sale for $9.95.
Wuerslin, who bartended while making Deadbooks and is training for a new career in web design, says he's "not planning to make another of these. It took so long, and I don't have a payback." A student of demographics, he suspects the older readers who typically buy long horror novels just aren't ready to give up paper and ink. Yet it's hard to deny he's on to something. Back in 2001, when Wuerslin created his first multimedia "book trailer" for DeadBooks, the Hollywood Reporter quoted him as saying such clips would become a routine marketing device. Today, they are. (Chris Bohjalian used one for Before You Know Kindness in 2005.)
But watching a trailer is one thing; experiencing a multimedia book is something else. Maybe it's not a book at all. "Either this project really sucks, or I may have just created something that doesn't have a place yet in society," Wuerslin reflects, then compares himself with "the guy who made the Segway. There is no place it fits yet in our society as we built it."
But one day, he believes, someone will figure out how to make hyperbooks into big business. "I'm dying to see what people do once it gets picked up," Wuerslin says. "I'm a little artist, and I don't have a lot of money. I have to sit back and wait for this thing to become someone else's idea."