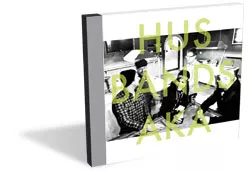 (Self-released, digital download)
Burlington's ska scene isn't prominent — it lives primarily on local turntables rather than onstage. But ska-punkers Husbands AKA are gaining momentum. On their new, self-titled album, which showcases their hardcore and punk-rock roots, the musicians bring checkered hellfire.
"Controlled" opens the record on a serious note: drug addiction. Lead vocalist Dylan Burns sings, "Don't judge a person by the color of their skin or by the poison that they have just shot in." The song barely clears two minutes but evokes a lifelong battle.
"Nobody's Listening" infuses street-punk choruses into the band's ska-roots modus operandi. Guitarist Sean Fitzpatrick and organist Tyson Valyou create an intense sonic assault, and bassist Chris Valyou is equally instrumental in creating the band's bouncy dynamic. Collectively, the trio drive this record. But it's drummer Alex Pond who shifts the album into high gear. Channeling a little Dave Mello from Operation Ivy, Pond slams out aggressively quick changes, accelerating with passion.
"Wild Girl" suggests the slapstick style of the Queers, with Burns offering similar skirls while staying grounded on a roots level.
"Nice & Easy" harnesses the traditional ska feel of the Two Tone era. With melodies reminiscent of the Specials, this laid-back tune suggests that you "slow down, now pick it up … take it nice and easy." The band takes its own advice; after a few slower tunes, the album rips.
"One More Time" may be the record's defining song. The chorus is timeless, and the outro perfectly encapsulates the Husbands' style: It makes you want to fill a dance floor and join in a sing-along chorus. Fitzpatrick alternates quickly between shredding power chords and upbeat strums. Riffing to the melodies, he is the only guitar player needed. Early punk-rock structures shine throughout, and Fitzpatrick seals the deal.
The album fittingly closes with "Voices." As soon as Burns sings, "I've lost all control," the song falls seamlessly in and out of distorted dynamics and intermittent ska sections.
There is a lot to like about Husbands AKA's latest. None of the songs crosses the three-minute mark. Gone are the predictable horn lines typical of third-wave ska bands — melodies succeed here with just one organ. And the record's production is raw and to the point. Even better, Husbands AKA is available for free download at husbandsaka.bandcamp.com/album/husbands-aka.