"Morning Ritual" by Hunter Eddy
Hunter Eddy fills the Vermont Supreme Court Gallery with 28 oil paintings and one charcoal drawing that befit the gravitas and grandeur of the location. His works are not somber in subject matter, but they have a weightiness not common in contemporary work.
The Vermont artist's paintings are more than simply reminiscent of the Italian masters; he was academically trained in the techniques of Renaissance painting and drawing. Eddy takes inspiration from Caravaggio (1571-1610) and two 19th-century painters, Paul Cézanne (1839-1906) and John Singer Sargent (1856-1925). Although his techniques are traditional, he makes use of a subtle theatrical narrative and frequently injects a contemporary visual element into the work.
Eddy's home and studio are in Essex, where he lives with his wife, Evelyn, and daughter, Giulia. Born in Rutland in 1967, he grew up there and studied at the Art Institute of Boston. His subsequent studies included landscape painting and drawing in Italy and Renaissance-era traditional painting and drawing at the Florence Academy of Art. Eddy was later appointed principal painting instructor at the academy and taught for 10 years in the advanced painting program.
In Florence, Eddy cofounded ArtSpace, a center for artists, where he maintained a studio. He has exhibited internationally and received many awards, and his works are in private collections in Europe and the U.S.
The paintings on exhibit in the Supreme Court Gallery, created between 2010 and 2017, are a combination of staged portraiture, still lifes and landscapes. As one enters the gallery, Eddy's mastery of oils is immediately evident. Solid, dark frames surround the paintings; light seems to emanate from inside, highlighting features on a face or the rosiness of a peach.
The largest work here is a 28-by-32-inch still life titled "Works in Progress." But it's not the size that attracts the eye. In contrast to Eddy's well-ordered portraits or small, tidy landscapes, "Works" depicts a disorderly array of objects that have been left on a table, as if their owner has just walked away, perhaps soon to return.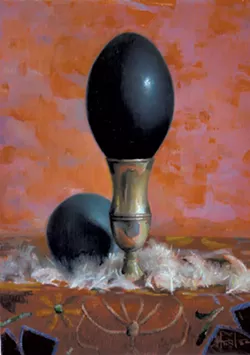 "Monolith" by Hunter Eddy
There is much to look at here. A viola with warm, honey-colored wood that gathers and reflects sunlight is the most prominent object on the table. Central to the painting, it rests against two fabric curtains covering the wall behind the table, along with three small canvases in progress. Two small, lidded glass jars hold liquids, perhaps linseed oil and mineral spirits for mixing with pigments. Papers are strewn about, topped by a writing utensil. A rectangular sculpture, in relief, hangs on one of the curtains.
Also part of the still life is a rather enigmatic silver vase with lid askew — an object that appears in many of Eddy's paintings, often prominently. Here its purpose could be as a prop waiting to be used in another painting. "Works in Progress" may portray Eddy's own practices of painting, music and writing as they wait for him to return to them, perhaps when he has completed another of the works in this exhibit.
Eddy's still-life paintings suggest that a person is either expected in the room or has recently exited it. That unseen element lends an air of playful expectation to the narrative. Two still-life oil paintings with similar themes serve as cases in point: "Fresh From the Market" (19 by 23 inches) and "Search Party" (20 by 18 inches).
In the former, a white bowl, a blue-and-white-striped cloth, lemons, pears, and an apple lie carefully unarranged on a table. Some fruit is in the bowl, a few pieces are loose on the table, and three pears stray from the confines of a plastic bag. The cloth is loosely draped, cradling the fruit without covering the table. It's as though someone arrived home, dropped the produce on the table and stepped away for another errand.
Of interest is Eddy's use of a plastic bag, which disrupts any semblance of a 19th-century atmosphere. Without it, the viewer might be looking at a painting hundreds of years old; with it, Eddy pulls us back into the 21st century.
"Search Party" by Hunter Eddy
"Search Party" ostensibly makes use of the same bowl, table and cloth, along with 10 peaches and a plastic bag. Three peaches have escaped their bag; one has been cut in half, revealing its flesh. There is no mistaking that a human has had a hand in this. In fact, a human has been involved in organizing and setting up each still life. To Eddy's great credit, he makes it easy to forget that the painter did not have a casual encounter with a bowl of fruit one afternoon. It's all art and artifice.
Like the images, the artist's titles are enigmatic, sometimes even cryptic. Their meaning might underscore the image, as in "Fresh From the Market," or be elusive, as in the case of "Search Party." Eddy's titles address the narrative expressed by each work, inspiring the viewer to engage with the painting imaginatively. He writes in an artist statement, "In painting, my main goal is to create an impression of light and depth over and around the objects or people I choose to paint." Eddy works only from life, never from photographs, and he uses only natural light. He still grinds his own paints, blends his own solvents and makes his panels by hand.
Renaissance painters, wanting to engage their viewers, developed the chiaroscuro technique, working from dark to light to give life and drama to their works. Eddy's large portraits, so reminiscent of Sargent, reveal this technique, as do his still lifes. Unlike many contemporary artists, Eddy lives in the present while embracing old-world knowledge to great advantage. Like the eddy his name suggests, he moves in a direction that diverges from the main current.