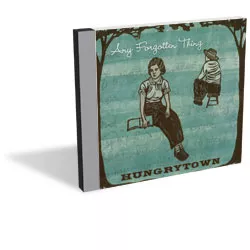 (Listen Here! Records, CD)
It took them roughly three and a half years, but Vermont-based folk outfit Hungrytown have finally released the follow-up to their 2008 self-titled debut. With Any Forgotten Thing, the husband-and-wife duo of Ken Anderson and Rebecca Hall deliver a potent reminder that some things are worth the wait.
The album opens on "Year Without a Summer" — a chilling thought for Vermonters as the first hints of autumn begin to appear in trees around the state. The song is set in 1816, following a catastrophic volcanic eruption that plunges the Northeast into an endless winter. The protagonist is a young girl whose beloved has promised to marry her in the springtime, but, as it snows month after month, she is left waiting. Hall's tender, crystalline voice softens the tune's desperation, yet perfectly captures the sweet innocence of young, unrequited love. The slow, drifting waltz sounds as though it comes from a long-gone era, as much of the material throughout does. And that cuts to the core of what makes Hungrytown special: a reverence for the music of our collective past, tempered by a keen modern sensibility and a gift for heartfelt storytelling. The music simply transcends any particular time or place.
Hungrytown are often pigeonholed into the retro-folk movement — in part because they sort of look like they walked out of Greenwich Village in 1963, or maybe off the set of A Mighty Wind. But Any Forgotten Thing finds the duo exploring new sonic territory. "Never Realized" is a bright, harmony-fueled pop ballad that's more Belle and Sebastian than Ian & Sylvia. The title track is a gently loping, banjo-driven charmer that evokes Alison Krauss & Union Station. "Calliope" treads dreamily into early acid-folk, with sleepy chimes and serpentine accordion. "Make It All Work Out" is a cheery, Wurlitzer-driven pop nugget featuring '60s-style harmony.
But don't think Hungrytown have abandoned their roots. The 12 tracks on Any Forgotten Thing boast more than enough unabashed folk styling to satisfy purists. "Rolling Train" is a classically spare, acoustic number — and, after all, it uses a train metaphor, which instantly boosts folk cred, right? "Just Like a Song" is a stunning, mid-tempo banjo-and-voice ballad — OK, with a touch of organ. "Like You Do" is as sweet an ode to the insecurity and second-guessing of new love as you'll ever hear. And the record closes on an a cappella number, "The Sweetest Flower," that sounds as though it drifted north from the Appalachians.
Hungrytown celebrate the release of Any Forgotten Thing with a show at the North End Studio in Burlington this Saturday, August 27.