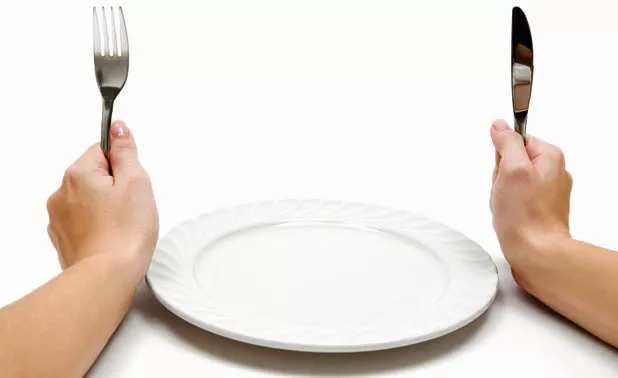 Last week I was hungry. I'd joined the Fast Against the Budget Cuts, launched by former U.S. Ambassador Tony Hall and other food-justice advocates in protest of what one of those advocates, theologian Jim Wallis, called the "selective cruelty" of the GOP budget.
The action drew more than 36,000 participants, who were invited to design their own fasts: forgo food from dawn to dusk, Ramadan style, or fast on juice or water for a day or a week, or until a decent budget is passed. Now that Washington has agreed to slash $38 billion mostly from social programs, the last option amounts to death by starvation.
I undertook a policy-specific, fast-like activity: trying to subsist on food stamps — now called SNAP, or Supplemental Nutrition Assistance Program, or, in Vermont, 3SquaresVT. I took the average benefit for a single adult in Vermont, $5 a day.
Here's what I learned by 8:30 the first morning: It's hard to live on food stamps. My usual breakfast — whole-grain cereal, banana, two cups of coffee and about three-quarters of a cup of milk — set me back about $2.25. I could have saved with nonorganic food, but organic was in the larder. I could have drunk one cup of coffee, but then I would have had to kill someone, maybe myself. So I used up nearly half my daily allowance with 14 hours to go.
If House Budget Committee Chairman Paul Ryan succeeds in turning federal entitlement programs into block grants to the states, then food-stamp allocations, which now expand or contract with need, would get even smaller. I asked Angela Smith-Dieng of Hunger Free Vermont what that would mean for Vermont. "Vermont would either have to decrease the benefits or create a waiting list," she said, "because we wouldn't be able to serve everyone."
My quasi-fast was an interesting exercise, bearing little relation to real hunger — particularly real hunger with no end in sight. Mostly, it reminded me that I'm lucky.
But a public fast is not a personal consciousness-raising experience. It's a symbolic act, an act of self-inflicted weakness meant to shame the powerful into behaving morally. The Democrats have agreed to more than half the cuts the Republicans wanted.
In the current moral climate, can even a 36,000-person fast shame the powerful?
The fasters would first have to shame the people — John Boehner is fond of calling them "the American people" — who sent his party to Washington much as Grant sent Sherman to Georgia: to burn the place down. Preliminary research suggests there is not much shame in that constituency to be mobilized.
To gather intelligence, I turned to thehill.com, a Washington news site favored by the most radical of the radical right; the site's comments section could serve as the spleen of the hyperconservative body politic, so prodigiously does the bile flow. The Hill was one of the few outlets that covered the fast — as a humor piece, perhaps.
Some of the responses, maybe all, were predictable. There was liberal bashing ("Liberals starving themselves to death, I just can't get the smile off my face") and sissy-liberal union bashing ("Don't tell me, you're a white girl or a feminine guy that became a teacher and you believe the crap that the union tells you"), fast-specific fat-liberal bashing ("Some of those pot bellied Wisconsin protesters should go on fasts. They could stand to drop some tonnage") and fat-liberal union bashing ("Fat Slob Richard Trumka").
This being a piece about government handouts, the racism was thick. Some was coded: "our oppressed urban underclass." Much, explicit: "[It's] a cultural problem of blacks having children when they cannot afford them, always assuming the government will pay for their kid's breakfast, lunch, daycare, and education."
The writer of this last quote concluded, "We can't afford to do all that anymore and the black people need to get their act together."
On the one hand, this is vintage conservative, antiwelfare ideology: Never mind recessions and other natural disasters in the cycles of capitalism. Welfare is the cause of poverty, not a response to it. The unemployed — lazy, dependent and passing on their pathology to their children — cause unemployment. I take care of mine. Let them take care of theirs.
But this comment reveals the clever way the Right has turned the myth of economic scarcity into a rationale for white, nativist supremacy. "We" — which doesn't include people of color — can no longer afford the poor. The "economy" — which does not include the poor — has only so much to go around. The deficit is proof.
The deficit, immense and threatening, is the metaphor for the human surplus — poor, black, immigrant, jobless, elderly, sick — that must be off-loaded so America can soar. The connection between racism and economic conservatism, so fiercely denied by the Tea Party, is plain.
It also runs deep in American history. This struck me when I caught a rebroadcast of Ken Burns' The Civil War during one week of the budget battle. The series offers a rebuttal — largely articulated in the demurely devastating language of historian Barbara Fields — to the notion that the Civil War was essentially an economic and political battle and only secondarily about slavery. The Civil War was about slavery, the film says.
But it wasn't a matter of economics first and morality second, or vice versa. Racism cannot be disentangled from the American idea of prosperity.
The Confederates were explicit about it. "Our position is thoroughly identified with the institution of slavery," read Mississippi's declaration of secession in 1861. "[Slavery is] the greatest material interest of the world. Its labor supplies the product, which constitutes by far the largest and most important portions of commerce of the earth."
Theirs was not simply an excuse, in the name of economic survival, for a distasteful, maybe even immoral, system. No, it was a proclamation that prosperity for white people, a purportedly global good, made slavery moral.
Today's radical Right advances a similar argument: It is all right to let poor, black and brown children go hungry so long as the deficit is reduced. Which is to say, so long as wealth stays with its "rightful" owners.
As I looked at the paintings of white Southerners hurling themselves into cannon fire to defend the ownership of human beings, I wondered if we might be witnessing not just the end of U.S. global hegemony but the end of the United States. Might the moral values of the red and the blue, like those of the gray and the blue, be so different that this divided house can no longer stand? I wondered, too, whether that might not be a bad thing.