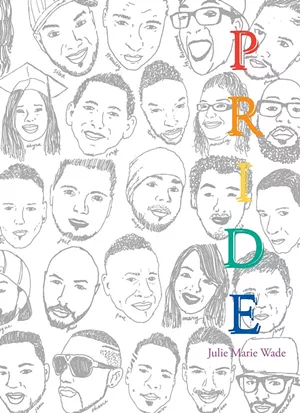 Zines have exploded in popularity over the past few months, and not just because "zine" rhymes deliciously with "quarantine." The hashtag #quaranzine has been used nearly 6,500 times on Instagram, a hint of the outpouring of creativity during the homebound days of the pandemic.
But the genesis of the May Day Mountain Chapbook Series predates the global shutdown. A new collaboration of May Day Studio in Montpelier and the Hunger Mountain literary journal, the series is published by the Vermont College of Fine Arts.
Hunger Mountain co-managing editor Dayton Shafer, who graduated this May with an MFA in writing and publishing and a focus on playwriting, has always loved the tactile, DIY zine aesthetic. "I did a lot of xeroxing in my late teens," he said. "The warmth and the smell are intoxicating to me."
Last fall, Shafer put out a call for submissions for the inaugural volume. True to the antiestablishment ethos of zinedom, his goal was to find work from underrepresented artists and writers — "BIPOC lit, queer lit, refugee lit," he explained. The contest was open to anyone, not just VCFA students; Shafer received more than 200 manuscripts, which he narrowed down to eight finalists.
The winner, Pride, a book of micro-essays by Julie Marie Wade, was released in May, with a limited run of 100 copies handmade by May Day Studio. Shafer didn't have a budget for the project; the $10 submission fees covered the cost of producing the chapbooks. He had hoped to distribute them at literary festivals and bookstores around the Northeast this summer, but COVID-19 thwarted those plans.
In Pride, Wade, a creative writing instructor in the MFA program at Florida International University who has previously been published in Hunger Mountain, explores the nuances of queer identity. Each essay title begins with "Float," a reference to a Pride parade. The cover, illustrated by Kelly McMahon of May Day Studio and printed on luxuriously thick paper stock, features mini-portraits of each of the 50 victims of the 2016 Pulse nightclub shooting in Orlando, Fla.
Wade's essays are wry and self-deprecating ("Can self-awareness get me out of this jam?" she wonders at one point), a blend of memoir and pop-culture observation.
"This book is just profundity," Shafer said. "It's the marrow of what socially conscious art can be."
The next round of submissions will open in October, although Shafer won't preside over the slush pile; his editorship ended when he graduated this spring. (Given the state of theater right now, he isn't so sure what the future holds for him.) While he hopes that the next editor will bring their own sensibilities to the project, Shafer also wants the chapbook series to stay true to its scrappy, underdog DNA.
"This should be a forum without censorship of any kind, be it self- or societal," he said. "I want this to be a cultural garbage disposal."