Courtesy of Hopkins Center
From Our Secrets
The setting: a Budapest dance hall in the early 1980s, when young Hungarians were reviving their folk dance traditions. One day, one of the dance-hall musicians, István Balla Bán, confesses to his therapist a dark, transgressive secret: He's sexually attracted to his 7-year-old stepdaughter. Unbeknownst to István, the secret police has been recording his every utterance and soon blackmails him into spying on his activist friends — with devastating consequences.
Our Secrets is the work of 46-year-old Béla Pintér, one of Hungary's most prolific and celebrated playwrights. His theater troupe, Béla Pintér and Company, begins its three-city American tour on Friday with the play's U.S. premiere at Dartmouth College's Hopkins Center for the Arts in Hanover, N.H. This is the second time Pintér's company, which routinely sells out shows all over Europe, has performed in the United States.*
Though the play is set in Soviet-era Hungary, its scathing criticism of governmental intrusions into the private lives of citizens works equally well as a commentary on Hungary's current political climate — and on our own. In the era of Edward Snowden's revelations about the National Security Agency's once-secret mass surveillance program, the themes of this play, which premiered in Hungary that same year — 2013 — seem eerily prescient and universally applicable.
As Pintér describes his play in a recent email interview (via a Hungarian-language translator), "This is a harshly worded 'fairy tale,' and there are many ways to interpret it, but it can be a lesson for all times."
Margaret Lawrence, the Hop's director of programming, had an opportunity to see Our Secrets in the fall of 2015 at an international theater festival in Budapest before a mostly Hungarian audience. Although the plot is fictional, she points out that Pintér claims to have based the play on actual events, and he has set it in a historical context that would be recognizable to virtually every Hungarian citizen.
Performed entirely in Hungarian, the Hop production will have English supertitles projected above the stage. Lawrence says she revised the translation "extensively," reducing the use of British idioms and helping the language flow better for American viewers.
Audiences at the Hop performances will have an opportunity to attend a free preshow presentation called "Welcome to Hungary." There, Edit Nagy, a Hungarian-born scholar of that country's history of surveillance at the University of Florida's Center for European Studies, will help "unpack" many of the jokes and cultural references that might otherwise escape American theatergoers.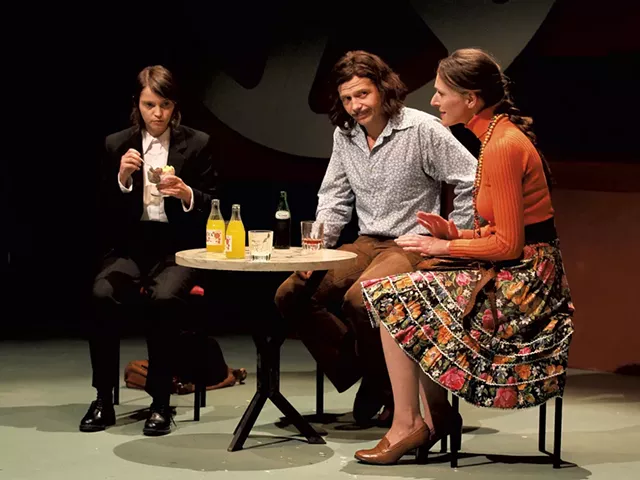 Most of the play's action unfolds in a folk-revival dance house in Budapest, home to a subculture of folk enthusiasts that seems innocuous to the Communist regime. Looming behind the dancers is an enormous reel-to-reel tape recorder that spins inexorably throughout the play, a symbol of both the pre-digital era and the state of near-constant surveillance. American audiences will instantly recognize the styles of the late '70s and early '80s, complete with corduroy pants, shaggy hairdos and bushy sideburns.
Though, in most respects, Our Secrets reflects Hungary's Cold War experiences, Pintér says that themes of "the lies, the never-spoken truths and secrets [that] crisscross and poison all human connections and the unhealthy relationship of political power and the individual are independent of time ... Comprehending the harmful effects of oppressive authority is useful for everyone in society, regardless of age or geographical location."
Lawrence points out one fascinating component of this play: Unlike other Eastern-bloc governments that eventually declassified the government files on their own citizens — as portrayed in the 2006 Academy Award-winning German-language film The Lives of Others — Hungary never underwent a process of truth and reconciliation with its totalitarian past.
Why not? Many Hungarians don't want to reopen painful wounds, Lawrence suggests. But another, equally plausible explanation is that the same people who were once involved in widespread surveillance of their friends and neighbors are now members of the government of Prime Minister Viktor Orbán.
In recent years, Orbán and Hungary's right-leaning political parties in the national assembly have embraced ultra-nationalist, anti-immigrant and fascistic tendencies and pivoted back toward Russia and the secretive, authoritarian style of Vladimir Putin. Lawrence says that Mikhail Baryshnikov, whose New York City-based arts center helped arrange the U.S. tour of Our Secrets, has described the show as one of the truest representations of his own experiences growing up under Soviet rule.
"If the Hopkins Center were in a major urban center, we might have to think about this more, because there would be a consulate from Hungary there," Lawrence adds. "It has struck me more than once that those guests might not enjoy this play."
Our Secrets, which is alternately comic, joyous, tragic and painful, contains adult themes and isn't recommended for younger audiences. Chief among those themes is the pedophilia aspect. Though Lawrence doesn't want to reveal too much of the story in advance, she says Pintér largely leaves it up to his audience to decide how it feels about István's perversion and the choices he makes.
"Clearly, it's an uncomfortable secret," she adds, "and theater is exactly the place where we can confront ideas like this one and decide ... what it means."
Interview With Béla Pintér
Seven Days emailed Pintér shortly before he left Hungary for his U.S. tour. (Translation courtesy of Edit Nagy, lecturer in the Hungarian Language Program at the University of Florida's Center for European Studies.)
SEVEN DAYS: How much of Our Secrets speaks to Hungary's current political climate versus its Soviet-era past? In other words, do Hungarian viewers see a reflection of their own present-day government?
BÉLA PINTÉR: The story takes place in the '80s. We only arrive in the present with the last scene. This is obviously very important to the audience, but referring to our [Hungarian] recent political climate is not the central element of the performance. Revealing and understanding the past can illuminate contemporary issues, central theme[s] of the play, the labyrinth of the lies, the never-spoken truth and secrets, which crisscross and poison all human connections, and the unhealthy relationship of the political power and the individual are independent of time. The form of communication varies from period to period, but the core of the problems remains the same. Comprehending the harmful effects of oppressive authority is useful for everyone in the entire society, regardless of age or geographical locations.
SD: Since its premiere in 2013, has Our Secrets taken on renewed significance in light of the rise of authoritarian and ultra-nationalist movements both in Europe and the United States? If so, have you altered the play in any way to reflect those new realities?
BP: The play outlines an authentic human story with realism of that era. This is a harshly worded "fairy tale," and there are many ways to interpret it, but it can be a lesson for all times. It is possible that the interpretation is influenced by daily political events and, because of these circumstances, the emphasis or the message of the play can also shift, but we haven't made any changes since the premiere.
SD: Due to the content of this show, have you or your theater company endured any repercussions, either from the Hungarian government or from the public?
BP: The play has been a huge success. The performance itself and the actors have won multiple awards both in Hungary and abroad. The current Hungarian cultural policy has no interest in supporting the independent theater sector. Instead, we can witness the signs of oppression from the government's side. Despite this unfriendly political environment, we didn't notice any negative impact from this particular play on our theater company's operation.
SD: Since the show's premiere in 2013, have you spoken with, or heard from, either victims or perpetrators of this kind of government surveillance?
BP: The so-called "agent question" [Translator's note: who worked as an agent or informant in our society; what did they report and about whom; and whose life was affected by their work] is a very popular topic in today's Hungary. Therefore, many literary works have been published about it recently, which was very helpful to me in writing the script, because I could rely on primary sources, documents and oral history interviews. I was trying to be accurate and authentic in my story, though all episodes, events and characters are fictional and nobody could be identified. However, the audience may find similarities between these fictional characters and real people. While the people in the current Hungarian political leadership are still interested in keeping many Secret Service agents' files closed, the investigation of the past is the obligation and responsibility of the individual and, in this specific case, the obligation and [responsibility] of the artist.
*Correction, January 12, 2017: An earlier version of this story misstated the number of times Béla Pintér and Company have performed in the U.S. This is their second time performing in the states.