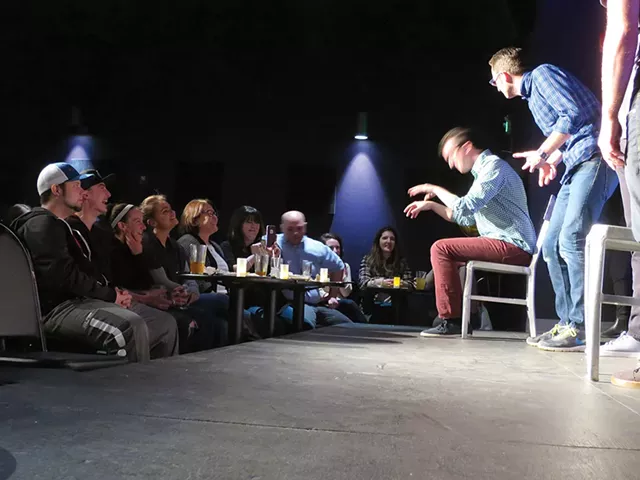 Matthew Thorsen
Vermont Comedy Club
What do you get when you cross a cow and a unicorn? A creature whose moo, according to an eyewitness, sounds like a million angels.
JK. The mythical "unicow" is the mascot for the new Vermont Comedy Club, which opened in the fall of 2015. When you see its likeness on the brick building at 101 Main Street in Burlington, you'll know you're in the right place for oddball offerings.
Matthew Thorsen
Vermont Comedy Club
The club is the bricks-and-mortar epicenter of Vermont's burgeoning comedy scene, which has been on the rise since 2009. That year, the inaugural Green Mountain Comedy Festival featured a single night of performances by Burlington talents. Since then, the annual event has grown into a multiday affair, boasting more than 100 performers from all across the state. And the comedy club hosts nationally touring comedians and Green Mountain gagsters nearly every night of the week.
In short, if you're looking to giggle or maybe even guffaw, you've got a lot more options today than you did just a few years ago.
Matthew Thorsen
Nathan Hartswick and Natalie Miller
Vermont Comedy Club may be new, but its founders, Nathan Hartswick and Natalie Miller, are old hats. The king and queen of Vermont comedy have produced shows in bars, churches, tents and bowling allies alike. They got their start by offering comedy, theater and music workshops through Spark Arts — which, to give you a sense of their commitment to the cause, was founded on their wedding day in 2011.
Pop-art portraits of famous comics line the inside walls of the club. The bar mixes up humorously named libations — the Resting B*tch Face, for one — and servers deliver table-side snacks and bevvies in the 150-seat "showroom."
About that showroom: It's hosted everyone from Gilbert Gottfried (aka the voice of Iago the parrot in Aladdin) to Brooks Wheelan of "Saturday Night Live" fame to Jay Chandrasekhar of Super Troopers. Politically savvy peeps still remember the club's mock debate between presidential hopefuls Donald Trump and Sen. Bernie Sanders, with comedians Anthony Atamanuik and James Adomian busting out their best impersonations.
If some of those comics don't sound familiar, fear not. The club's website, vermontcomedyclub.com, provides more mainstream associations for the lesser-known comedians — for example, "Recommended if you like Louis CK."
And remember, you're here to laugh at the locals, too. Catch 'em opening for bigger acts on the weekend, curating improv and standup showcases, and even teaching classes. So when free open mic nights (Sundays and Wednesdays) and cheap improv shows (Thursdays) roll around, you can be assured that the performers (generally) won't fall flat.
What's So Funny?
To help you learn who's who in the local comedy scene, we asked a few resident jokesters to introduce themselves with a signature quip.

Recommended if you like: Jen Kirkman, David Cross, Sarah Silverman


---
Voted Vermont's Funniest Comedian in 2015. R.I.Y.L.: Amy Schumer, Pete Holmes, Cameron Esposito
---
R.I.Y.L.: Eugene Mirman, Todd Barry, Tig Notaro

---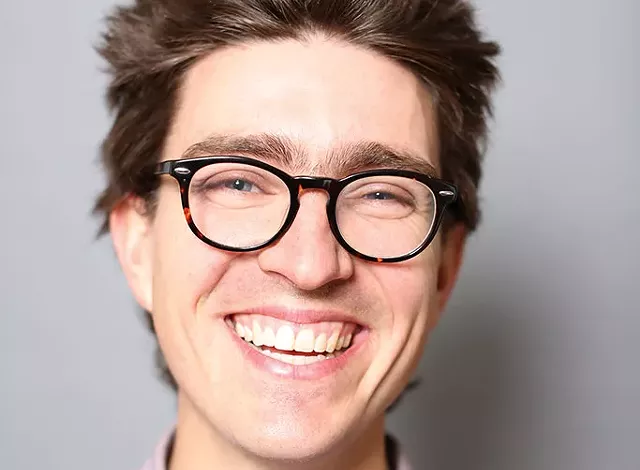 R.I.Y.L.: Demetri Martin, Mitch Hedberg, Steve Martin

---
R.I.Y.L.: Aziz Ansari, Hannibal Buress, John Mulaney