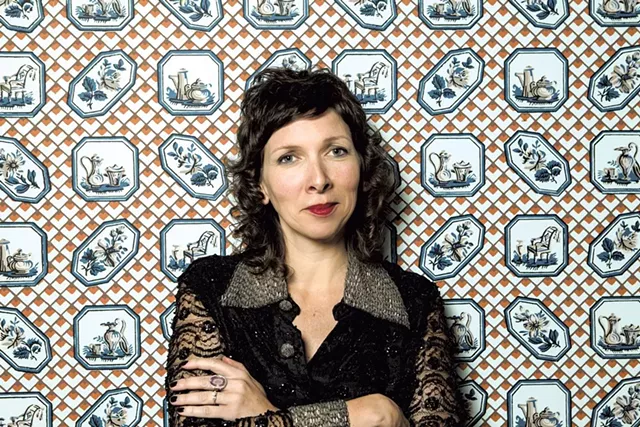 COURTESY OF ISAAC WASUCK
Kimberly Harrington
When Kimberly Harrington walks into Burlington's Citizen Cider for a chat with Kids VT — sporting red lipstick, a stylish shag haircut and a gray motorcycle jacket draped over her shoulders — she looks more like the front woman of an indie band than the writer of essays about motherhood.
Harrington is a rock star in her own right. The South Burlington mother of two is a copywriter and creative director who's worked for high-profile clients such as Nike, Planned Parenthood and Seventh Generation. She recently added author to her résumé with the May 1 release of her first book, Amateur Hour: Motherhood in Essays and Swear Words, published by Harper Perennial.
About three years ago, after more than two decades of working in advertising and design, including six years at Burlington's JDK Design (now Solidarity of Unbridled Labour), Harrington rediscovered her childhood love of writing. She began posting personal pieces about the nitty-gritty realities of motherhood on the online platform Medium and getting her work published by humor site McSweeney's Internet Tendency. "Once I started writing, then I felt like I had a whole lifetime of ideas," she said.
Harrington's frank, offbeat style struck a chord with readers: Her 2016 piece "Please Don't Get Murdered at School Today" — a dark, satirical response to school shootings written from the point of view of a parent talking to her child — has been shared more than 327,000 times on Facebook. In 2015, she cofounded the parenting humor site RAZED with longtime friend Eric Olsen.
Now, Harrington, who is raising an 11-year-old daughter and a 13-year-old son with her husband, Jon Hughes, is putting both reworked and brand-new personal essays and conceptual humor pieces into print in her first book. Some are heart-wrenching meditations on topics such as family-leave policy and the passage of time, and others are just plain funny — like a selection entitled "Job Description for the Dumbest Job Ever." (The job title? Mother.)
Harrington recently spoke with Kids VT about her work.
KIDS VT: You're the cofounder and editor of the parenting humor site RAZED, and now you've written a book about your experiences as a mom, but I wouldn't call you a mommy blogger. How do you describe what you do?
KIMBERLY HARRINGTON: When this book was first announced, [the fact] that it was under "parenting" was laugh-out-loud funny, and not because it's theoretically a humor book. Anyone who knows me, anyone who has been around me and my children, would not be like, "She should probably write a parenting book." It might be like, "She should definitely be a person who doesn't write a parenting book. Please don't write a parenting book." I think it ends up being that it's just this intersection of when I decided to write personal pieces, write humor pieces, and I happen to be in it with parenting ... They happen to intersect, so all of my jerky behaviors that I would be inflicting on other things, instead I'm inflicting on parenting.
KVT: In your essay "I Am the One Woman Who Has It All," you write that in your family, you have breadwinner status and lead parent status. Asking as the working mother of a toddler, I wonder how you sustain those roles over time without burning out?
KH: When my kids were little and I was working full time, I was not even keeping my head above water, honestly. Being freelance was a complete game changer for everything. My husband is really, really involved. So even when I was full time — he works for a great company, Catamount North Construction — they gave him Fridays off until both of my kids were in kindergarten. They've always been really flexible, and they've let him be really flexible, which is huge. But once I was freelance, that was like "game changer" because, first of all, I have more time, I'm physically at home, but I can also be there for the school stuff, be the one who's taking them to appointments.
KVT: When writing the book, how did you decide how much to share about your kids? Did you run things by them?
KH: I didn't run anything by them. So I'm sure that won't backfire ... The whole reason the book was bought is that it's through this thread of motherhood, so I have to write about them, but I'm very protective of them ... The feedback that I got [from early readers] was that there were a couple pieces that ... were just so specific to my kids. And those actually contained much more intimate, personal reflections — both from me and toward my kids. When I made the decision to pull those, I realized I felt really relieved by it.
KVT: This isn't a typical parenting book, but it's about your experiences as a parent. Was there anything you tried to steer away from in writing it?
KH: One thing that I think is very telling is that some of the pieces that read like advice are my least favorite pieces ... I stand by the points of view in them, but I think I personally don't feel comfortable — as anyone who's been around me and my children knows — giving advice.
KVT: What do you see as the benefits of raising kids in Vermont?
KH: I think the fact that they have so much access to so much natural beauty. We're not big outdoors people — I'm not even going to pretend we are — but the fact that [we have] Shelburne Farms, the lake, things that are right there. Every time we go for a walk at Shelburne Farms or grab some snacks and go down to the lake and hang out there all day, it's like, "This is just ridiculous that we can do this." And it's not that hard; it's not the slog you have in the city ... It's certainly a bit of a bubble, for sure. I think it's delightful when we travel with them where it's really obvious how much of a bubble they are being raised in. We went to Florida, like, three years ago. We went out to dinner at the worst pizza place I've ever been to in my life. They used a hot-dog warmer or something to warm up frozen pizza. It was grim. My daughter was like, "So is this wood-fired pizza, or...?" I was like, "Whatever the opposite is of wood-fired pizza, that's what we're getting for dinner." It was adorable.
Sounding Off
From tear-jerking odes to her children to quirky conceptual humor pieces, Harrington's writing showcases a voice that is all her own. Here are some excerpts from the pages of Amateur Hour: Motherhood in Essays and Swear Words.
On Overcoming Kids' Challenging Behavior
"Turn the car around. Leave the party. Blow up the movie plans. Kill the beach trip. Carry them out over your shoulder kicking and screaming, yes, in public. You're the one in charge. It feels good to remember that part."
On Mother's Day
"So let me see if I've got this straight — you're saying that me, a mother, will have the same hours of national recognition also afforded bobbleheads, lumpy rugs, personal-trainer awareness, spaghetti, one-hit wonders, Baked Alaska, 'hole in my bucket,' cellophane tape, home warranties, 'something on a stick,' spiral glazed ham, beer-can appreciation, cabbage, cheese doodles and earmuffs?
Someone pinch me."
On Participation Trophies
"What I am suggesting is we take steps to free our teachers, schools, camp leaders, coaches, instructors, other parents, and culture (pretty easy, right?) from enforcing this fairy tale that every kid is exceptional and perfect. Because it is not true. You know it; I know it. Everyone knows it. Kids definitely know it."
On Sharing on Social Media
"I will tell [my children] that documenting them in all these ways made me proud, made me laugh, allowed me to connect with other parents and family and friends who were far away. It also drove me to make terrible and selfish decisions, because I lost sight of who they were and the rights they had."
On Aging
"I look back at photos of me when my son was a year old. I remember that at the time I thought I looked awful, old. I look at those pictures now and think of how young I look. My skin looks smooth. I know I'm tired, but I look happy. I was happy."
On Letting Go A Little
"My son had left as a 12-year-old, would return as a 13-year-old, and I hadn't even called him to wish him a happy birthday ... I pressed my girlfriends into service: 'I will cry all day if we don't do something.' We had cocktails in the afternoon, went to see Wonder Woman, stayed up too late drinking whiskey and telling secrets from our own teenage years. It felt like the beginning of my life fully becoming mine again. Even if for one night, even just for the weekend. I could see it."
INFO
For more information about Kimberly Harrington and her writing, visit kimberlyharrington.me.
Harrington will read from and sign her book at these Vermont venues in May:
The Vermont Book Shop, Middlebury, Tuesday, May 8, 6:30 p.m.-7:30 p.m.
Northshire Bookstore, Manchester Center, Thursday, May 10, 6 p.m.-7:30 p.m.
An end-of-tour book bash is scheduled for Wednesday, June 20, 8 p.m., at ArtsRiot in Burlington, with an author conversation, standup comedy and a concert by local band Swale. Tickets for this 18-and-up event are $5. See artsriot.com for details.