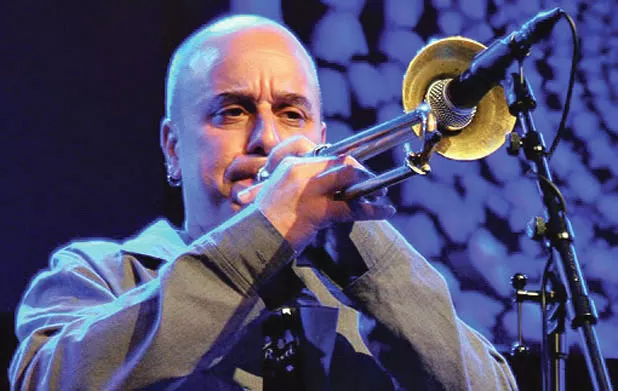 Last year, after the barn at Pete's Greens farm burned down, a bunch of big-name local musicians got together and threw a benefit show at Higher Ground. Perhaps you remember it? It was called Hug Your Farmer and featured several area luminaries, including Rich Price, Bob Wagner, Pete Day and Joshua Panda. Oh, and some guys from that band that spells its name kinda phunny.
From all accounts, the show was an unbridled success. Local rockers got to sit in on the ultimate jam session, and local fans who were lucky enough to score a ticket got to watch in awe. And, more importantly, lots of loot was raised to help raise Pete's barn.
Well, guess what? They're doing it again. Hug Your Farmer: A Tribute to Levon Helm is a, um, tribute to Levon Helm this Friday, May 18, at the Higher Ground Ballroom. In case you live under a rock, Helm, the great drummer and songwriter for the Band, passed away last month after a long battle with cancer. In a related story, suck it, cancer.
Anyway, many of the same faces from the original HYF will grace the stage this time, including Wagner and Day, who will anchor the Hug Your Farmer House Band, a group that also includes Clint Bierman, Ray Paczkowski, Ron Rost and Steve Hadeka. They'll be playing some of Helm's greatest songs, and will be joined by Panda, Guster's Ryan Miller, Will Evans from Barefoot Truth, Stephen Kellogg, the Sweet Remains, members of Lendway, Anders Parker and Jon Fishman. Not only that, but Steven Bernstein, a trumpeter who plays with Sex Mob and was in Helm's Midnight Ramble band, will be leading the HYF Band horn section, using charts from the Band's legendary farewell concert, The Last Waltz.
All proceeds from the show will benefit NOFA's Vermont Farmer Emergency Fund.
BiteTorrent
Speaking of benefits, Rutland was particularly hard hit by Tropical Storm Irene last fall. And while recovery is well under way, there's still a long way to go. So while the outpouring of support and goodwill that followed in Irene's immediate aftermath was great, it's good to remember that sustained efforts are really what's needed. Efforts by folks such as Restoring Rutland. The volunteer organization is hosting a silent auction at the Center Street Alley Bar in Rutland this Friday, May 18, to benefit area families still in need. And Restoring Rutland has invited some of the finest local musical talent, including alt-country darlings Split Tongue Crow, barroom rockers Duane Carleton and Jeff Poremski, whiskeygrass favorites Gold Town, and DJ Sunavaunt.
One of the most pleasant surprises I experienced last spring was the inaugural edition of Magic Hat and Big Heavy World's Heavyfest, which took place on a stunning afternoon outside the Magic Hat Artifactory in South Burlington. It's happening again this Saturday, May 19, and, assuming the weather gods play nice, should once again be a great way to spend an afternoon. Slated to appear are funk fusionites Casio Bastard, neo-soul BTV expat Myra Flynn, sons of Death, Rough Francis, jammy sproutlings Seed, Talking Heads tribute band Start Making Sense and local rocker Steph Pappas. Oh, and beer. Beer will also appear. And then disappear.
Speaking of Rough Francis and Death, A Band Called Death, the documentary by former Vermont filmmaker and musician Jeff Howlett (Slush, 5 Seconds Expired) that chronicles the band's remarkable story, was accepted into the Los Angeles Film Festival next month. Both bands will fly to La-La Land for the screenings and to play the after-party at the W Hotel. Sadly, I doubt friend of the band(s) Mos Def will be there, because…
He'll be busy hanging out with local wagon o' funk, Funkwagon. The band recently announced it scored an opening slot with the Mighty Mos when he plays Montréal next month. Word.
The fourth annual Green Mountain Comedy Festival gets under way this week at locations all over the state. It really kicks into high gear next week, so we'll have more in-depth coverage then. But it's worth noting the opening show on Monday, May 21, which includes two local improv outfits, the Spark Arts Improv Troupe and a group called People With Faces. If you've never seen improv comedy live, I'd highly recommend it. It's a totally different experience from standup, and an art form that could really explode here soon. Also noteworthy: That show is at Signal Kitchen in Burlington, a cool venue that will also get some use during the Jazz Fest. For more on the 2012 GMCF, visit greenmountaincomedy.com.
It's been at least three 'bites without mention of some sort of benefit show. Surely there's another one around here somewhere … ah, yes! Hammer Jam at Moog's Place in Morrisville. This daylong drinkathon on Sunday, May 20, is a benefit for the Lamoille County Habitat for Humanity and will feature 12-plus hours of music from the likes of Seth Yacovone, the Dead Sessions, Tammy Fletcher, After the Rodeo, TallGrass GetDown and many more. I'm also told they have four Red Sox tickets to raffle off, which probably seemed like a really awesome prize in March. Sigh.
Happy anniversary to Black Door in Montpelier, which, this Friday, May 18, celebrates one year since reopening, with Montpelier electro-reggae outfit MadMen3.
This just in from the Sons of Rock Stars Department: Willie Nelson's kid, Lukas Nelson, drops by Nectar's on Wednesday, May 23, with his band, the Promise of the Real. That is all.
Pretty interesting night of local and regional hip-hop on tap for the Monkey House this Friday, May 18, called Triple Stax. Prodigal local backwoods MC Wombaticus Rex joins "backwoods lunatic legend" (Rex's description) BRZOWSKI of Portland, Maine, headlining a bill that includes a slew of local hip-hop talent, including Face-One, Colby Stiltz, Bless the Child and others. The show is hosted by Chris Bonta of Presence Promo, who hopes to grow the Triple Stax idea into an ongoing series that pairs nationally touring MCs with locals.
Every Tuesday and Thursday this summer, Burlington's City Hall Park will host free lunchtime concerts as part of the ongoing Imagine City Hall Park project. The series kicks off next Tuesday with the Pine Street Jazz Band. Other performers of note include the Michael Chorney Duo (May 31), Starline Rhythm Boys (June 12), the Vermont Symphony Orchestra (June 28) and, more than likely, some stoned hippies with hand drums. I believe that's a daily performance, though.
Last but not least, RIP, Solid State. Seven Days' music blog got the axe last week because … well, no one ever updated it. And by "no one," I mostly mean me. So for now, we're going sans music blog at the paper, though I'll continue to chime in from time to time on our staff blog, Blurt — which people actually read — as well as via Twitter and Facebook. And in a few months, we'll very likely unveil a new music blog, which I'm really excited about. So farewell, Solid State. I'll always remember the time I posted something on you, and then was promptly excoriated by some anonymous, mean-spirited troll with poor grammar and, apparently, a keyboard with the caps lock stuck down. Oh, right. That was every time. You know what? Burn in hell, blog.
Listening In
Once again, this week's totally self-indulgent column segment, in which I share a random sampling of what was on my iPod, turntable, CD player, 8-track player, etc., this week.
White Dress, White Dress EP
Norah Jones, Little Broken Hearts
Led Er Est, The Diver
Sleep, Dopesmoker
Guided by Voices, Isolation Drills