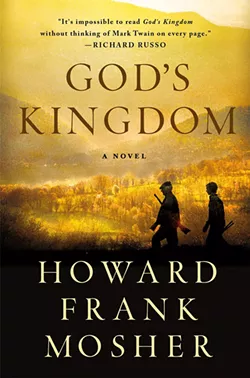 God's Kingdom: A Novel by Howard Frank Mosher, St. Martin's Press, 240 pages. $25.99.
In the months after he published A Stranger in the Kingdom in 1989, Howard Frank Mosher fielded dozens of phone calls from fellow Northeast Kingdom residents. They were not offering congratulations. They were enraged that Mosher had drawn inspiration for the novel from one of the ugliest events in the region's history — the so-called Irasburg Affair. In 1968, shots were fired from a passing vehicle into the home of a black Baptist minister in that town, and police mishandled the investigation.
Mosher tried patiently to explain his motivations, he recalled. The minister's house was around the corner from his own. And Mosher had long used the Northeast Kingdom and its stories as his raw material.
"You can't be a writer and live down the street and not write about that," Mosher said in a recent interview at his dining room table.
Since his arrival in Irasburg five decades ago, Mosher, now 73, has written 11 novels, four of which have been made into movies, and all of which draw their subject matter from the Kingdom and its people. Somewhere along the way, he transformed himself from an interloper into the region's most articulate spokesman and beloved chronicler.
Nowadays, when locals approach Mosher to talk, he said, it's often to tell him their own stories, knowing they are manna for his imagination.
"When people — old-timers, mainly — tell me a story, often it's with the hope that I might write it," Mosher said. "It's not unusual for people to come to the house and tell me stories. Sometimes I get the idea that they haven't told many people."
Mosher has once again mined the past of his family and his adopted home in his latest book, God's Kingdom. The novel tells the story of the maturation of Jim Kinneson — the young narrator of A Stranger in the Kingdom — from boy to man in Kingdom County, Mosher's thinly veiled NEK.
In promotional interviews for the novel, Mosher has conceded the obvious. He is the inspiration for Jim Kinneson, his parents for Jim's parents, and his wife of 52 years, Phillis, for young Kinneson's love interest, Frannie Lafleur.
The novel is divided into 12 stand-alone chapters, and could easily have been a collection of short stories about Jim. It began, in fact, as one short story: the book's soulful opening chapter.
It's a set piece in which young Kinneson embarks on his first hunt. His father and grandfather hope he will be blooded into the family tradition by taking down a massive ridge-runner buck.
The story seems to head one way and then another before Mosher settles it in a conclusion that, once reached, seems inevitable. It's not entirely a spoiler to note that Mosher hunted for much of his life before giving it up about 20 years ago. Here he writes:
The runner was standing at the base of the great round boulder, its legs trembling from fear or exhaustion or both. In the westering sun, hazy through a film of crystalline snowflakes, the animal was as red as it had been in its summer coat when Jim and Gramp had come upon it drinking from the pond back in August. One of its antler points had been snapped off, probably in combat with another buck. The runner squatted and peed nervously, its legs shaking, as Jim slowly approached it. Jim raised his rifle. His hands on the stock and trigger guard were as steady as the granite outcropping on the mountaintop. His heartbeat seemed to slow as he thumbed off the safety. Before the boy knew he was going to do it, he lowered the rifle. He thumbed the safety and jacked each of the five brass-jacketed shells out of the chamber onto the mossy rocks at his feet. The deer stood motionless as Jim raised the rifle again, flipped off the safety, aimed at the animal's chest, and pressed the trigger.
The book follows young Kinneson to his high school graduation, from baseball games and school tests to his explorations of love and a deeply held secret about long-ago "trouble in the family." What Mosher doesn't borrow from the past of those around him, he often rips from the present day's headlines.
One of the most memorable scenes in God's Kingdom is an inspired mashup of two only-in-the-NEK events. To create it, Mosher cribbed the sagas of Roger Pion — the tractor-driving Newport man who used seven Orleans County Sheriff's Department cruisers for his own monster truck rally in 2012 — and Pete the Moose. The latter was adopted as a calf by an Irasburg man in 2009 and became a cause célèbre, only to die controversially three years later.
But it would be a disservice to reduce Mosher's plots and characters to their local roots. His writing is as clear as the trout streams he remembers from childhood. And though his prose is unadorned, Mosher still sprinkles mischievous bits of magic and flights of fancy into his sentences.
"I've never been that good at straight journalism," he said. "My imagination keeps getting in the way. As I revise my stories, they tend to become more and more invented as I go along."
Born in the Catskills, Mosher moved to Irasburg in 1964 after graduating from Syracuse University. He taught English at local high schools, did social work, coached baseball, occasionally wrote stories for the local papers and even had a brief stint as a logger. Coming from a family of storytellers, he was determined to make a career in letters.
Mosher and Phillis briefly decamped for graduate school in California, where he hoped to hone his writing skills. They stayed only a few days before he realized he had all the inspiration he needed in Vermont's northern hills and forgotten tales.
"I've been pretty much telling them ever since. It's a gold mine of stories that no other writer had ever written," Mosher said. "It's a hard, hard place to make a living, and I can't imagine how hard it must have been for the first settlers. All I can think is, they came because they valued their independence, and this was a place they would not have to do what anyone told them. I think that's still the ethos."
Mosher lives a short walk from the Irasburg town green; he and Phillis share their modest farmhouse with his 101-year-old mother.
He writes his stories by hand, on a wide legal pad, before typing them into a computer. His well-worn briefcase contains sheets of yellow legal paper and, tucked into the corner, a can of Budweiser. Though he's happy for the jobs that the craft-beer industry has brought to northern Vermont, Mosher said, his tastes are more conventional.
A warm and gentle man, Mosher writes so many favorable blurbs that it's hard to find a local literary novel that doesn't bear one. Other prominent authors have returned the favor. "This is American fiction at its very best, a rip-roaring story full of hilarity and heartbreak," wrote Stephen King of Mosher's latest. "Over the years Mosher's beloved Vermont 'Kingdom' has become one of America's most magical literary places," declared Richard Russo. Chris Bohjalian wrote that his fellow Vermonter "is wistful and wise, and his moral compass is as precise as his immense skills as a storyteller."
Mosher laughs easily and without pretense, occasionally throwing back his head and emitting a surprisingly high-pitched cackle. Conversation comes without effort. But he gets a bit gloomy when the talk turns to the NEK's future. The way of life that animates his work, Mosher conceded, is under siege. Six hundred farms were scattered around the Kingdom when he arrived. Now there are 60. Jobs were already scarce well before the Great Recession; the author's two adult children left the area long ago. The region's deer herds are thinner than they used to be, the trout less abundant, Mosher observed.
Nodding to the multimillion-dollar expansions of nearby Jay Peak Resort and Q Burke Mountain Resort, Mosher said the Kingdom may have to surrender itself to tourism to survive. Not that he's opposed to the idea, he added, so long as the region doesn't become home to "theme parks."
But Mosher fears that, along with the family farms and the hearty trout runs, the stories of the Kingdom will begin to fade away, too. He's determined to capture as many of them as he can.
"That's the reason I write them," Mosher said. "If writers don't tell some of these stories, they are going to disappear. No matter how imperfectly we tell them, I feel a real sense of urgency about that."