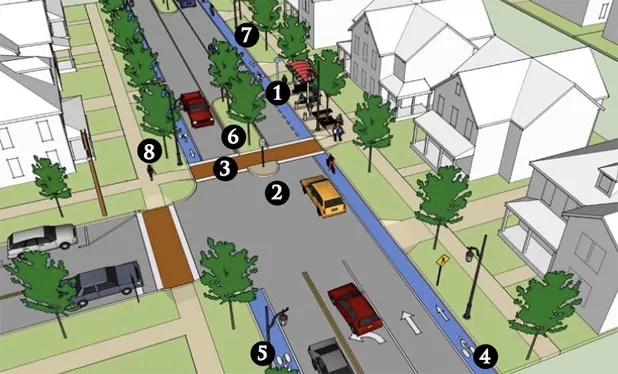 A mock-up of an ideal "Complete Street," with accomodations for motorists, cyclists, pedestrians, and public transit.
Biking on South Winooski Avenue through the heart of Burlington is like doing battle with an enemy 20 times your size. Approaching the four-block minefield that runs past Rite Aid, City Market and Burlington Fire Station 1, bicyclists gird themselves for a fight.
On the northern approach to downtown, between North and Grant streets, the bike lane on North Winooski is wide enough that a rider can avoid getting "doored" by cars and still stay within the white striping. South of Grant, the bike lane — here just a single white line — becomes less obvious. Many motorists don't recognize it as a bike lane. And then, inexplicably, the line just stops.
Near the end of the block before Pearl Street, if you're on a bike, you're on your own. Gone is the symbolic barrier separating you from the hundreds of tons of steel hurtling down the street. You hold your handlebars in a death grip as you pedal furiously across the intersection, trying to get some distance from the vehicles charging behind you.
Then, as soon as you cross Pearl, you're stymied by mounds of raised pavement. One bump, two bumps, three bumps, followed by a crater that's eager to destroy bike wheels. It's all you can do not to get bucked off your mount.
The pockmarked block between Bank and College streets has fewer pavement chasms but is no less dangerous. Passing the Burlington Free Press building, you need to steel yourself as you funnel into one of the three lanes ahead.
Even for experienced city cyclists, such as Ross Guberman of the newly formed Burlington Bicycle Coalition, this four-block journey is frightening. "Why, in a town like Burlington, is there a four-lane highway going through downtown?" he asks. "South Winooski is a prime example of the city not taking cyclists into consideration."
Guberman isn't the first to notice the problem. And, many of his fellow advocates would say, South Winooski is merely the most glaring example of how Burlington's leadership lets cyclists down.
In 1999, the Burlington City Council passed a resolution advising the Department of Public Works to explore the creation of a north/south bicycle route through the city. It included an explicit appeal to study the development of bike lanes on the section of South Winooski Avenue that slices through downtown.
Cyclists and motorists who travel the four-block corridor between Pearl and Main streets weren't surprised. Winooski Avenue is the main cycling artery between the Old North End and the South End. Yet it's indisputably the most harrowing stretch of pavement in the city for those on two wheels. It's not great for motorists, either. The asphalt is buckled. The potholes swallow narrow tires. There is no room for error.
A decade ago, the city's leaders resolved to make South Winooski Avenue safe and accessible. But today, 11 years after the resolution, the street is as treacherous as ever. And there is no consistent north/south bike route.
The degradation of South Winooski Avenue speaks to the city's failure to embrace cycling as an active transportation alternative. The area's vocal cycling minority sees with frustration that Burlington hasn't progressed much beyond a few on-road bike lanes, despite the city's outspoken commitment to sustainability and progressive ideals.
While Burlington's minimal cycling facilities do earn it a bronze ranking on the League of American Bicyclists' list of Bicycle Friendly Communities, the city's resolutions have stagnated. On-road improvements, such as bike lanes, remain incomplete or have been stalled by lack of political will or funding. An overworked, underresourced Department of Public Works can't stay on top of road striping and signage.
Cycling advocates argue that the city has fallen behind when it comes to supporting sustainable, multimodal transportation. Burlington's updated transportation plan, drafted in 2007, makes provisions for safe, comprehensive bike routes, yet three years later it has not been ratified by the city council. Forward-thinking municipalities with which Vermont's largest city often draws comparisons — Boulder, Colo.; Portland, Ore.; and Davis, Calif., for example — are leading the charge when it comes to bicycle friendliness. They're leaving Burlington in their collective wake.
Twenty-five years ago, local cycling advocates staged a major coup. After years of vicious community debate and severe bouts of NIMBYism, the city transformed the old rail bed into a waterfront recreation path. Proponents argued that access to active recreation was essential to a vibrant community, and ushered in a new way of looking at livability.
Over the years, the 12-mile Island Line Trail (seven miles of which snake through Burlington) has become the most traveled multiuse trail in the state, boasting 150,000 unique visitors annually. More than 30 percent of those visitors are tourists who generate an estimated $4.5 million for the local economy. Mayor Bob Kiss recently called the path "a major element of the city's economic success."
The bike path helped cement Burlington's image as a livable, bike-friendly city, even though there were few, if any, bicycle facilities when it appeared. In the early 1990s, the city striped a few bike lanes, but cars continued to rule the roads, and the addition of some white paint could hardly be categorized as a wholesale commitment to cycling.
Then, in the mid-1990s, bike-lane enhancement in the city dropped off, says Chapin Spencer, executive director of the bike and pedestrian advocacy organization Local Motion. The city didn't paint another bike lane until 1997.
That year, a resident survey identified the downtown area as the No. 1 destination to which people wanted better bicycle access. That survey, as well as the 1997 Burlington Bicycle Report, spurred the drafting of the 1999 city council resolution.
Three years after the resolution, the DPW presented a comprehensive study examining ways to create meaningful connections for cyclists and pedestrians between the city's north and south neighborhoods and downtown. Bicycle advocates cheered on the 2002 Burlington North/South Bicycle and Pedestrian Route Study as a step toward the development of more multimodal streets — thoroughfares that could safely accommodate cars, buses, cyclists and pedestrians. That comprehensive study suggested the city was finally committed to making utilitarian cycling a priority in its sustainable-transportation blueprint.
But the plan was more about having a vision than about realizing one, says Jennifer Green, a member of the study's advisory committee and head of the Burlington Legacy Project. The committee saw the 45-page plan, which described everything from which roads were most compatible with bikes to potential radical road alterations, as pie in the sky.
"We all thought, This is the ideal, but it will never fly," says Green, an avid bike commuter.
Of the 29 bike-lane recommendations detailed in the study's two north/south route options, only four have been completed, and two more are partially complete.
One bike lane that did become a reality was on South Winooski Avenue between Maple and Howard streets. On that stretch of road, the city narrowed the street and created contraflow bike lanes — that is, bicycle lanes going in both directions on a one-way street. The lanes were innovative for the city, says Nicole Losch, Burlington's half-time bicycle and pedestrian planner. They were the start of a vital link through downtown.
But not everyone supported the lanes. The Burlington Business Association balked at the plans because it was not consulted on the project, Losch recalls.
"They wanted to be able to review projects that would potentially impact and affect shoppers' ability to get downtown," she says.
Ultimately, the lanes have proved successful. Traffic has slowed in that neighborhood, and congestion has eased. After that project, Losch began "chugging away" at other on-road enhancements, including bike lanes on sections of Riverside Avenue, North and South Union streets and North Winooski Avenue; and "sharrows" — symbols indicating shared roads — painted on Pine Street.
But there's only so much Losch can do with the resources she has. Each year, 3 percent of the DPW's capital budget for streets is set aside for bicycles. That means Losch has $37,000 a year with which to buy signs, paint bike lanes and so on. That doesn't go very far toward the price tag of substantive changes. For example, a one-block bike lane on South Winooski between Maple and King streets would cost roughly $50,000 and would require moving the curb and a utility pole and restoring the green belt.
This year, the department spent $15,000 on secure bike lockers for commuters. The rest of the money has gone to bike racks and education. At a recent press conference, Mayor Bob Kiss lauded the locker installation, saying it was an important "next step" in promoting cycling in the city.
"One of the goals of the city is to be bike and pedestrian friendly. We're building opportunity for the city to support pedestrians and bicyclists," Kiss said.
But Losch's budget, which is planned with the help of the Burlington Walk/Bike Council, is actually getting hard to spend, because all the small projects have been completed.
"We're running out of other infrastructure improvements to make with the money we have and the support we have," Losch says.
The rest of the projects outlined in the 2002 bike study would entail moving curbs and removing parking, something the business community is loath to accept. Losch says lobbying for a reduction in parking in Burlington is analogous to running into a brick wall.
And that's why there's still no continuous bike route between the northern and southern ends of the city. Bike lanes aren't necessary on every street, Local Motion's Spencer says, but they are an essential step in making Burlington a truly bike-friendly city. The lack of bike lanes on South Winooski exemplifies the city's problem.
"It's a disaster for everyone," Spencer says. "That four-block section is a critical inhibitor for utilitarian cycling in the city."
For all its problems, South Winooski remains the most logical route to get downtown on a bike. Four-lane Battery Street to the west lacks any bike accommodations at all, making it another nervewracking ride. Plus, it's a gut-busting hill.
The only bidirectional route to the east is Willard Street, which, though it offers the occasional one-way bike lane, leaves north/south cyclists blocks away from downtown. From Willard, none of the east/west options — Main, College or Pearl streets — has a westbound bike lane. Two have no bike facilities at all.
These gaps in Burlington's on-road cycling infrastructure do more than just annoy cyclists and create potentially dangerous road conditions. They send a message that the city's decision makers are not really interested in sustainable transportation. Karen Paul, Ward 6 councilor and chair of the council's Transportation, Energy & Utilities Committee (TEUC), says, "The issue of bikes on shared-use roads hasn't really come up."
Burlington's sluggishness when it comes to bicycle enhancements is more understandable when you compare it with other cities — those with high Bicycle Friendly Community designations, such as Minneapolis, San Francisco and Seattle — that made conscious efforts to improve not just cycling, but pedestrian and transit facilities. Many American cities have continued to grow, with burgeoning ones such as Austin, Denver and Tucson seeing a sharp spike in road congestion. By contrast, Burlington's population of about 40,000 has remained stable.
Lisa Aultman-Hall is director of the Transportation Research Center at the University of Vermont. She says our lack of growth also explains why Burlington hasn't had a parking crisis (though some visitors downtown might beg to differ). In many cities with more serious congestion issues and high population growth, a dire lack of parking has spurred the adoption and support of multimodal options.
"Because we haven't needed to tackle parking yet, we haven't," says Aultman-Hall. "In other cities, they didn't have road capacity, and they had to seek alternatives."
She notes, too, that Burlington's downtown has been vibrant for quite a while; the city didn't need to "build in biking" as a way to make the core more inviting.
When people talk about cities with bike-friendly infrastructure, two names always come up: Amsterdam and Copenhagen. They have become bike meccas, and they illustrate what is possible when leaders take initiative.
But the cycle tracks, bicycle boulevards, traffic signals and garages dedicated to bikers didn't arrive solely because of Europeans' affinity for the two-wheeler. They were developed, along with other bike infrastructure, as an antidote to the influx of cars clogging up city centers. So writes Jeff Mapes, author of Pedaling Revolution: How Cyclists Are Changing American Cities. In an effort to reduce vehicle usage for short trips, city officials designed streets to be safe for public transit, bicycling and walking.
That's what's happening in New York City today. As part of a "livable streets" initiative, the city, led by Mayor Michael Bloomberg, has gone on a crusade to ease congestion by creating space for bikes on the road. The idea is not that everyone will abandon their cars for bikes, given that few residents own cars in the first place. But reducing the number of cars on the roads by as little as 5 percent will help traffic flow as intended.
"If a small but good number of people biked [in Burlington], it would really help the system," says Aultman-Hall of UVM's Transportation Research Center. "If you cut the traffic demand by just a little bit, it benefits everyone."
So far, Burlington has offered little official acknowledgment that accommodating bikes — as well as public transit and pedestrians — would enable traffic to flow better and more people to enter the core business areas of the city. In places like Boulder, Colo., where 60 percent of commuters access the city using alternative transportation, political and business leaders understand that such travelers free up space for shoppers and essential vehicles in the city's core.
In Burlington, advocates lament the lack of a champion for substantive change on the city council or in the mayor's office.
"The city hasn't made a commitment to [biking]," says Charlene Wallace, director of operations for Local Motion and a member of the Burlington Walk/Bike Council, a group that serves as an unofficial advisory board to the city. "There's no leadership. The need for improvements seems to be an epiphany that some leaders [in other cities] have had, but none of our leaders have had that epiphany."
Many in the cycling community echo Wallace's thoughts. Losch, the bicycle/pedestrian planner, says the design process is often held up by a "continuous request for more research." Local Motion's Spencer says that, because of the city's diffuse power structure, "no one is in charge; everyone is in charge.
"For a small town, we are overlegislated and -democratized," Spencer adds. "There are so many people and roles that we can't get out of our own way." He is referring to the variety of commissions, committees and boards that oversee transportation in Burlington. "If we truly want the city to reinvent itself, the structure has to be more dynamic."
Spencer offers the recent Colchester Avenue "road diet" as an example of a project delayed and made more costly by layers of bureaucracy. When that street was slated to be repaved, the DPW decided to restripe it so the four-lane stretch running past UVM and the hospital became two travel lanes, a center turning lane and bike lanes on either side. The idea was to calm traffic and make the street safer for all users.
The project only required repainting the lines and retiming the traffic signals. In most cities, Spencer says, an exercise like this would have been performed on the advice of the director of public works without a demonstration period.
But in Burlington, the "demonstration" on Colchester Avenue had to be approved by the city council, and that body is delaying approval of the final paving until April or May because its members apparently need more time to study the changes. What was supposed to be a nine-week demo has turned into a months-long exercise, despite more than 150 positive comments from residents.
While citizens appear to support the changes on Colchester Avenue, the city council argued it was not thoroughly consulted on the project. To ensure that the current draft transportation plan gives councilors more oversight of larger projects like a road diet, the plan was sent back to the council's TEUC. It is now under second review.
"We were feeling like decisions should be more collaborative rather than be made by one person," says TEUC chair Karen Paul.
But advocates for sustainable transportation worry that, when the process is so participatory, the pace of change becomes glacial. "It's a double-edged sword," says Green of the Burlington Legacy Project. "There's a point where you just have to say, 'We're doing this because it's the right thing to do.'"
Cycling advocates have many reasons to want the transportation plan ratified. Not only does it call for a "complete bike network," but the plan also proposes the implementation of "complete streets." The national complete streets movement works to create streets that all users — cars, transit, bicycles and pedestrians — can navigate safely.
Burlington's transportation plan, which will be used to guide future public-works projects, identifies seven potential complete streets around the city. These include North Avenue, Battery and Pine streets, and Shelburne and Williston roads. Ideally, those streets would be reduced from four travel lanes to three, with bike lanes on both sides and facilities for transit. Complete streets carry vehicles more efficiently than outdated four-lane roads designed in the 1960s, says transportation engineer Aultman-Hall.
South Winooski is also singled out as a future complete street in the draft transportation plan. This isn't the first time planners have proposed slimming down this section of road to make it safer for all users.
The 2002 north/south bike-route study proposed two schemes — a basic and an enhanced — to create a multimodal corridor on South Winooski. One was a road diet similar to the Colchester Avenue project; the preliminary engineering analysis suggested this had "general viability." The second, enhanced plan, preferred by residents who attended the final public meeting for the study, featured landscaped roundabouts at the intersections with Pearl and Main streets. It would come with a price tag of $820,000. The basic construction on South Winooski rings up at $276,000.
No one expects Burlington to Copenhagen-ize itself overnight. But cycling advocates and sustainable-transportation planners alike believe that, because bicycling is an essential part of the mobility landscape, the city should work harder to accommodate it. Burlington is still in the top tier of American cities when it comes to biking, says Jeff Peel of the League of American Bicyclists. But it's at the bottom of a group of 140 cities and not improving.
Motivated cities such as Alexandria, Va., Colorado Springs, Colo., and Greenville, S.C., are shooting past Burlington with their bike infrastructure enhancements. In Louisville, Ky. — not generally considered a bastion of progressive thought or action — cyclists have seen the addition of 30 miles of bike lanes to city roads, the construction of a 100-mile loop trail ringing the city, and the building of bicycle and pedestrian links on bridges across the river from Indiana. Louisville's mayor, Jerry Abramson, sees cycling as a way to attract and retain a creative workforce and is leading the bike charge, writes author Mapes.
If Burlington wants to remain an economically competitive city, experts and advocates argue, it must invest in cycling.
"We agree [biking] should be better than it is in Burlington," Peel says. "We look for and expect big things from the city."
Want to see what the future of Burlington streets could look like -- and what the reality looks like now for bike commuters in the city? Click here for an interactive map.