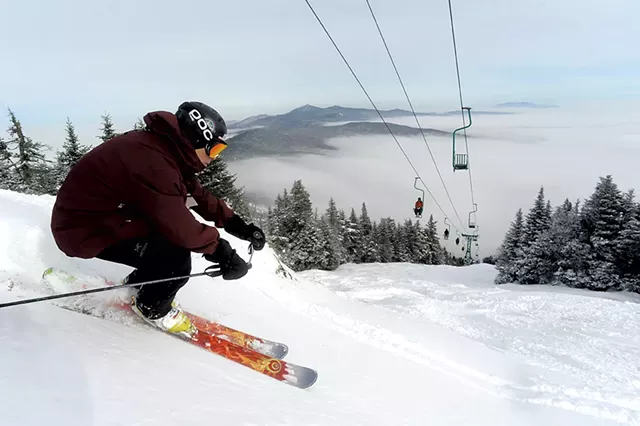 Jeb Wallace-Brodeur
Jonathan Baldwin skiing beneath the Single Chair lift at Mad River Glen
The Single Chair lift at Mad River Glen has whisked skiers, one at a time, to the top of the mountain for nearly three quarters of a century. Since 1948, as the rest of America changed, generations of downhillers have made the long, solitary ascent, enjoying an escape within the escape that is a day on the slopes. Isolation is part of the antiquated chairlift's appeal: It's a nine-and-a-half minute respite from the burdens of the world — including small talk with chatty fellow skiers.
But this season, Mad River Glen's lift will serve as more than a charming reminder of skiing's sepia-toned past. The Single Chair is one of the small advantages that the proudly rustic, cooperatively owned Waitsfield ski area has against a foe every bit as formidable as warm winters or glitzy megaresorts.
"The Single Chair is sort of pandemic-proof, in a way," said Ry Young, marketing and events manager at Mad River Glen.
Even as Mad River Glen and the state's other ski areas prepare to open for the 2020-21 season, the coronavirus is reaching new peaks around the country. While Vermont has maintained comparatively low rates of infection, the state has recently begun to see an increase in the number of cases. Infections are on the rise in neighboring states, as well, posing a problem for Vermont's $1.6 billion-per-year industry that relies heavily on tourist dollars from places like Massachusetts, Connecticut and New York.
"It's gonna be an economic challenge," Bolton Valley Resort president Lindsay DesLauriers said of the coming winter. "There's no getting around it."
Last week, the state released operating guidelines designed to help Vermont ski areas safely navigate an unprecedented season. Developed by the Vermont Agency of Commerce and Community Development with input from the Vermont Department of Health, the Vermont Department of Public Safety and the Vermont Ski Areas Association, the new protocols advise now-familiar COVID-19 precautions: Wear masks, observe social distancing and reduce indoor capacities.
"Skiers wear masks and gloves and goggles anyway," Young noted. "So that part's pretty easy."
Other aspects of the state's guidelines have some resort owners on edge, however, as does the timing of their release. With just a few weeks left before most ski areas are slated to open, their staffs are scrambling to comply with the new guidance regarding travel restrictions, quarantining and data-gathering protocols for contact tracing.
"It's a bummer that all this came out this week," Young said, noting that the state and ski resorts have been having conversations about pandemic protocols since the spring. "It would have been a bit more helpful to have this stuff in August."
In a typical year, more than three quarters of guests at Vermont resorts come from out of state. On Tuesday, Vermont announced that all nonessential out-of-state travelers are required to quarantine for 14 days, either at home or in Vermont. Visitors can halve their waits by testing negative seven days into quarantine. Resorts are responsible for making sure their guests sign documents attesting that they've abided by quarantine regulations.
Those rules place a good deal of responsibility on ski resorts to screen their guests — and on those guests to play by the rules. Not everyone is convinced they will.
"It's a little unfair that all of this responsibility falls on us," Young said. "We know people will be lying. They've been lying all summer long. The [Mad River] Valley has been full of out-of-staters all summer, and you can assume not all of those people have been following the guidelines.
"We don't have the bandwidth to police that," Young continued.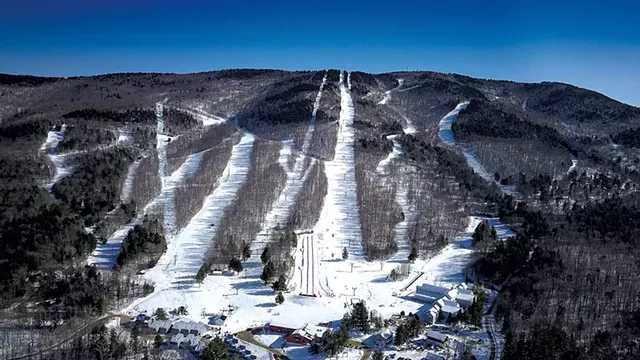 Courtesy Of Magic Mountain
Magic Mountain
"It's almost as if the state is trying to put an enforcement mechanism at the ski areas," said Geoff Hatheway, president of Magic Mountain in Londonderry. However, he thinks ski areas do have an important role to play in limiting the spread of COVID-19 in Vermont this winter.
"It's really about education," he said. "We need people to understand that these guidelines exist for a reason."
"We want everyone to be safe, and we want to protect our season," DesLauriers said. "We're happy to comply."
Data tracking is a particular weak spot for Mad River Glen, which is a lower-tech operation than most other Vermont resorts. "Until this season, we'd been printing out day tickets on wickets," Young said.
Many resorts now rely on radio frequency identification (RFID) systems to track skiers electronically, which should make complying with the state's data-tracking requirements easier. The cost and timing rule out an RFID system for his resort, Young said, but Mad River Glen is working on upgrades using slightly older technology.
"It will bring us firmly into the early 2000s," he joked.
Despite such last-minute challenges, Young anticipates that the season can and will be good, as do ski area personnel around the state.
"We're very optimistic of having a 'normal' ski experience," he said.
Once skiers and snowboarders are actually on the mountains, Young's optimism could prove warranted. While the state halved capacity limits for indoor facilities such as base lodges, required social distancing on lift lines and lifts, and recommended that resorts cut down on out-of-state staff, it did not mandate specific limitations on the mountains themselves.
Still, Vermont ski trails are likely to be less congested than usual as most resorts limit on-mountain capacities in various ways. "The most important thing is to make sure that people are safe when they're up here," DesLauriers said.
While some ski areas, such as the Vail Resorts-owned Stowe Mountain Resort, Okemo Mountain Resort and Mount Snow Resort, will require reservations for skiing and riding, most Vermont slopes will not — at least, not yet. Sugarbush Resort, for one, won't start by requiring reservations but might consider a reservation system as the season goes on.
"We may need to look at that again, but we don't know yet," Sugarbush public relations and communications manager John Bleh said.
Most resorts will limit day tickets, giving priority for getting on the slopes to season-pass holders. As a result, numerous resorts are seeing a spike in early season-pass sales. Some, such as Killington, are requiring reservations for parking, adding another hurdle intended to slow down traffic.
"The process of getting to the mountain is going to be very different," Young said. "But once you're up there, it should feel pretty normal."
Resorts are advising visitors to boot up — and eat lunch and get warm — in their cars, because base lodge space will be at a premium. While many ski areas will attempt to provide fresh-air facsimiles of the creature comforts that skiers and riders have come to expect inside the lodge — Sugarbush is building private cabanas; Magic Mountain is converting an old T-bar shack into a concession stand, for example — the 2020-21 season promises to be something of a throwback to a simpler era.
"It's gonna be kind of old-school," Hatheway said. "Everything is going to be pushed outside as much as possible. But that's where the sport lives anyway, so it won't be much different on the ski slopes."
"The whole season is being defined by doing everything we can to predict what we think will happen, but also to prepare for the fact that we're going to have to make adjustments as we go," DesLauriers said. "And we think it's going to work out."
For all the logistical and economic challenges that the upcoming ski season poses, there may also never have been a ski season that was more anticipated or more needed.
"We're all cooped up, so skiing is an important part of everyone's mental health this year," DesLauriers said.
As Young put it, "The act of skiing will be the most normal thing anyone has done in the last seven months."