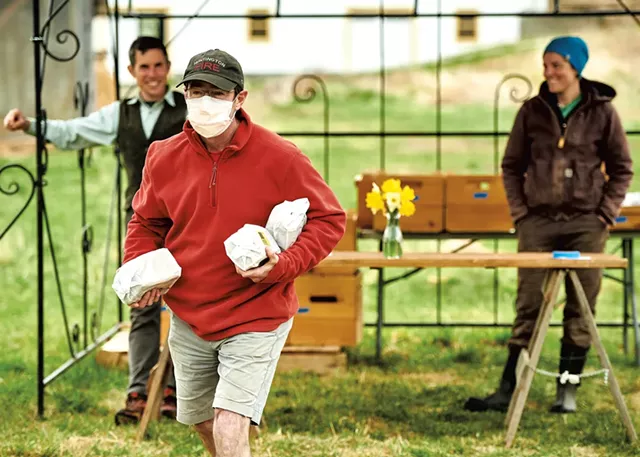 Bear Cieri
Brian Valentine picking up a few loaves of Running Stone Bread for himself and his neighbors
Bakers are giving away bread. Volunteers are cooking for rural families and seniors. University students are staffing an on-campus food pantry.
A recent survey conducted by the University of Vermont and the Center for a Livable Future at Johns Hopkins University found a 33 percent increase in food insecurity in Vermont since the coronavirus outbreak. That means almost one in four Vermonters is worried about getting enough to eat.
Another finding is more hopeful. Researchers concluded that "Vermonters are helping each other," based on a doubled percentage of those receiving food delivery from others.
While hunger-relief organizations are currently stretched to capacity, neighbors are filling the gaps. Everyone benefits. In the words of Dottie Neuberger, board member of Charter House Coalition in Middlebury, "Kindness and generosity beget kindness and generosity."
— M.P.
The Gift of Bread
Each Friday afternoon in a Huntington field, people stand in a well-spaced line to get freshly baked bread. Baker Adam Wilson used to sell his Running Stone Bread through local retailers. But the coronavirus prompted him to do something he's long dreamed of: make every loaf a gift. "It seems that things are possible that weren't possible before," he said.
Colleen Dychton heard about the free bread on Front Porch Forum. She is a massage therapist who cannot work right now. "It's really hard: challenging financially, and I miss my clients," the Huntington resident said.
Wilson has gifted more than 1,000 loaves so far. He urges people to take one for themselves and bring another to someone in need. On a recent Friday, people said they were bringing loaves to local farmworkers with limited transportation and to elderly neighbors. One woman asked where she could send a check to support Wilson's effort.
"There's something contagious about watching other people serve and give," Amy Redman of Huntington said. "It has a ripple effect."
— M.P.
Student Support
UVM graduate student Jordan Keene is among thousands of laid-off Vermont hospitality employees. Beyond his paycheck, "I relied on that shift meal," Keene said, referring to the free staff meal that many restaurants provide. "It definitely left a gap."
One of many students who count on hospitality jobs for income, Keene ended up making a temporary move home to Barre. He believes his personal experience reinforces the value of the work he'd been doing with the recently launched Rally Cat's Cupboard, an on-campus food pantry started and staffed by students with support from UVM Dining and donors.
Even before the pandemic, research confirmed the need on campus, said Natasha Lovell, the food pantry cofounder and a UVM undergraduate. While there are now fewer students in town, she noted, their visits to pick up fresh, frozen and shelf-stable food have held steady. Monday and Friday hours will continue through the summer.
"We've seen many new faces," Lovell said. "It's unfortunate that people need to use it, but we are glad to be here."
— M.P.
V for Victory
Nearly a third of the Americans who planted victory gardens during World War II were beginner gardeners; their results varied, and many didn't replant their gardens the next year.
Spearheaded by University of Vermont Extension master gardener Gordon Clark, the new statewide Vermont Victory Gardens project aims to help Vermonters affected by food insecurity grow more of their own food — with a higher success rate. It draws on the expertise of master gardeners, offering mentorship from planning and planting through harvest.
Sponsored by High Mowing Organic Seeds with support from the Vermont Community Garden Network, the program focuses on growing nutrient-dense storage crops for two types of garden: the neighborhood backyard plot and the larger community food shed. High Mowing is also donating seeds.
"There are a hundred good reasons for people to grow their own food, and all of those reasons are only reinforced by our current circumstance," Clark said. "I hope that this project, unlike the victory gardens of World War II, is an effort that will just continue to grow."
— J.B.
Chef's Special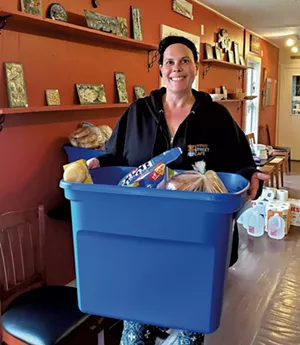 Courtesy Of Stowe Street Café
Stephanie Biczko at Stowe Street Café
Even as restaurants remain closed or limited to takeout, chefs are finding ways to feed their neighbors, including frontline workers and those who have lost jobs or income. Two examples among many: Mark BBQ in Essex Junction gives away weekly meals, and Joe's Kitchen at Screamin' Ridge Farm in Montpelier serves free soup.
Since mid-March, chef Stephanie Biczko of Stowe Street Café has been cooking up comfort food for locals in her Waterbury home kitchen. "I had started thinking, If restaurants and all businesses close, a whole lot of people would be without work," she said. "It was a way to use my skills to help; one less financial burden for them to bear."
Biczko started out buying the ingredients herself; since then, she said, she's been overwhelmed with community support. In addition to providing meals for up to 15 households a week, she and a couple of other volunteers now cook meals for 20 families served by Washington County Mental Health Services. Nicole Grenier, Stowe Street Café's owner, facilitates that effort as the organization's director of children, youth and family services.
— M.P.
Magic Touch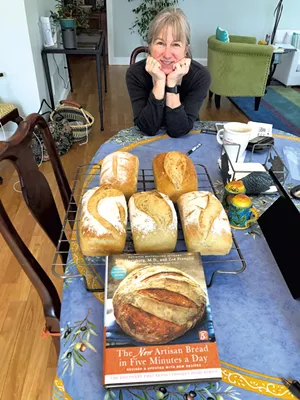 Courtesy Of Mary Jane Dieter
Mary Jane Dieter with her Bread Fairy loaves
Since the beginning of the pandemic, avid home baker Mary Jane Dieter has delivered 112 loaves of freshly baked bread to her Williston neighbors in need. Like many heartwarming stories of community connection, Dieter's played out on Front Porch Forum, where she posted that she and her husband, Steve Kuhn, "would love to make homemade bread for those not able to get to grocery stores easily."
The recipe she uses is straightforward, and Dieter hopes it will inspire others to become "bread fairies" for their communities. "The simplicity of it makes me think that anyone could do it and would want to do it," she said. To help others get started, Dieter shares her recipes and other tips online.
"My wish is that people around Vermont will ... know that I'm a resource if they need help getting started," Dieter said. "It can be really simple and personal, and it doesn't have to be perfect. Whatever you make of it is what it's supposed to be."
— J.B.
Rural Relief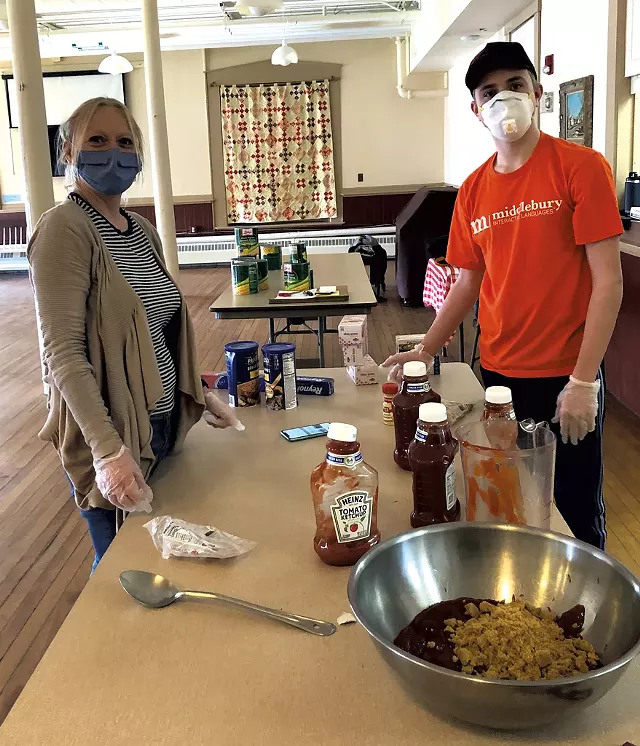 Courtesy Of Charter House
Charter House volunteer cooks
When schools closed, the Addison Central School District's nurses got on the phone. They wanted to ensure that families could access food assistance and other support.
"We have a high population of low-socioeconomic families," Eva McDonough, a nurse for three district schools, explained. "Many are high risk, don't have reliable transportation or might not be able to afford gas." Many parents, too, had recently lost jobs and were new to needing help.
McDonough and her colleagues established a grocery service supported by donations to Pratt's Store in Bridport. Families can pick up at school or get delivery from volunteer drivers. The program has served as many as 131 families a week, plus some elderly community members. "Our goal is that no one goes without food," McDonough said.
The nurses also teamed up with the Charter House Coalition in Middlebury to include families in the volunteer-based nonprofit's community suppers. Hosted every Friday at the Congregational Church of Middlebury for the past 15 years, the suppers now consist of takeout and delivery of close to 200 meals weekly, including 40 delivered to a local senior housing complex. They're powered by a roster of volunteer cooks, delivery drivers and families who bake hundreds of cookies for dessert.
— M.P.
Buddy System
For older people, the stay-at-home order has been especially tough. "Many were, and are, scared and isolated," said Megan Humphrey, executive director of the nonprofit HANDS, whose mission is to provide food and support to Chittenden County seniors.
Humphrey teamed up with the Heineberg Community Senior Center in Burlington to create a new program of "support buddies" who deliver meals and groceries and make regular phone calls to about 150 seniors weekly. Meals are provided through Age Well and the City of Burlington, which supports the effort by purchasing from local restaurants. Other food businesses have chipped in; Barrio Bakery & Cafe, for instance, contributes baked goods through customer donations.
"People are so kind," Humphrey said. "It also lets us all feel like we're doing something to help. We need that so much right now."
— M.P.