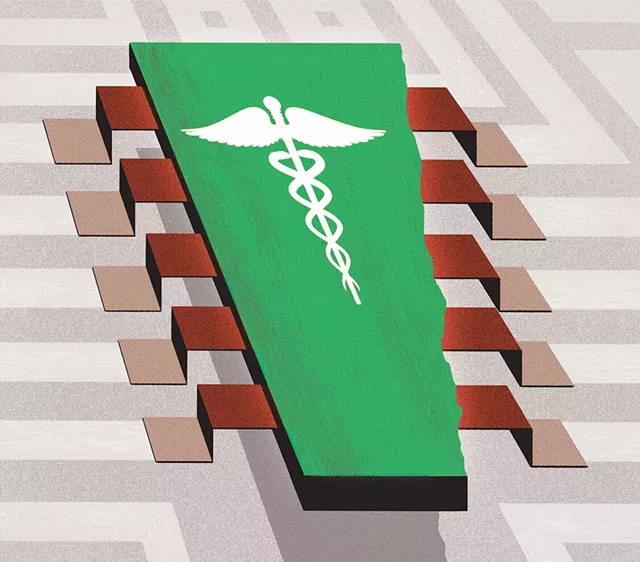 When Matt Berg arrived last week for his first day of membership in the Vermont Center for Emerging Technologies, he assumed that the co-working space in downtown Burlington was just a convenient spot to make conference calls, check his email and grab a cup of coffee.
Unbeknownst to him, the Burlington newcomer, who'd just relocated from Kenya two weeks earlier, had chanced upon a business accelerator space that's populated with other health-tech entrepreneurs just like him.
Berg, 39, is cofounder and CEO of Ona, a Kenya-based health-tech company that's focused primarily on global health and humanitarian aid projects in the developing world. Currently, Ona is helping the Zambia Ministry of Health build a computer platform for registering and tracking children's immunization records and growth charts.
Ona, which means "to see" in Swahili, was founded four years ago and now has 30 employees worldwide, most located in Kenya. But Berg said he intends to establish his company's U.S., and eventually global, headquarters in the Queen City.
Why Burlington? As Berg explained, his wife is from Montréal, his in-laws own a place in Jay, and Vermont is home to several international development organizations, such as Tetra Tech. He also sees Burlington as a great place to raise their kids.
"I could pick anywhere in the world to live," he said. "I thought that Vermont has the values that I want in life, and it felt like a great place to attract people, which is a competitive advantage."
As it happens, Berg was unaware that Vermont also has a thriving health-tech sector. However, within hours of arriving at VCET, he was introduced to people from two local health-tech firms: ThinkMD and OhMD. The former is a Burlington-based benefit corporation founded in 2014 by two pediatricians from the University of Vermont Medical Center. They conceived of the idea for a mobile app that can reduce preventable deaths among children in the developing world. The latter is a South Burlington company that provides free, secure texting services to doctors and other health care professionals nationwide.
Berg, whom Time magazine identified in 2010 as one of the world's 100 most influential people, said he's "super-excited" about the prospect of collaborating with other Vermont-based companies with shared skills and goals.
"I wish I could say I was super strategic about it," he admitted about his Vermont move, "but I was more thinking about the lake and skiing and the wide selection of beers."
Indeed, Vermont's active outdoor lifestyle and rich locavore culture are what attract many people to the Green Mountain State. Still, there's more to Vermont's booming health-tech economy than craft IPAs and easy access to the slopes.
Serendipitous encounters like Berg's are just one reason Vermont's health-tech sector is doing so well: The state is small and collegial enough for people to meet and collaborate in ways that are less likely in larger and more competitive markets. Vermont also has a deep pool of technical experts and investors who are willing and able to help get good ideas off the ground.
How did Vermont become a health-tech hotbed? More importantly, in an age when tech entrepreneurs can set up shop virtually anywhere, what keeps them here?
Thus far, there's no definitive list of Vermont's health-tech companies. Nevertheless, an informal tally by Jeff Couture, executive director of the Vermont Technology Alliance, indicates that more than two dozen companies are engaged in developing health- and wellness-related technologies, including medical devices, software, IT consulting and data management services. According to a vtVA report, "Vermont's Tech Employment: The Hidden Driver of Our Economic Growth," the $5.6 billion overall tech sector accounts for one in four jobs in Vermont, with an average wage of $72,482, compared to a statewide average of $44,540.
But separating health tech from the rest of tech is tricky. Couture's list includes obvious health information technology companies such as Galen Healthcare Solutions. Founded in 2005, Galen helps clients, from small physician practices to major medical centers, implement and manage electronic health records.
Couture's list also includes industry leaders such as Physician's Computer Company, a software and consulting company founded in 1983 to help independent pediatricians' practices remain competitive. In fact, it was PCC cofounder and technical guru John Canning who helped ThinkMD pediatricians Barry Finette and Barry Heath bring their mobile app from idea to prototype.
But as Coutu re also pointed out, his tally doesn't include Chroma Technology in Bellows Falls, which provides products to the medical field but also to other industries. Nor does it include small startups such as Staple Health in Middlebury, a data clearinghouse for tracking health care payments, or Bia Diagnostics of Colchester, whose lab has been conducting food-allergen testing and certification for more than 20 years. Or tiny startup Flyway Yoga, founded in 2016 by VCET member Betsy Nesbitt to provide video and digital content, as well as on-site classes, in yoga, meditation and fitness.
VCET president David Bradbury offers several explanations as to why so many health-tech firms are in Vermont. First, he credits several large "anchor companies" — notably, IDX Systems (now GE Healthcare) in South Burlington — for laying the groundwork that enabled later health-tech companies to take off.
"IDX put Vermont on the map in a big way," Bradbury explained about the health care software firm that Rich Tarrant and Robert Hoehl founded in 1969. Tarrant and Hoehl, who played basketball together at Saint Michael's College before going to work at IBM, used a combined investment of $12,500 to launch Burlington Data Processing, one of the first companies to provide physicians with electronic billing and scheduling systems.
When BDP — later renamed IDX Systems — was acquired by GE in January 2006 in a deal worth $1.2 billion, it had more than 2,500 employees. As Bradbury pointed out, some of those employees got wealthy from the sale, then used some of the money to invest in or launch new health-tech firms.
One such company is Mach7 Technologies in South Burlington. Founded in 2007 by several IDX veterans, Mach7 creates platforms that enable health care providers to seamlessly share, route and archive all their medical imagery — X-rays, MRIs, CT scans — regardless of where and how those scans were created.
Matthew Gamage, who joined Mach7 in January, worked for IDX and three other companies — GE Healthcare, Precyse Solutions and nThrive — that all have roots traceable back to IDX. Although people in the tech sector tend to be entrepreneurial, Gamage said that was especially true at IDX.
"As with any business, when it ebbs and flows, those people are going to find new things to do," he said. "And a lot of them were able to take that ingenuity and either seek out new areas that were not being addressed by other companies or find different ways to compete."
IDX didn't just seed Vermont with venture capital and a health-tech workforce, VCET's Bradbury noted. It also provided the local economy with a pool of mentors to advise the next generation of entrepreneurs.
"If we can get [former IDX CEO] Jim Crook to sit down for a half hour with a young company, their world can change," he said. "They might have an insight they didn't think of, or an introduction could happen. That's how a small place like Vermont competes."
That's been the case for Ethan Bechtel, CEO and cofounder, along with his brother, Nate, of OhMD. Bechtel, 35, never worked at IDX. Nevertheless, he says that Vermont's health-tech sector "all goes back to IDX."
"You're surrounded by Vermonters with decades of health-tech experience who are not only capable of helping but are entirely willing to help," he explained. "As a founder, I've had so many conversations with local health-tech experts to do everything from work on our business model to focus on our problems to even fundraise."
Bechtel also pointed to broader market forces at work that are lifting all health-tech companies, not just those in Vermont.
"Yes, we have a ton of digital tech talent locally," he added. "But on a more macro level, since 2014, $16 billion in [venture capital] funding has gone into 800 digital health companies [nationwide]. And this year specifically, so far there's been $4.7 billion invested in health tech."
In short, there's a growing demand for new technologies that can bend the curve on rising health care costs.
Ryan McGinnis is an assistant professor of electrical and biomedical engineering at UVM. Before coming to the college in 2016, he spent two years at a health-tech startup near Boston developing wearable tech systems that use mobile phones and sensors like the Fitbit or the Apple Watch to improve people's health. One project he worked on, funded by the U.S. Army, uses wearable sensors to assess the impact that soldiers' personal equipment has on their biomechanics.
As health care costs rise, McGinnis explained, the lines between clinical care and self-help begin to blur, driving technological innovation and entrepreneurship. New technologies such as mobile apps that use cognitive-behavioral therapy to treat pain, and wearable sensors that monitor blood glucose levels, move those treatments out of the clinical setting and into the consumer market.
Vermont also benefits tremendously from the presence of UVM and Dartmouth-Hitchcock medical centers, both of which are major research institutions that attract millions in federal grant money and have large pools of patients for conducting research.
Bradbury said he's been particularly encouraged by the increased emphasis on entrepreneurship at UVM, as evidenced by its Office of Technology Commercialization. Founded in 1999, the Office of Technology Commercialization has helped launch health-tech companies such as WISER Systems, which created a method for conducting rapid, low-cost suicide risk assessments of hospital patients.
In the last two years alone, VCET has worked directly with medical students from UVM's Larner College of Medicine who were interested in developing products to address patients' problems.
"Eight years ago, they'd have to meet with us after dark behind the dumpster, because they couldn't let anyone know they were learning about entrepreneurship. It was verboten," Bradbury said. "Now, the openness by staff and students at UVM Medical Center is better than it's ever been. They're tackling [problems] for themselves, their patients and for medicine in general."
Finally, there's no discounting the broad appeal of the great outdoors in keeping the health-tech industry in Vermont. As VCET's director of innovation Sam Roach-Gerber put it, "People who work in health care value a healthy lifestyle. Where better to do that?"