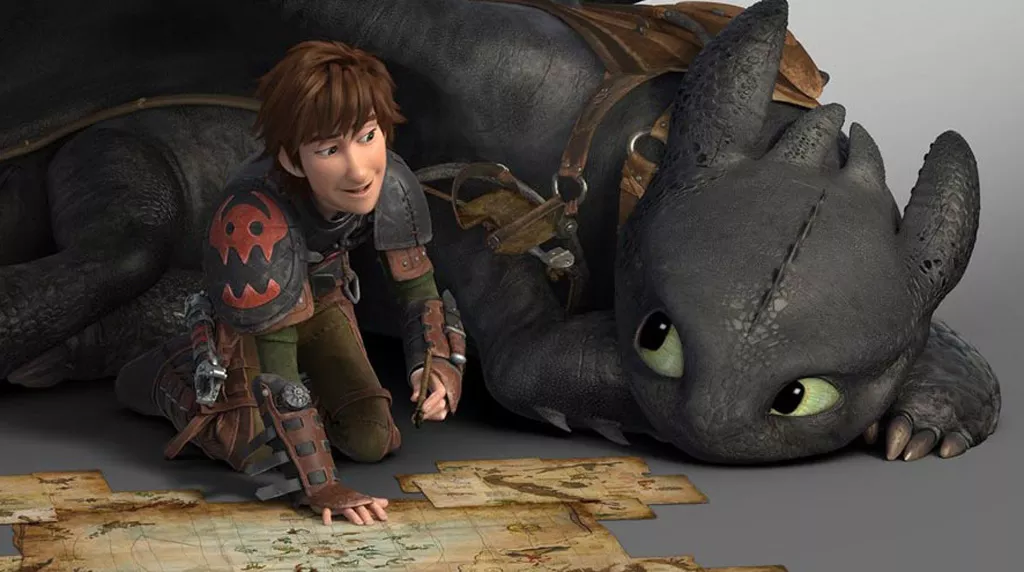 a boy and his dragon Toothless and Hiccup play explorer and find trouble in this DreamWorks sequel.
The key factor that lifts DreamWorks' How to Train Your Dragon series above other cute-animal kiddie animations is its reluctance to anthropomorphize. Sure, it's fun when cartoon critters riff in the voices of baggy-pants comedians — and a staple of classic animation. But there's also something uniquely appealing, especially to kids, about animals acting like animals, complete with all their strange and winning and occasionally alarming differences from us talky primates.
The mythical beasties of the 2010 hit How to Train Your Dragon — one of which becomes a lonely Viking boy's best friend — don't talk or even act like humans. Granted, they don't act much like reptiles, either; Toothless, the young dragon of the title, combines a sinuous black body with predatory, feline slinking movements and canine affability. Since he can also fly and breathe fire, he's basically a child's dream pet.
Again directed and scripted by Dean DeBlois, the sequel opens five years after teenage Hiccup (voiced by Jay Baruchel) managed to convince the people of his rough-and-tumble village to live in harmony with the beasts they once hated and feared. Recreational dragon racing has replaced dragon hunting in Berk, and every home has a handy sprinkler system to put out accidental breath-related fires.
But there's trouble on the horizon, and Hiccup and Toothless meet it when they explore a remote island and find a dragon trapper (Kit Harington) collecting the beasts for a human tyrant (Djimon Hounsou) who hopes to build an invincible army. The resulting conflict leads the young man to revelations about his own past, and tests his bond with his best friend.
Because this sequel is essentially a young adult adventure — Hiccup struggles with the prospect of replacing his impossibly burly chieftain dad, Stoick the Vast (Gerard Butler) — it may not appeal as directly to younger kids as the original did. But there's still plenty of slapstick involving pastel-hued baby dragons for viewers who don't cotton to the story's darker themes.
Refreshingly, DeBlois puts Hiccup's romance with Astrid (America Ferrera) on the back burner to focus instead on his nuanced, nonromantic relationship with a new female character; suffice it to say that she's voiced by Cate Blanchett and appropriately awesome. The film's antagonist isn't particularly imaginative or memorable, but on the comic-relief side, Jonah Hill, Christopher Mintz-Plasse and Kristen Wiig — that inescapable Apatow crew — do amusing work as Viking hellions.
Perhaps a more important credit belongs to the great cinematographer Roger Deakins, who again served as the film's visual consultant. Computer animation tends to have a bright shallowness to it — 3-D or not — but DeBlois draws on Deakins' lighting expertise to give his fantastical world painterly shadings, hazes and depths. When Hiccup flies above the sunlit clouds on Toothless, it's a beautiful as well as exultant moment, and an island swirling with multicolored, semiferal dragons holds the eye like a beloved children's-book illustration.
Some of my favorite moments in the movie happen wordlessly in the background: While the human characters talk plot, the dragons sniff each other and gambol and cavort. They have their own concerns (and their own rudimentary politics, we learn), and letting them just be dragons is a smart way to bring young and old viewers together. Some animated films offer pop-culture references for the parents and loud silliness for the kids. This one appeals to both, working on the principle that even the most sophisticated oldsters can't always stop themselves from forwarding a video of a kitty relentlessly attacking an inkjet printer.