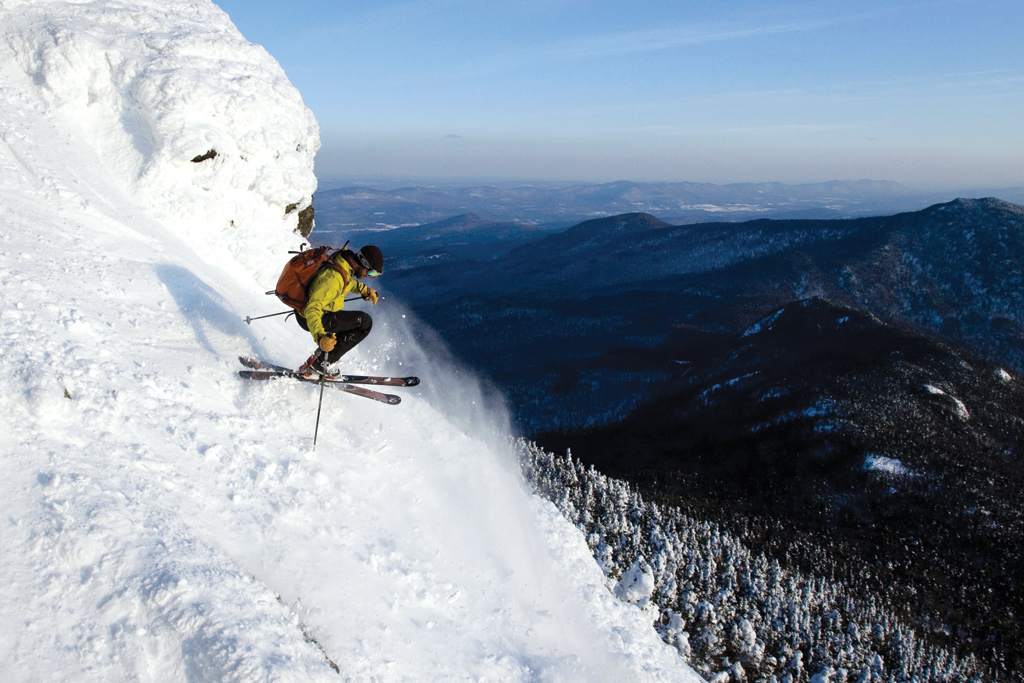 The Green Mountain State can be a lot more white than green in the spring: When tulips arrive in the rest of the country, it can still be blue-lips time for chilly Vermonters. But this season also means the best skiing and riding of the year at myriad mountain resorts, not to mention the chance to watch some serious wipeouts in pond-skimming contests (or try the craze yourself), and the opening of several off-the-radar trails to hikers hankering for some fresh air.
Spring Skiing
March is the snowiest month in Vermont, with 57 inches typically falling before April 1 at Killington. More than 1,000 trails around the state are open for skiing and riding this month, when average temperatures climb to 37 degrees. It's also the sunniest time of the ski season, as daylight begins at 6:05 a.m. and ends at 7 p.m. The sweetest spot for sunset skiing may be at Bolton Valley, where west-facing slopes offer prime views of the golden light over Lake Champlain. Years past have seen sunset skiing and riding tickets for less than $30, good from 4 to 8 p.m. After that, you can toast March with a Moose Madness Ale at James Moore Tavern.
Thanks to the weather phenomenon known as the "Jay Cloud" that dumps white stuff on the Northeast Kingdom resort well into the spring, Jay Peak often stays open until mid-May, and last-minute lodging discounts can be as steep as the snow is deep.
Killington, meanwhile, continues its Snowblind packages that drop prices 25 to 30 percent or more for those willing to gamble on just where they'll spend the night.
Pond Skimming
If you haven't attempted to waterski across a slushy pond wearing little more than one or two planks on your feet — and perhaps a wacky outfit — then you haven't participated in a North Country rite of spring known as pond skimming. Sugarbush oversees the longest-running skimming event in the country, where some 100 competitors don costumes — think hot dogs, tacos, superheroes and bikinis — and slide across a teal-colored pond at the Lincoln Peak base area. This year, it's on March 29 at noon; the $20 registration is from 9 to 11 a.m. in the Gate House Cafeteria; spectators can guffaw for free.
Several other resorts also host pond-skimming contests, including Bolton Valley (March 22); Mount Snow (March 29); Burke Mountain (April 5); and Killington (April 19).
Hiking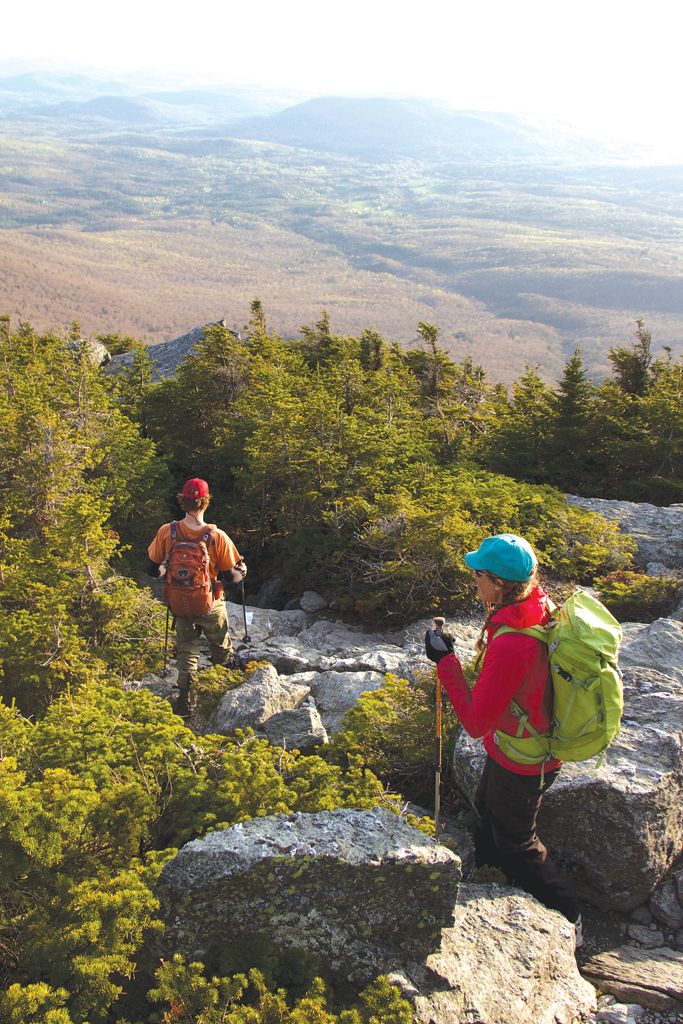 Even when the hills seem alive with the sounds of springtime, hiking on many high-altitude footpaths during Vermont's "mud season" can be lethal to the delicate alpine tundra. As the trails are susceptible to soil erosion, they can also be wildly unpredictable for hikers, too. Still, there are plenty of places to hit the trail this time of year. As the Green Mountain Club advises, it's generally wise to stick to trails at lower elevations, dirt roads and recreation paths. Best to avoid all trails on state land, including Camel's Hump and Mount Mansfield, from mid-April until Memorial Day — when almost anything is fair game.
Until late May, the GMC recommends these alternatives in northern Vermont:
Burlington Bike Path
Missisquoi Valley Rail Trail (St. Albans to Richford)
Stowe Bike Path
Cotton Brook Area (Moscow/Stowe)
Alburgh Recreation Area
Cambridge Greenway Recreation Path
Mount Philo (Charlotte)
And if you do encounter mud, walk through it, not around it, to protect vegetation. There's a good excuse to invest in some new hiking boots! For more information, visit greenmountainclub.com.
Le ski, le skimboard et la randonnée au Vermont au printemps
L'État des Montagnes vertes est parfois plus blanc que vert au printemps : tandis que les tulipes font leur arrivée dans le reste du pays, c'est encore frisquet au Vermont. Mais c'est aussi durant cette saison que les skieurs et les surfeurs des neiges font leurs meilleures sorties de l'année à de multiples stations de montagne, que ceux et celles qui n'ont pas peur des éclaboussures peuvent assister (ou participer) aux compétitions de « pond skimming » et que les randonneurs en manque d'air pur peuvent profiter de l'ouverture de plusieurs sentiers pas encore battus.
Le ski de printemps
Mars est le mois où il neige le plus au Vermont : 145 centimètres tombent habituellement avant le 1er avril à Killington. Plus d'un millier de pistes de l'État sont encore accessibles aux skieurs et aux surfeurs pendant le mois, où la température moyenne atteint presque trois degrés Celsius. C'est également l'époque la plus lumineuse de la saison de ski, le soleil se levant à 6 h 05 pour se coucher à 19 h. Le meilleur endroit pour profiter du coucher du soleil est sans doute Bolton Valley (boltonvalley.com), dont les pentes qui font face à l'ouest offrent une vue imprenable sur un lac Champlain illuminé de reflets dorés. Au cours des années passées, il en coûtait moins de 30 $ pour un billet de ski ou de surf des neiges, valide de 16 h à 20 h. Après quoi, il ne vous restera plus qu'à porter un toast au mois de mars à la James Moore Tavern, un verre de Moose Madness Ale à la main.
En raison d'un phénomène climatique nommé Jay Cloud, la région du Northeast Kingdom reçoit de bonnes bordées de neige jusque tard au printemps, ce qui permet souvent à la station Jay Peak de demeurer ouverte jusqu'à la mi-mai. Les rabais de dernière minute sur l'hébergement sont parfois aussi très intéressants (jaypeak.com).
Pendant ce temps, Killington maintient son rabais Snowblind, qui se traduit en économies de 25 à 30 pour cent – ou plus – pour celles et ceux qui sont à l'aise avec l'idée de ne pas savoir où ils dormiront le soir (killington.com).
« Pond skimming »
Si vous n'avez jamais essayé le ski nautique dans un bassin de neige mouillée, avec une ou deux planches sous les pieds et vêtu de presque rien d'autre – sauf peut-être d'une tenue loufoque –, vous n'avez pas accompli le rite de passage printanier du Nord appelé pond skimming. Sugarbush est le théâtre de la plus ancienne compétition de skimboard au pays, au cours de laquelle environ une centaine de concurrents déguisés en hot dog, en taco et en superhéros, ou vêtus simplement d'un bikini, glissent sur un bassin bleu sarcelle, dans le secteur de Lincoln Peak. Cette année, l'événement se tiendra le 29 mars, à midi; l'inscription, au coût de 20 $, aura lieu de 9 h à 11 h à la Gate House Cafeteria. Fous rires gratuits pour les spectateurs (sugarbush.com).
Plusieurs autres centres accueillent aussi des concours de « pond skimming », dont Bolton Valley (22 mars, boltonvalley.com), Mount Snow (29 mars, mountsnow.com), Burke Mountain (5 avril, skiburke.com) et Killington (19 avril, killington.com).
Randonnée
Même quand les montagnes semblent reprendre vie au Vermont, à la fonte des neiges, la randonnée dans de nombreux sentiers en altitude peut s'avérer très dommageable pour la très fragile toundra alpine. Les chemins vulnérables à l'érosion des sols peuvent également être périlleux pour les marcheurs, mais il y a tout de même de nombreux endroits où on peut faire de la randonnée à cette période de l'année. Comme le conseille le Green Mountain Club, il est généralement plus sage de s'en tenir aux sentiers de basse altitude, aux chemins de terre et aux pistes récréatives. Mieux vaut éviter tous les sentiers sur les terres domaniales, y compris Camel's Hump et le mont Mansfield, de la mi-avril jusqu'à Memorial Day; la situation est alors plus sûre presque partout.
Jusqu'à la fin de mai, le Green Mountain Club recommande les solutions de rechange suivantes dans le nord du Vermont :
Piste cyclable de Burlington
Missisquoi Valley Rail Trail (de St. Albans à Richford)
Piste cyclable de Stowe
Secteur de Cotton Brook (Moscow/Stowe)
Espace récréatif d'Alburgh
Sentier récréatif de Cambridge Greenway
Mount Philo (Charlotte)
Et s'il y a de la boue sur votre chemin, marchez dedans, pas autour, pour protéger la végétation – voilà qui vous fera une bonne raison d'investir dans une nouvelle paire de bottes de randonnée! Pour obtenir de plus amples renseignements, visitez le site greenmountainclub.com.