Courtesy of penny hewitt
Penny Hewitt teaching basketmaking to Téa and Rhea Ferris
When I was a girl growing up in a small New Hampshire town, my father, a college professor, bought a nonfiction book about a mother and her teenage daughter who bonded when they acquired a milking cow. While parenting three adolescents, my dad sometimes jokingly threatened that he was going to buy a cow to deepen family harmony. Instead, we connected through hiking — an activity my brother, sister and I now share with our own children.
Family relationships are often nurtured through shared activities. For an illustration of this principle, look no further than Penny and Ben Hewitt, who live on 100 rural acres in Stannard with their two teenage sons. The Hewitts have fashioned their family life around homesteading. They produce nearly all of their food, power their home with solar energy and heat with wood. Their collaborative 2015 book, The Nourishing Homestead: One Back-to-the-Land Family's Plan for Cultivating Soil, Skills, and Spirit, provides readers nittty-gritty advice on everything from churning butter to slaughtering pigs, along with the Hewitts' photographs.
In April, the Hewitts released The Young Adventurer's Guide to (Almost) Everything: Build a Fort, Camp Like a Champ, Poop in the Woods — 45 Action-Packed Outdoor Activities, geared towards readers ages 8 to 12. The book contains step-by-step instructions for learning traditional skills, from cooking over a campfire (and roasting insects!) to navigating by the stars. Handcrafts range from the simple, like folding birch bark into a ring, to the more complex, like gathering and weaving willow into a basket. Developing such skills requires practice and patience, the Hewitts emphasize, and the book's tone is upbeat and encouraging.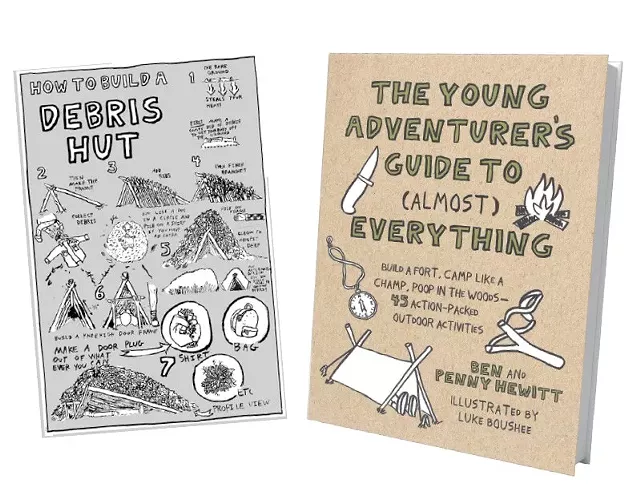 "No matter what, your basket will hold something. Maybe not berries, but definitely a grapefruit," the Hewitts write of making a basket for the first time. Directions for each activity are accompanied by easy-to-follow illustrations by Luke Boushee, a mentor at the Plainfield nature education center EarthWalk Vermont.
The Young Adventurer's Guide begins by acknowledging that the skills described in its pages originated with Native Americans, then instructs readers how to choose and handle a knife and predict weather by looking to the sky. "The Best Camping Trip Ever" section offers precise instructions, ranging from how to transform a tarp into a tent to brushing your teeth with a stick.
The final section — "Turn the Ordinary Into the Extraordinary" — perhaps best sums up this practical and visionary book. Using materials easily found in Vermont — including birch bark, acorn caps and feathers — the Hewitts and Boushee explain how to make whistles, kites and yo-yos.
Like a cookbook, The Young Adventurer's Guide isn't intended for readers to work through all of its offerings. Instead, families can choose what appeals to them.
Originally from New Jersey, Penny met her future spouse in the early 1990s on Martha's Vineyard, where she was farming and he was working construction. Not long afterward, the couple moved to Vermont — Ben's native state. In addition to homeschooling their sons, Penny teaches basketry through her business, Lazy Mill Treecraft, where she works with 4-H, homeschool and other private groups in art centers.
Ben, a contributor to Yankee, Outside, the New York Times Magazine and other national publications, has authored five books, including The Town That Food Saved: How One Community Found Vitality in Local Food — a portrayal of revitalized agriculture in Hardwick — and Home Grown: Adventures in Parenting Off the Beaten Path, Unschooling, and Reconnecting with the Natural World. Home Grown explains the family's educational approach of unschooling — defined by educator and author John Holt as child-led learning, based on individual interests. The ideas espoused in the book have garnered both admirers of the couple's back-to-the-land dedication and critics of this nontraditional approach to education.
In May, Penny and Ben Hewitt shared how they came to write their latest book with Kids VT.
Courtesy of penny hewitt
Ben Hewitt
Kids VT: What is it like to work so closely and creatively with your spouse?
Penny Hewitt: For the most part, we tend to complement each other, but some fundamental differences challenge us. We approach things totally differently and have very different styles. I am more detail-oriented and like to get things done, so I can cross them off my list. Ben doesn't make lists and works best at the very end of his deadline.
Ben Hewitt: Penny is really temperamentally a planner and an organizer. She's a stereotypical Virgo. I'm so much my-head-in-the-clouds. She's like a rifle, and I'm like a shotgun. How's that for a good rural analogy?
KVT: What's the concept behind The Young Adventurer's Guide?
PH: Our kids loved these kinds of books when they were little. The American Boy's Handy Book: What to Do and How to Do It (originally published in 1888) was a favorite. Although there are some timeless activities in there, it felt a little outdated. I got tired of having to come up with replacements for whale baleen, for instance.
KVT: How did you end up collaborating with local illustrator Luke Boushee?
PH: Luke has been a mentor in life skills to our boys for a while... We knew we wanted drawings from someone who had an intimate relationship to the skills, so the directions were clearly illustrated but were also fun and whimsical. Luke was the natural choice... I would write up the skills and email them to Luke and Ben. Luke would email back a rough drawing. Then he and I would email or talk on the phone a bit about the nuances and ways to clarify things, and he would do a finished drawing. Meanwhile, Ben would add introductions and tidy up the writing. I should say that not only did Luke do the drawings — and put up with all the little changes I asked for without ever once getting frustrated, at least to my face — he also was instrumental in choosing what skills would be included and helping me figure out how to say in words what we usually just did with our hands, which was surprisingly difficult.
KVT: Why are traditional skills and crafts good for kids?
PH: Kids tend to be hands-on learners. They are always picking up rocks and sticks and checking out plants and insects. The things in this book are just an extension of that curiosity... There was a time when people had to know these skills or they wouldn't survive. We've become so dependent on outsourcing the essential goods and skills of our lives. Knowing how to make things that are useful in everyday life is empowering. Revitalizing this knowledge reconnects people to the land on which we all depend. The deeper that connection, the more we understand the need to protect it, and the more willing and desirous we will be to work to that effect.
BH: To me, there is a line to be drawn between engaging in these crafts and engaging in actually — to use this overused word — caring for the land. One of the things I think we struggle with in our current place in our journey on this planet as humans is it's becoming increasingly challenging for people to live on a day-to-day basis with a deep sense of connection to the actual place where they live — or, I should say, the land itself and all the creatures and plants where they live. Without that connection, it's hard to feel profuse affection for the land. Without that appreciation and affection, it's easy not to care so deeply for it... This is not so true in Vermont, honestly, which is one of the reasons why people look at Vermont as this sort of place and culture and community they want to be part of.
KVT: Why is cultivating a connection to the land so challenging?
BH: I think it's increasingly difficult because the incentives are all in the other direction... That is endemic in our culture. I don't think you can really blame people for this, because the economic incentives compel people to not live in that way. You know, I understand that. I'm living out part of that, too... I feel that and sympathize with that, and I get it... [What I say or write] isn't meant to be an indictment or a criticism at all. I think it's just a fundamental truth of how our economy works in this day and age... Lord knows, I don't want to tell people how to live their lives.
For hands-on traditional craft instruction, Penny Hewitt and Luke Boushee pair up with other crafters to host the Sloyd Skills Gathering at the Hewitts' Stannard property, June 28-30. Sloyd refers to a Finnish system of education based on everyday handcrafts. With both day and camping options and a range of fees, the family-friendly event offers adult and teen workshops, including carving spoons and bowls, weaving hats and wallets, felting, spinning and sewing a buckskin pouch. Children's activities include games, singing and woodland toy making for ages 6-12. Learn more at sloydskillsgathering.com.