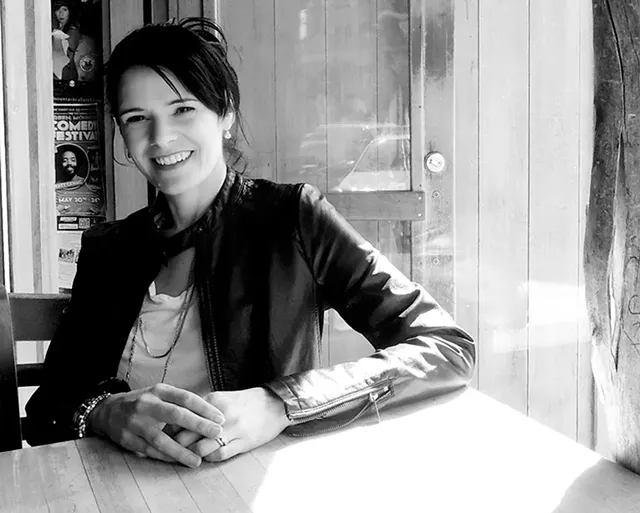 Courtesy Of Emily Jarvis
Amy J. Murphy
As any published writer can attest, nothing compares with the feeling of seeing one's words in print for the first time. Whether it's a memoir, first novel, how-to book or poetry anthology, it's incredibly rewarding to hold a professionally bound volume of one's own creation.
For much of publishing history, professional gatekeepers reserved that experience for authors deemed erudite, entertaining or wealthy enough to warrant a print run. In recent years, however, technological advances such as ebooks and print-on-demand (POD) have enabled anyone with a computer and a modest sum of money to publish their own books, both for print and online distribution.
Today, nontraditional publishing is a $1.25 billion industry in the United States, according to a report from the website AuthorEarnings, compiled (using disputed methodology) by self-published best seller Hugh Howey. In 2016, Howey's report contended, independently self-published books — including print, ebooks and audiobooks — comprised 55 percent of all romance books sold (by unit), 49 percent of all young-adult/teen fiction, 44 percent of science fiction, 37 percent of fantasy and 32 percent of juvenile sci fi.
"For the last three years in a rising ebook market," AuthorEarnings noted in its February 2017 industry report, "traditional publishers have been rapidly losing market share to self-published authors and Amazon imprints faster than the overall market has been growing."
While the debate over Howey's claims for the market dominance of self-publishing rages on, one thing is clear: Never before have aspiring writers had more avenues for reaching potential readers.
With a growing field of self-publishing options to choose from, how should writers decide which best suits them? Should they contract with one of the many self-publishing services or handle the process themselves? And, if they do the latter, which aspects of the process — editing, book layout, cover design, marketing, distribution — should they farm out to professionals?
To answer those questions, Seven Days solicited advice from Vermont-based booksellers, independent publishers and authors who've produced and sold books through self-publishing services, trade publishing houses and university presses.
First, a warning: One needn't look far to find cautionary tales of unscrupulous self-publishing schemes. In 2016, Seven Days reported on Brattleboro-based Adam Salviani, whose now-defunct Raider Publishing International allegedly scammed dozens of writers out of thousands of dollars with unmet promises to publish and market their books. The Writer Beware blog chronicles numerous other such alleged scams.
Yet even when authors choose a reputable self-publishing outfit such as iUniverse, BookBaby or AuthorHouse, their up-front investment can still run in the thousands of dollars. Furthermore, such services don't necessarily fulfill a writer's expectations of what a publisher is supposed to do.
Another option for authors who aren't ready to embrace DIY self-publishing: Go local. Phoenix Books' Onion River Press in Burlington, Northshire Bookstore's ShiresPress in Manchester Center, and Boxcar & Caboose Bookshop & Café's Railroad Street Press in St. Johnsbury promise self-publishers some of the convenience of a trade publication. Beyond merely printing and binding books, they offer a range of services, from purchasing an International Standard Book Number (ISBN) to contracting cover artists and proofreaders to marketing and distributing books.
The key difference between trade presses and self-publishing services is that the former curate their lists and pay the author, while the latter accept all (or most) manuscripts and charge authors a fee.
For tips from the trenches, we talked to authors who found success using a local service and taking the DIY route.
Going It Alone
Amy J. Murphy is a successful self-published author of three science-fiction novels. Her first, Allies and Enemies: Fallen, was a 2016 Dragon Award finalist for best military science-fiction/fantasy novel and a 2017 finalist for a Kindle Book Award. The Addison County writer worked on her first manuscript for about a decade before self-publishing it. Why didn't she seek a trade publisher?
"A lot of people ask that question like there's a choice," Murphy says with a laugh. "I dreamed of publishing it through the traditional route." However, after repeated rejection letters from trade presses, "I made a decision that I just wanted to see this done."
Murphy heeded the advice of other self-published authors and sought a professional editor through the Editorial Freelancers Association. She researched the genres that members specialized in and interviewed those who agreed to review a section of her manuscript for free.
Ultimately, Murphy chose Pat Dobie, with Lucid Edit in Canada, whom she describes as "a great combination of tough and supportive" and to whom she credits much of her books' success. For cover art, Murphy hired a local friend who designs video games.
She admits to some early missteps. Initially daunted by the challenge of putting together an ebook herself, she contracted with the now-defunct Booktango, which she calls "a huge mistake."
Why? Murphy had no control over how Booktango promoted her book, nor could she track how it was doing online, which she found frustrating. Eventually, she took the book down and republished it through Amazon's KDP Select, which makes it available on its subscription-based Kindle Unlimited service.
Today, Murphy says, she receives a "consistent profit" from her ebooks based on page reads. And, though "it's also a consistent level of work" marketing her books, she prefers doing so herself to paying someone else.
Murphy's approach: She built an online presence with a website, blog and newsletter, which she says became a "reader magnet." By giving away the occasional short story or new book chapter, Murphy maintains an ongoing relationship with her readers.
"It's kind of like being part of your own personal fandom," she adds. "I have this world that I created, and I have this ability to share it with other people and see how much they're enjoying it."
Buying a Package
Courtesy Of Karen Gross
Karen Gross
Author, teacher and educational consultant Karen Gross has written numerous books for children and adults that have been published by university presses and trade publishing houses.
Though she acknowledges the cachet of publishing with a trade press, in March 2016 she put out Lady Lucy's Quest, a book meant for kids who've experienced trauma, through ShiresPress.
Gross, who divides her time between Bennington and Washington, D.C., says the traditional children's book market has narrow parameters for its products, with requirements for target age groups, vocabulary and number of pages.
"It was clear to me from the very beginning that I wanted to bend that mold, so an independent press was a much better fit," she says. Lady Lucy's Quest has sold more than 20,000 print copies; its sequel, Lady Lucy's Dragon Quest, comes out this month.
Debbi Wraga, who oversees ShiresPress, says self-publishing no longer carries the stigma it once did. Northshire first got into the self-publishing market in 2008 with an Espresso Book Machine, which prints books on demand in the store. In 2013, Northshire launched ShiresPress, which added a layer of services to the mix.
When Wraga started in 2009, the press had only 50 self-published authors. Today, it has nearly 900; genres include poetry, nonfiction, mystery, historical novels, memoirs and children's novels. It also has a program to publish books by students at Southern Vermont College, where Gross once served as president.
Wraga points to several advantages of working with ShiresPress over an online service. For one, its packages start at about $530 and average about $1,000 for a completed publication. And many authors prefer having someone local to walk them through the process, a perk that online services can't offer.
"For many of these authors, this is their baby. This is something they've been working on for years; they're nervous about things and don't know how to do it," Wraga says. "That's where we come into play."
Depending on the author's budget, ShiresPress can provide editors, proofreaders, cover designers and marketing. The press makes all of its self-published books available in its Manchester Center and Saratoga Springs, N.Y., stores; for an additional fee, Wraga will organize in-store book events.
Asked how aspiring authors should prioritize their spending, Wraga doesn't hesitate.
"I always say, 'Editing, editing, editing!' Invest as much as possible in that service," she says, "even if all you can afford is grammar, spelling and punctuation."
Cover designs are also critical, she adds. Despite the adage "Never judge a book by its cover," consumers typically do, which is why Wraga recommends investing in the best design an author can afford. She can help on that front, too.
"For us, it's all about supporting local authors and not-so-local authors and bringing their words to life and really making their dreams come true," she says.
Last spring, Phoenix Books Burlington launched its own self-publishing service: Onion River Press. As manager Tod Gross (no relation to Karen) explains, store employees got tired of local authors coming in with self-published titles from CreateSpace, Amazon's self-publishing arm, and requesting shelf space.
Onion River Press offers a range of self-publishing packages, depending on the author's needs and budget, Gross says. The basic one, which starts at $150, covers his time and provides a bar code, ISBN and book formatting. Each book is printed on demand, and that cost is borne by the author. If necessary, Gross will help authors find an editor.
"We don't want to just give someone a name and say, 'OK, now you deal with it,'" he says. "We feel responsible for the quality of that [editor]."
For an additional fee, authors can get their books distributed and stocked at all five Phoenix Books stores in Vermont. The books are also listed online so that readers elsewhere in the country can find the title and order a copy or download an ebook.
Regardless of where authors choose to self-publish, Gross advises that they ask themselves what their ultimate goal is. If their aim is simply to print a book as inexpensively as possible, an online service may suffice.
However, if an author wants to connect with local readers and booksellers, an Amazon product may not be the best fit. As he puts it, "We're not the only independent bookstore that sees Amazon as an existential threat to our livelihood."