For the 11th year, one weekend in late September brings scribblers of all sorts to Burlington for a slate of readings, talks, panels and more. The big news is that most of the Burlington Book Festival's events this year from Friday, September 25, through Sunday, September 27, will take place on the University of Vermont campus. Look for info on specific readings — as well as free parking — on the website.
Sure, you could just go in blind and listen to the authors talk about their books. But sometimes it pays to focus. We've compiled a list of questions that we think this year's BBF events and attendees could help you answer.
1. How do you make every word count?
New Yorker Abigail Thomas is a memoirist with a broad and devoted following. Stephen King, of all people, called her "the Emily Dickinson of memoirists" in a blurb for her latest book, What Comes Next and How to Like It. Also an artist and a dog lover, Thomas is known for presenting episodes from her life in short, eloquent chunks of prose — using white space to her advantage and giving her fans a quick read imbued with reflections that will last them a lifetime. (Saturday, 12:45 to 1:15 p.m., in the North Lounge of Billings Memorial Library at UVM. If you're in more of a fiction mood, catch award-winning part-time Vermont novelist Rebecca Makkai at Marsh Lounge in the same building and time slot.)
2. What was Gore Vidal really like?
The late firebrand author, commentator and screenwriter was recently memorialized in a documentary called Gore Vidal: The United States of Amnesia. A major presence in that film was Vidal's longtime friend, Middlebury College professor and prolific author Jay Parini, whose Empire of Self: A Life of Gore Vidal will be published this October. "My main responsibility was to do a very fair, balanced and affectionate, but clear and honest, life of Gore Vidal," Parini told Seven Days reporter Ethan de Seife in 2014. "That's my task. I think I've done it, but we'll see." (Saturday, 1:30 to 2 p.m., in Marsh Lounge, Billings Memorial Library.)
3. How do editors choose what to publish in literary journals?
No, you can't ask them why they rejected your submission. (Hey, it happens to every writer.) But you can get insight into the care and feeding of a successful journal at the Literary Journal Founders Panel, featuring AGNI founder (and novelist) Askold Melnyczuk, Green Mountains Review cofounder (and poet) Neil Shepard, New England Review editor Carolyn Kuebler and Mud Season Review editor Rebecca Starks. Stay afterward for a reception, cash bar and reading featuring the participants and other writers, hosted by the Burlington Writers Workshop. (Saturday, 6:30 p.m., at Hotel Vermont)
4. How does the author of The Way Things Work ... work?
Maybe you know Norwich author and illustrator David Macaulay as the one who showed you the inner workings of a Cathedral, a Pyramid or a Castle. Or perhaps you know him best for the book that his bio drolly calls an "instant literary classic": Toilet: How It Works. Either way, you won't be surprised that this year's BBF is dedicated to the MacArthur fellow and Caldecott Medal winner. James Sturm of the Center for Cartoon Studies kicks off the festival with a tribute to Macaulay. (Friday, 7:30 p.m. in the Grand Maple Ballroom, Dudley H. Davis Center. Then Macaulay speaks on Saturday, 2:15 to 2:45 p.m., in North Lounge, Billings Memorial Library.)
5. How does an author go from being a National Book Award winner to a nobody?
In 1949, Nelson Algren won the National Book Award for his novel The Man With the Golden Arm. In 1955, it became a movie starring Frank Sinatra. The Chicago leftist, inveterate poker player and chronicler of the down-and-out was praised by Hemingway and romanced by founding feminist Simone de Beauvoir. Yet when Algren died, in 1981, his books were out of print, his name obscure. What happened? And why has Algren received renewed attention in recent years? Find out by watching the new documentary Nelson Algren: The End Is Nothing, The Road Is All, codirected by Vermont filmmaker Denis Mueller, who will be present for a Q&A. Kurt Vonnegut is among the many writers who weigh in on-screen about Algren and his legacy. (Saturday, 3 p.m., in Ira Allen Lecture Hall, Billings Memorial Library)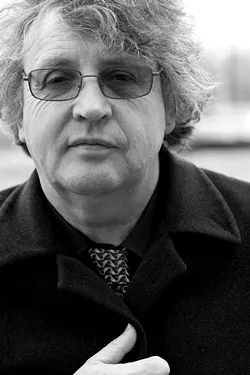 6. What links heather, honeybees and Buddy Holly's demise?
I can tell you right now: a poem by Pulitzer Prize winner Paul Muldoon, this year's BBF headliner. (Read its entirety below, from his latest work One Thousand Things Worth Knowing: Poems.) According to legend, when the poet was a teenager in Ireland, he sent some verses to Seamus Heaney and asked what was wrong with them. The elder luminary replied, "Nothing." Today, Muldoon is poetry editor of the New Yorker, a Princeton professor, a writer of rock lyrics and a fan of Bruce Springsteen. His poems — including a tribute to the late Heaney — are dense with allusions to high, middle and low culture, with rhythms that sing. (Friday, 7:45 p.m. in the Grand Maple Ballroon, Dudley H. Davis Center)
7. Who will win the Vermont Book Award?
The BBF has partnered with the Vermont College of Fine Arts to promote its gala announcement of the very first winner of this $5,000 prize awarded to a book set in Vermont, published by a Vermont press or authored by a Vermonter. All but one of the six finalists are local writers: Leland Kinsey of Barton, Gary Lee Miller of Montpelier, Kerrin McCadden of Plainfield, Jessica Hendry Nelson of Winooski, and Dana Walrath of Underhill. The Saturday evening gala is a separate event happening at VCFA's Alumni Hall in Montpelier, with $100 tickets available through vcfa.edu.
Honey Our plane takes hill upon hill long since cleared of pines. The flash of matching lakelets. Weather and more weather. The copilot points to at least one benefit of felling pines for warship keels, namely how the heather that pits itself against an old saw pit and fills in the great gash of a logging road also sustains our friends the honeybees. The coroner at the scene of the crash found the seams of Buddy Holly's jacket of yellow faux leather "split almost full-length" and his skull also "split." Buddy's personal effects amounted to a pair of cufflinks together with the top of a ballpoint pen and, barely within his remit, the $193.00 in cash from which the coroner deducted $11.65 in fees. Paul Muldoon