For some, the Easter holiday — which arrives this Sunday — means a particularly poignant church service and the end of 40 days' worth of Lenten sacrifices. For others, it mainly means a basket stuffed with plastic grass, gooey "eggs" encased in chocolate shells and row upon row of colorful marshmallow chicks.
Whether you observe Easter as a sacred holiday or not, it's hard not to get a kick out of those pastel-hued seasonal treats. And you don't have to buy them at the store.
When I owned my restaurant, Salt, I had a penchant for crafting homemade versions of items that are usually processed or manufactured — think onion soup dip, toaster pastries and s'mores fixings. I even learned to replicate the goodies I used to find inside garish pink and green plastic eggs scattered in the yard.
Here are my versions of the famous holiday candies, with a few unusual flavor variations. The process may be messy, but the results are delicious.
Not into the DIY deal? You can also make delectable Easter baskets by filling them with goodies from Vermont confectionery companies. See the list below.
Chocolate-Dipped Candy Eggs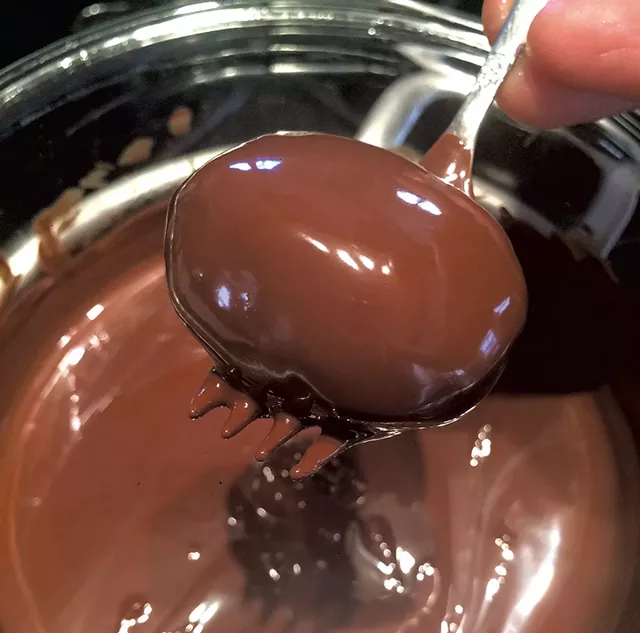 Suzanne Podhaizer
Dipping candy eggs
This recipe is dependent on the texture of the candy mixture. If it's too gooey, you won't be able to shape it properly. Luckily, the fix is easy: Just add more powdered sugar.
Ingredients:
1 stick unsalted butter, at room temperature
½ cup organic light corn syrup
½ teaspoon sea salt
1 teaspoon vanilla extract
3 ½ cups powdered sugar
½ teaspoon turmeric powder
Other flavorings (optional)
10 ounces bittersweet chocolate chips
Preparation:
In the bowl of a stand mixer, combine the butter, corn syrup, salt and vanilla. Beat until the mixture is smooth. (You can do this by hand, too.)
Sift the powdered sugar, or do the easy thing — squish the sugar bag between your hands to pulverize any lumps. Add sugar to the butter mixture, ½ cup at a time. After each addition, start the mixer on its lowest speed, or there will be powdered sugar everywhere.
Remove the bowl from the stand mixer and separate out one-third of the mixture to turn into "yolks." Add the turmeric to that portion and stir with a metal spoon.
If you'd like to create multiple flavors of candy eggs, divide the remaining mixture into three bowls. To each bowl, add something delicious. For instance: one teaspoon fruit jam, or two teaspoons cocoa powder plus one teaspoon bourbon and an extra tablespoon powdered sugar, or two teaspoons instant coffee powder (not coffee grounds), or whatever else you can dream up. If you add something liquid, stir in additional powdered sugar to stiffen the mixture.
Cover all of the bowls and refrigerate for two hours, until the candy is firm.
Remove from the fridge. Make ¾-inch balls of the yellow candy to serve as the yolks, then roll them up in the white or flavored candy to make egg shapes. Place the candies on a sheet pan covered with parchment paper, cover and return to the fridge for four hours or overnight.
When candies are fully cooled, place a metal mixing bowl over simmering (not boiling) water. (You can also use a double boiler.) Dump the chocolate chips in the bowl and melt them.
Dip each "egg" into the chocolate and twirl to coat. (You can try holding them with toothpicks or buy a candy-dipping kit at your local cookware store for about $10.) When each egg has been dipped and the chocolate has hardened, redip each one. Chill to set.
Serve in paper candy cups.
Shmeeps
Suzanne Podhaizer
Colored sugar
Prepare to get marshmallow all over your kitchen and your body. But it's worth it: Once you master this recipe, you can make homemade s'mores and all kinds of other wonders. Note that candy is fickle. If your marshmallows don't puff up as much as expected, it may have to do with the humidity of the room or a slight miscalculation in the temperature. However, they'll still taste delicious.
Ingredients:
¼ cup organic cornstarch
¼ cup powdered sugar
Grapeseed or canola oil
2 cups organic cane sugar
½ cup organic light corn syrup
½ teaspoon sea salt
½ cup water
2 tablespoons plus 2 ½ teaspoons gelatin powder
½ cup very cold water
Mix-ins (optional)
2 eggs
2 teaspoons vanilla
Colored sugar*
Preparation:
Stir together the cornstarch and powdered sugar.
Prepare two 9-by-13-inch pans. Lightly oil all of their interior surfaces and sprinkle each pan with half (¼ cup) of the cornstarch-powdered sugar mixture. Lift each pan and tap it to knock the powder around, coating the entire bottom and sides.
In a heavy saucepan that holds three quarts or more, combine the sugar, corn syrup, salt and 1/2 cup water. Set aside.
In a small bowl, sprinkle the gelatin over the ½ cup very cold water and stir gently. (This stuff is super-smelly. Blech.) Place the gelatin in the fridge, uncovered, to soften.
Prepare any mix-ins. For a half-batch of marshmallow, I use any of these three options: the zest and juice of one lemon, or two ounces of goat cheese mixed with two tablespoons of strawberry jam and a few grinds of black pepper, or four ounces of chopped candied ginger and pineapple plus one teaspoon of cinnamon. Feel free to experiment, keeping in mind that adding liquid will change the texture of the candy, and too much will prevent it from setting.
Separate the eggs and place the whites in the bowl of a stand mixer. (Save the yolks for another use.) If you puncture a yolk and it leaks into the white, don't use that egg; whites won't whip properly with fat (yolk) in them.
Whip the egg whites to stiff peaks, then pour them into a different bowl. Clean the mixer bowl and whisk attachment and reassemble. Set stiffened egg whites aside near the stand mixer (but not near any heat).
Put the chilled gelatin in the mixer bowl. Place the bowl near your saucepan of sugar, corn syrup, salt and water.
Heat the saucepan over low heat, stirring regularly, until the sugar is dissolved.
Turn up the heat and cook until the mixture reaches 240 degrees Fahrenheit (the "soft ball" stage). Immediately remove from heat and pour over the gelatin.
Stir the mixture until the gelatin is dissolved. Place the bowl in the mixer and whip at high speed for six to eight minutes — until the marshmallow is bright white and has tripled in size.
Fold in the beaten egg whites and the vanilla until just combined, forming marshmallow.
To make two different flavors, scoop half of the mixture into another bowl. Add any desired mix-ins, then quickly scrape all of the marshmallow into your prepared pans.
Sprinkle colored sugar* on top, if desired, or dust with the remainder (¼ cup) of the cornstarch-powdered sugar mixture.
Cover the pans and let them set in the refrigerator for about four hours or overnight.
Cut into shapes with oiled cookie cutters. Chickens, rabbits, whatever you please.
*You can buy colored sugar (look for "sanding sugar") or make it by mixing food coloring into granulated sugar. I use all-natural food coloring made from things like sea vegetables.
Sweet Somethings
Plenty of local candy companies make treats perfect for stuffing into your Easter basket (or your mouth). In Burlington, Lake Champlain Chocolates offers a full Easter line, ranging this year from peanut-butter-and-chocolate "eggs" to an organic chocolate bunny with almonds and sea salt. Here are three more options outside the city.
Red Kite Candy
The toffee is made with Belgian chocolate, roasted almonds and cultured butter from Vermont cream. Try the classic honey nougat or the one flavored with raspberry.
Big Picture Farm
Winner of several national awards for its caramels, Big Picture Farm makes them from the milk of its own goats, plus other local and organic ingredients. Flavors include roasted raspberry and rhubarb, brown-butter bourbon and wild chocolate mint.
Laughing Moon Chocolates
LMC is serious about chocolate rabbits. The company's candy bunnies are depicted riding tractors, taking hikes, cycling and pushing wheelbarrows. For something different, try the coconut-covered "bunny tails" or white-chocolate "carrots."