Warm weather is officially here, and all the foodies have ramp fever. In recent weeks, eager foragers have flooded my Instagram feed with images of the leafy wild leeks, pulled from secret stashes statewide. In all their virile green glory, ramps are one of the most coveted early-season wild edibles. But Vermont's fields and forests awaken with an array of other undomesticated ingredients well before the first cultivars are harvested.
Right now, the landscape is teeming with fiddleheads, trout lilies, nettles and garlic mustard. Our backyards may host daylily shoots, burdocks, field garlic and feral chives. Inevitably, bloomy dandelions fill fields and yards.
Few find the "dandy" charming, though some naturalist gardeners embrace it as "nature's plough" for its tenacious taproot, which penetrates even hard-packed soils. At best, it's a plant taken for granted; an everywhere flower that's not particularly pretty or fragrant. It flushes a fast, brilliant yellow and closes quickly, only to burst forth days later in a feathery sphere. Maybe it's cute when your kid picks one and delights in scattering its parachute seeds on the wind. But mostly dandelions are an irritation, the bane of any well-kept lawn or formal garden.
All the more reason to eat them! What's widely overlooked about this ubiquitous little plant is that every part of it is edible, and even medicinal, according to herbal lore.
The greens and buds — both excellent in salad and stir-fry — are rich in vitamins A, B, C and D, antioxidants, iron, and potassium. In France, the toothy-leafed dandelion is also known as pissenlit, or "piss in the bed," for its gentle diuretic qualities. The roots can be ground into an energizing coffee substitute or distilled into a tonic for digestive, skin and rheumatoid ailments.
Then there are the flowers. Many Vermonters know that the golden blossoms can be transformed into a wonderfully delicate, straw-hued libation.
Like hard cider, dandelion wine must age for months. Thus, when colder days come again, you can crack open a bottle of the stuff for a whiff of springtime.
I've wanted to make it for years, but, as with so many things, I just never got around to it. Until now. Maybe the long winter finally got to me, but lately spring's wild foods have been calling to me with irresistible urgency. The dandelion was one of them.
So, last week, as the season's first dandies flashed their golden faces skyward, I set out with a bucket and plucked the heads of a thousand little flowers.
Passersby eyed me curiously as I zigzagged St. Paul Street in Burlington to pull blooms from hedgerows and curbs. Above the ball field in Callahan Park, an older gentleman approached me. "Making wine?" he asked.
"Yes," I answered, my hands glowing yellow with tacky pollen.
"My mother used to make dandelion wine," he said. "I couldn't drink it. Too bitter! She also made beet wine, but I didn't like that, either."
"Oh," I said, looking at my bucket. "I've never made it before."
"Well, good luck to you," he said, offering a quiet salute and taking his leave.
I made my way toward Lakeside Beach, harvesting dandelions from the untrimmed roadsides and lawns along the way. A little girl trailed me across a grassy expanse. When I stopped, she peered into my bucket. "What are you doing with those?"
"Making wine," I said.
"My mom can make wine," she said. I didn't pry, but wondered if her mother was a dandelion devotee or an actual winemaker. Or did this little girl think popping a bottle was "making wine"?
It took far longer than I expected to fill that bucket. But once I did, I headed home, realizing that my task would be best undertaken with help. After you've gathered the blossoms, they need to be pruned and trimmed of all the bitter green parts, so that just the downy golden petals and their infant seeds remain. This takes time and patience and goes faster with extra hands.
After a while, my fingers began to taste sweet and to smell of flowers. You really get to know a plant, pulling apart one after another and turning their reproductive anatomies inside out again and again. My afternoon gave way to evening, and evening to night.
Finally, I finished and readied to make the wine. I adapted my recipe from fermentation guru Sandor Ellix Katz's book Wild Fermentation: The Flavor, Nutrition and Craft of Live-Culture Foods (Chelsea Green Publishing, 2003). In a few months, I'll transfer my young wine to another container to ferment for one more season, and then into bottles. Then it will rest until a thirst for spring beckons.
Dandelion Wine
Ingredients:
1 1/2 gallons dandelion flowers
4 cups honey
4 cups sugar
Juice of 2 lemons
1 pound golden raisins
2 gallons water
1/2 cup berries (if using natural yeast) or 1 packet white wine yeast
Preparation:
Once you've gathered the flowers, separate the yellow petals from the base of the blossoms. Place the petals in a sterile bucket with the honey, sugar, lemon juice and raisins. Pour two gallons of boiling water over all, stirring to dissolve the sugar and honey, to form a kind of sweet dandelion tea. Cover and let cool to room temperature.
Add the berries or, if using commercial yeast, remove one cup of the cooled tea and pour the yeast into it. Once it starts to bubble vigorously, add it to the tea mixture.
Cover, stirring occasionally, for three to four days.
Strain the liquid through a fine-mesh sieve or cheesecloth, wringing as much liquid as you can from the petals and fruits into a carboy or sterile bucket or jug. Seal with an airlock (available at homebrew supply shops), and ferment for about three months, until fermentation slows.
Siphon into a clean vessel and ferment another six months more before bottling.
When the wine is still and completely finished fermenting, transfer it into bottles. Age at least three months to mellow; the longer, the better.
Dandelion Greens Sauté
Serves 4-6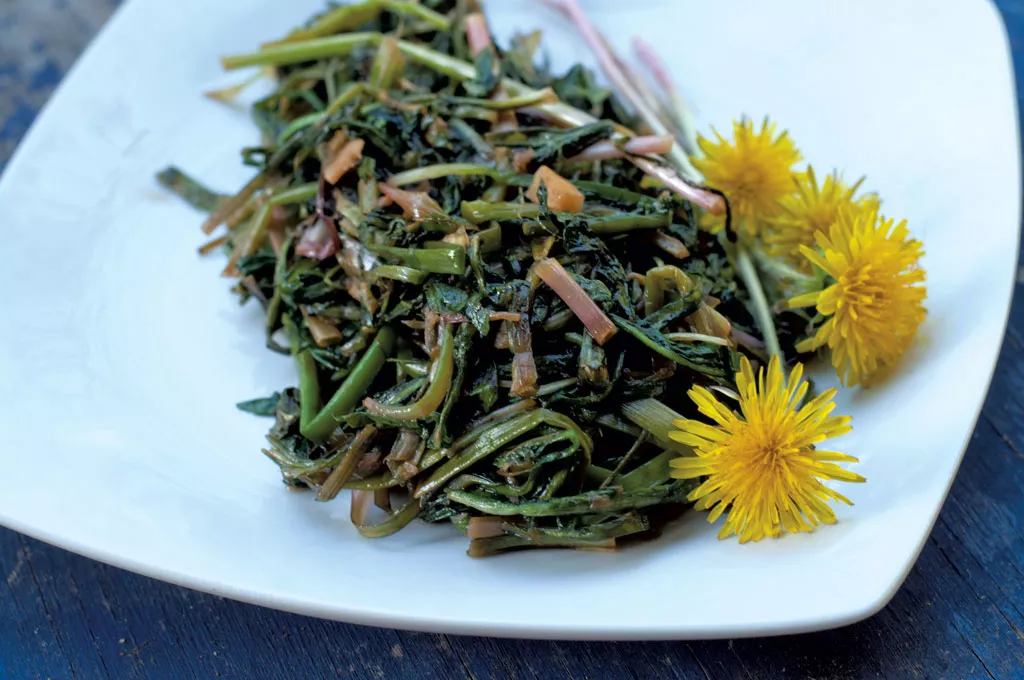 For those who enjoy bitter greens — kale, collards, frisée, mustard, chicory — the dandelion represents a frugal substitute. Use its leaves in salads, stir-fries or pesto, anything calling for something coarse and green.
But these babies are definitely best when unceremoniously sautéed as a simple side dish. The unopened buds — plucked prior to bloom — are tender, sweet and mildly floral. They are wonderful alone or served over noodles in a light consommé. Same goes for the greens, but these pack a forceful, bitter bite.
If you want to try dandelions but don't love bitter, add a shot of sweetness to temper them. You can also mix them with more agreeable leaves, such as chard, kale or spinach, or add a splash of dairy for something resembling a cranky creamed spinach. (If using dairy, cut the vinegar by half and don't use lemon.) Likewise, zealous fans of gratin can use the greens as a base for a creamy casserole, substituting the dandies for spinach or chard and topping with bread crumbs.
For beginners, here's a basic recipe, with suggestions for a few easy, low-maintenance additions.
Ingredients:
1 tablespoon coconut oil
2 cloves garlic, sliced into spears
1 big bunch greens, picked through, washed and cut into four-inch pieces
2 tablespoons tamari
1 tablespoon sweet vinegar
Preparation
In a large skillet, melt oil over medium heat until it shimmers. Add the garlic and sauté until fragrant.
Add the washed, cut greens. Douse with tamari and sweet vinegar (plum vinegar is a nice option and widely available in the Asian section of most supermarkets), and sauté, stirring often, until the greens are wilted and begin to soften, about five minutes.
Variations and additions:
At the garlic stage, try adding: 1/2 teaspoon fresh ginger, grated, or 1/2 cup onion, shallot or ramps, diced
When adding greens to the pan, throw in: a handful of chard, beet or radish greens, kale, collards, cabbage, arugula, or spinach. (If using a tender green such as arugula or spinach, sauté dandelions alone for two or three minutes, then add the others, as they'll cook much faster.)
With the tamari and vinegar, add: 2 tablespoons lemon juice, apple juice or cider, or 1/2 teaspoon toasted sesame oil. At the very end, toss with: 1/4 cup fresh marigold petals, or 1/2 teaspoon chile flakes, or 1/4 cup heavy cream, kefir or buttermilk