There's nothing more festive during the holiday season than basking in the glow of twinkle lights — whether they're decking your tree or the eaves of your house. So why pack those sparkling strings away after just a couple of weeks? For all the sweat — and swearing, if my experience is typical — you put into untangling them, the lights deserve a longer display. Year-round, even.
As someone who travels for the holidays and doesn't get a Christmas tree, I wanted to find a nondenominational way to bring the cheery lights into my apartment beyond the holiday season. While simply stringing them up along the ceiling is always an option, I was looking to create a more elegant light source. A friend's outdoor summer wedding sprang to mind: The groom had tied together fallen branches and wrapped them in lights, creating a gorgeously rustic chandelier that was mounted over the dance floor. It was a showstopper.
I was sure that if I re-created that chandelier without any kind of instruction, I'd eventually be held responsible when a branch slipped out of my shoddy knots and conked someone on the head — causing concussion, brain damage and, probably, death. So I took to Pinterest to find sturdier DIY chandeliers.
There was some weird stuff. At least three sites suggested I affix icicle lights to a Hula-Hoop and hang it above my dining room table. I'll give them points for creativity — but it still looked like a Hula-Hoop. No amount of lights could disguise that.
I settled on something a little less circus-y. A craft blog called All Things Heart & Home gave simple instructions for crafting an outdoor chandelier, in which tiny white lights were threaded through globes of twisty grapevine and hung from a birch branch. It looked woodsy and magical. I adapted the idea for indoor use with pretty good success, if I do say so myself. (See my step-by-step directions below.) Supplies cost about $60 — not bad for a chandelier!
The best part, at least for other fix-it-challenged folks like myself? This project doesn't require a chainsaw, a power drill, a belt sander or even a wrench. If you can tie a double knot, you can make this. A Christmas miracle, indeed.
Materials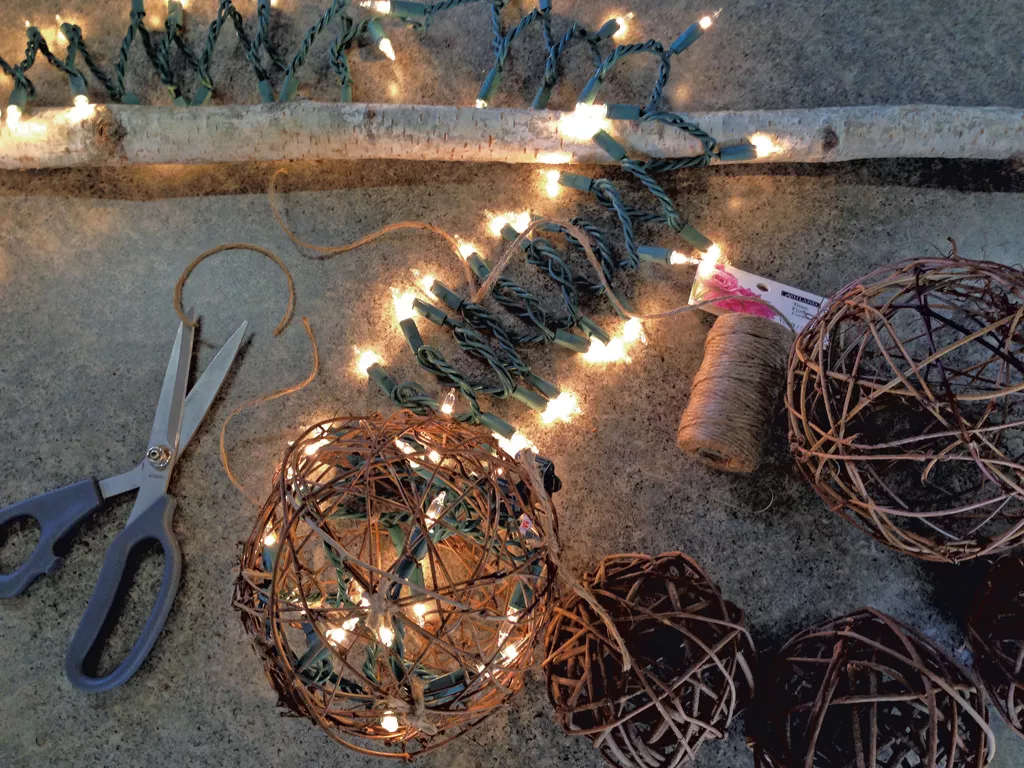 (available at most craft stores)
100-count string of white lights
(with brown wires, if possible)
3 large grapevine balls
3 small grapevine balls
garden twine
sturdy birch branch, roughly 5 feet long
two eye bolts
extension cord
Directions
Begin by arranging the grapevine balls in the order you'd like them to hang. I alternated large and small spheres.
Carefully thread the lights through each sphere. Use short lengths of garden twine to double-knot the wires to the grapevines every so often. (This helps keep the lights in a globe-like shape.) This step is tedious and the most time-consuming part of the project. It's easiest if you have the lights plugged in as you work; it will help you ensure even distribution of the bulbs. Try not to let the bulbs stick out through the grapevines. Make sure to keep the plug accessible.
Balance the birch branch horizontally across the seats of two chairs. Use various lengths of twine to tie the spheres to the branch as desired; I let some spheres hang lower than others. Screw the eye hooks into the ceiling where desired. Use twine to hang the branch from the hooks. Plug in the extension cord and run it down to the nearest power outlet as unobtrusively as possible. Let it glow!
The original print version of this article was headlined "Twinkle Time"