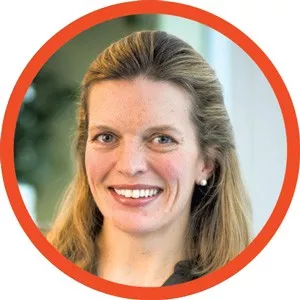 Parents often assume that because they've had at least one child, it will be easy to get pregnant again. However, some couples experience what's known as "secondary infertility," or difficulty conceiving again or carrying another fetus to term.
This month, Dr. Jennifer Brown, an infertility specialist with Northeastern Reproductive Medicine in Colchester, explains how — both medically and naturally — parents can increase the odds of growing their family.
KIDS VT: What percentage of your patients are trying to get pregnant again?
JENNIFER BROWN: I would estimate 30 to 40 percent. For some, it may have been many years since their last conception, or they may be trying with a new partner.
KVT: What are common causes of secondary infertility?
JB: The most common reasons are the age of the female and having had significant time pass since her first conception. Another reason is some anatomical change. So maybe the woman had surgery for a burst appendix or had a very complicated cesarean section, and now the sperm and eggs are having difficulty meeting. Sometimes the woman had a tubal ligation or the man had a vasectomy.
KVT: Are the underlying causes of secondary infertility different from the fertility issues of women who've never conceived?
JB: Not necessarily. The same biological principles apply: issues with the eggs, the sperm or the anatomy. Men tend to account for about 40 percent of infertility issues and women for slightly more than half, because most of the anatomy related to conception happens within the woman's body. With about half of all couples we see, we never identify a definitive cause.
KVT: How do you try to determine the cause?
JB: Sometimes the couple's history tells the story, such as whether they've both had a child before in separate relationships. There are some simple tests we can do, including a semen analysis on the man and a hormone-levels test for the woman. Typically, an ultrasound helps us evaluate several factors, including the quantity of eggs. We can also insert fluid into the uterus at the time of ultrasound to determine if her tubes are open or blocked, and if her uterus healed normally from her previous pregnancy.
KVT: Are women who can't conceive and women who've had repeated miscarriages experiencing different problems?
JB: Those are different problems. The latter requires a more detailed workup because we're looking at the environment of the uterus and hormonally what's going on. Emotionally, it's also very different for patients [who've miscarried repeatedly], because often they're scared to be pregnant because they don't know what's going to happen.
KVT: What steps can couples take before starting medical treatments?
JB: All patients are counseled on optimizing their natural fertility through lifestyle changes, such as not smoking and reducing their intake of caffeine and alcohol. Some lubricants can impair fertility. Couples are also counseled on timing their intercourse to coincide with ovulation. Some studies show that couples using a mind-body or stress-reduction program actually have higher success rates than those who don't. We work with counselors in our area and with someone who does preconception yoga. We encourage some patients to try acupuncture.
KVT: What methods might you try if lifestyle changes don't work?
JB: Sometimes we prescribe the ovulatory stimulant Clomid for the woman, which boosts ovulation and causes her to release one or possibly two eggs. This slightly increases the risk of twins. We may also do an IUI, or intrauterine insemination, which is a simple procedure in which we collect the man's semen, wash it and put it in the uterus at the time of ovulation.
KVT: What if those approaches aren't successful?
JB: The next step is a pretty big jump. We can take the eggs out of the woman's body and fertilize them in the lab, which is what "in vitro" means. It's a pretty big difference in terms of technology, and it has a much higher success rate per cycle because we're working with 10 to 15 eggs rather than just one or two, and we are controlling more factors like the egg and sperm meeting and fertilizing. It's also more expensive and requires more office visits.
KVT: Are there other options?
JB: Yes. With some women whose eggs are not viable, we may try in vitro fertilization with a donor egg. Or, if the man has no sperm, we might use donor sperm. If there's a problem with the uterus, we may do in vitro with a carrier uterus, or surrogate. We may even make embryos in the lab and then do a preimplantation genetic biopsy to rule out chromosomal abnormalities for older women or women who've had recurrent pregnancy loss.
KVT: Is there an age limit for in vitro fertilization?
JB: It used to be that we wouldn't do IVF beyond age 42. That's really changed with improved technology. Now, we'll treat a 45-year-old, but we have the couple heavily involved in the decision and discuss the pros and cons of using her own egg, because the likelihood of success is much lower at that age. Alternatively, if that 45-year-old woman chooses to use a donor egg, then her success rate can be the same as much younger women. After age 45, we do extra testing on the female to make sure it's safe for her to carry a pregnancy. After age 50, we consider those on a case-by-case basis, using a donor egg.